PENGARUH PROSES HYDROTHERMAL NANOFIBER ZnO TERHADAP UNJUK KERJA DYE – SENSITIZED SOLAR CELL (DSSC)
Dimas Ilham Rasyid

Teknik Mesin Fakultas Teknik Universitas Jember

Harry Sutjahjono

Teknik Mesin Fakultas Teknik Universitas Jember

Imam Sholahuddin

Teknik Mesin Fakultas Teknik Universitas Jember
Abstract
Solar energy can be utilized as renewable energy, because fossil energy is increasingly depleted and also environmentally friendly. In this case DSSC photovoltaic devices are used to convert photon energy into electricity. The DSSC in this study consisted of alfafa leaf extract dye, nanofiber and nanowire ZnO semiconductor, iodine electrolyte, and FTO conductive glass. The method used in fabrication of ZnO nanofiber using electrospinning method, while for fabrication of nanofiber / nanowire ZnO using electrospinning method and continued with hydrothermal process. The hydrothermal process generates nanowire in ZnO nanofiber, so the active area of ​​the ZnO semiconductor increases. With a large active area will increase the efficiency of the DSSC. ZnO nanofiber monomers and nanofiber / nanowire ZnO were characterized using SEM, while DSSC performance was tested under a 1000W halogen lamp. The DSSC is made with 2 layer, 3 layer, 4 layer and 5 layer nanofiber layers resulting in efficiency of 0.0030%, 0.0076%, 0.0103% and 0.0082% respectively. While DSSC with semiconductor nanofiber / nanowire ZnO 2 layer, 3 layer, 4 layer and 5 layer yield efficiency consecutively equal to 0,0067%, 0,0163%, 0,0747%, 0,0025%. The final results show that semiconductors with an increased active area on the ZnO nanofiber / nanowire structure will improve DSSC performance.
Keywords: dye – sensitized solar cell (DSSC), active area, ZnO nanofiber, ZnO nanofiber/nanowire, hydrothermal process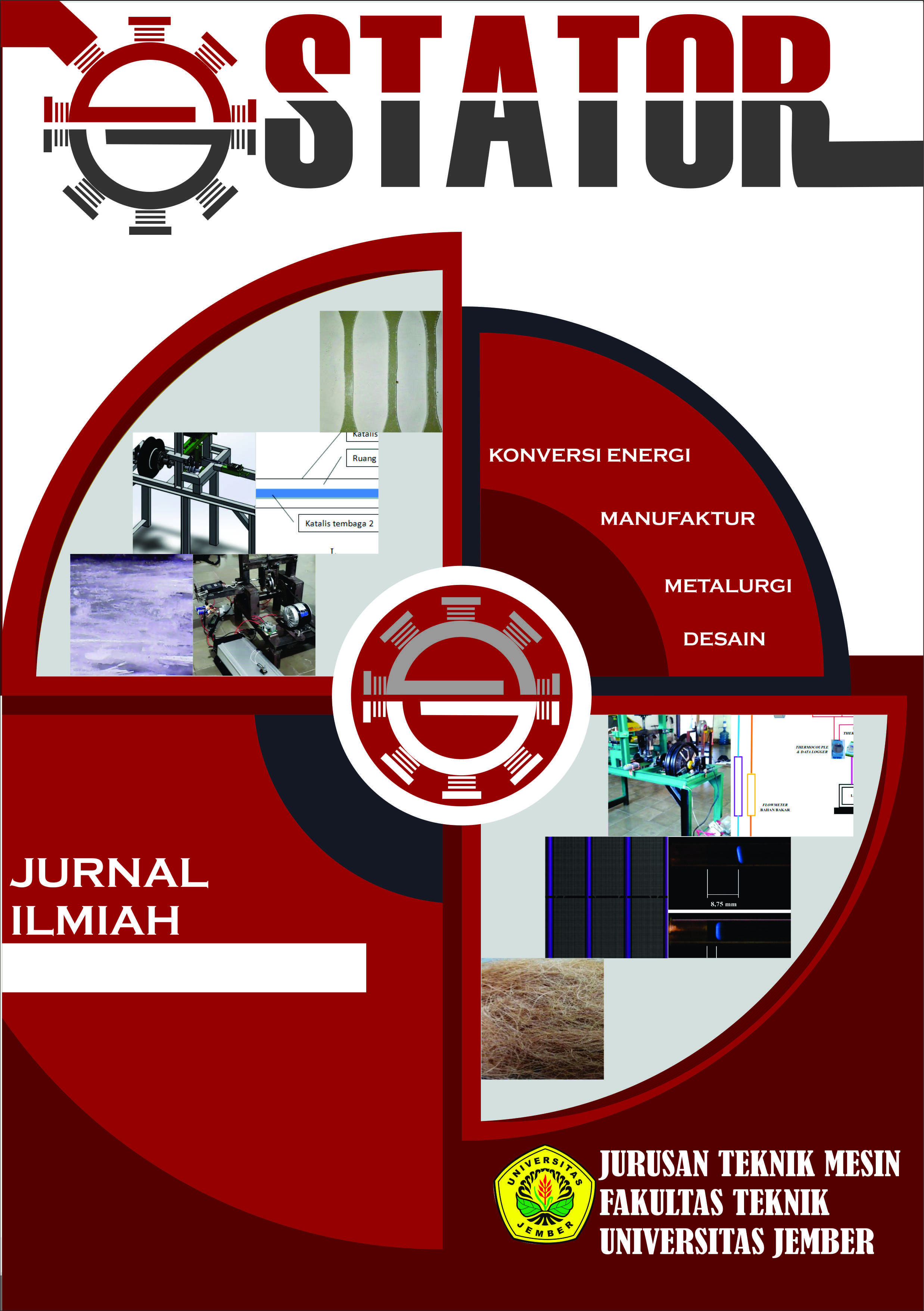 How to Cite
RASYID, Dimas Ilham; SUTJAHJONO, Harry; SHOLAHUDDIN, Imam. PENGARUH PROSES HYDROTHERMAL NANOFIBER ZnO TERHADAP UNJUK KERJA DYE – SENSITIZED SOLAR CELL (DSSC).
STATOR: Jurnal Ilmiah Mahasiswa Teknik Mesin
, [S.l.], v. 1, n. 1, p. 19-23, jan. 2018. Available at: <
https://jurnal.unej.ac.id/index.php/STATOR/article/view/7498
>. Date accessed: 03 aug. 2021.