PENGARUH ARUS PLASMA DAN LAJU ALIRAN GAS PADA MESIN DC THERMAL PLASMA TERHADAP KARAKTERISTIK PARTIKEL NANO Zno
Dedi Dwilaksana

Prayogo Alim Pangestu

Andi Sanata

Sumarji .

Mochamad Asrofi

Mahros Darsin

R. Puranggo Ganjar Widityo
Abstract
Nanopartikel adalah partikel yang berskala nanometer atau 10-9. Dalam penelitian ini nanopartikel ZnO berhasil terproses dengan metode DC Thermal Plasma, ukuran partikel yang dihasilkan cukup bagus. Kombinasi plasma sangat mempengaruhi morfologi nanopartikel, proses yang terjadi hanya memerlukan sangat singkat. Dimulai dari serbuk Zn yang didorong untuk masuk ke dalam arc plasma dan terjadi proses liquid, oxidation and kristalin. Ukuran kristal yang dihasilkan untuk puncak hkl tertinggi dimulai dari 42-50nm. Parameter kisi kristal yang diperoleh adalah a= 0,2610347nm dan c= 0,782935. Struktur kristal yang dihasilkan adalah hexagonal dan space group P63MC.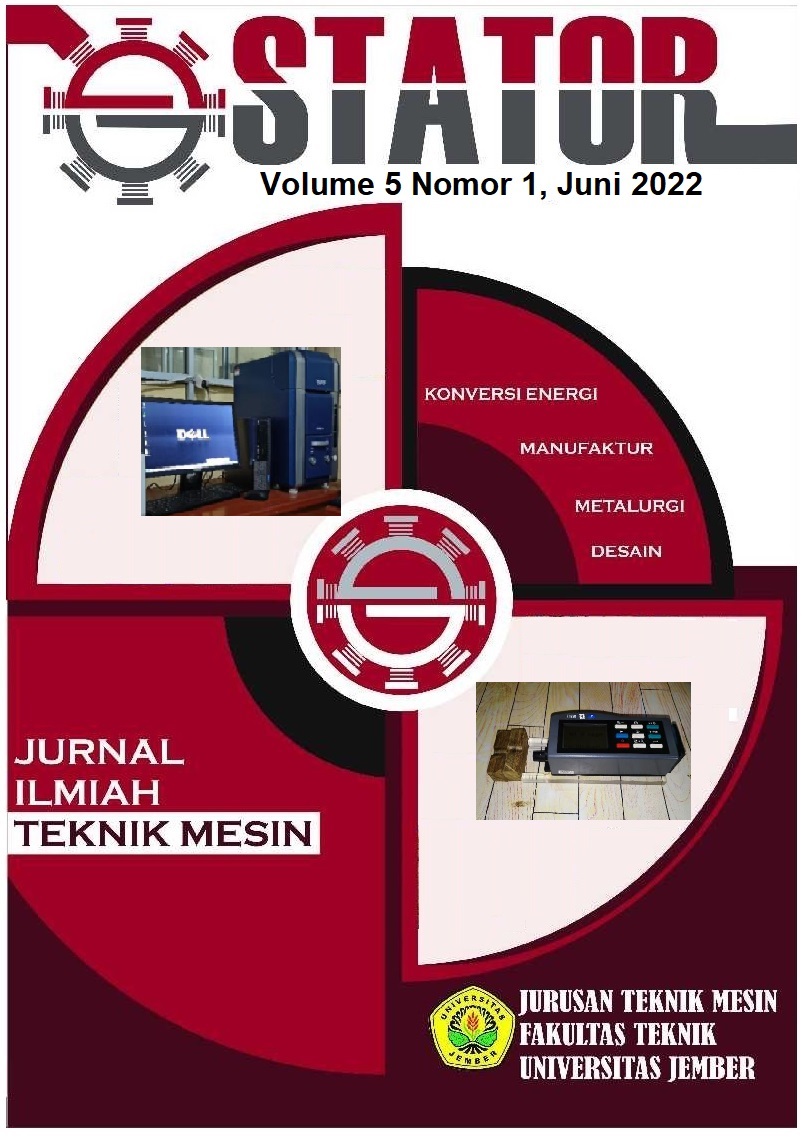 How to Cite
DWILAKSANA, Dedi et al. PENGARUH ARUS PLASMA DAN LAJU ALIRAN GAS PADA MESIN DC THERMAL PLASMA TERHADAP KARAKTERISTIK PARTIKEL NANO Zno.
STATOR: Jurnal Ilmiah Teknik Mesin
, [S.l.], v. 5, n. 1, p. 1-5, june 2022. ISSN 2962-228X. Available at: <
https://jurnal.unej.ac.id/index.php/STATOR/article/view/14508
>. Date accessed: 01 feb. 2023.