UJI TABRAK KOMPONEN PINTU DAN BAMPER MOBIL LISTRIK BERBAHAN KOMPOSIT SERAT TEBU DENGAN METODE ELEMEN HINGGA
Yuni Hermawan

Robertus Sidartawan
Abstract
In each design do have to consider the strength of the material. The force that must be considered regarding the dimensions, materials, and the structure of the workpiece. This research will be discussed on the analysis of stress concentration crash test specimen doors and bumpers electric car with the finite element method. The finite element method is a numerical method used to solve technical problems and physical symptoms metematis which include stress, strain, force, and vibration analysis. The finite element method is to compare between calculation using CATIA software and use manual calculation. In this case the finite element method to be used is the finite element method 2D triangular elements with 3 nodes. From this study, the largest and smallest stress to the crash test door electric car is8.65 x 106 N/m2 and 1.71 x 105 N/m2. while stress for the largest and smallest electric car bumper crash test are: 4.69 x 107 N/m2 and 1.01 x 106 N/m2.
Keywords: stress, crash test, the electric car doors and bumpers.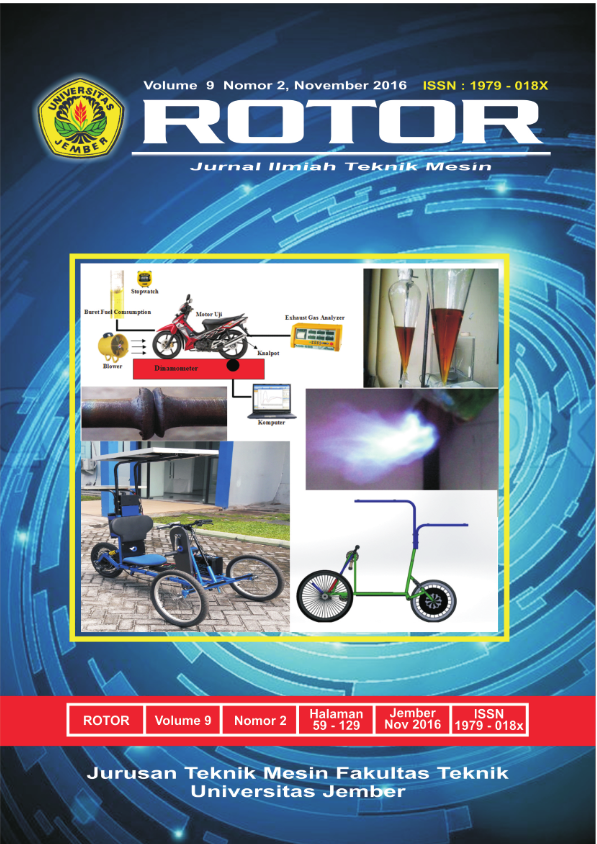 How to Cite
HERMAWAN, Yuni; SIDARTAWAN, Robertus. UJI TABRAK KOMPONEN PINTU DAN BAMPER MOBIL LISTRIK BERBAHAN KOMPOSIT SERAT TEBU DENGAN METODE ELEMEN HINGGA.
ROTOR
, [S.l.], v. 9, n. 2, p. 125-129, nov. 2016. ISSN 2460-0385. Available at: <
https://jurnal.unej.ac.id/index.php/RTR/article/view/4752
>. Date accessed: 01 aug. 2021.