PENGARUH WAKTU GESEK FRICTION WELDING TERHADAP KARAKTERISASI BAJA AISI 1045 DENGAN SUDUT CHAMFER 15 DERAJAT
Riko Septian

Gaguk Jatisukamto

Salahuddin Junus
Abstract
Friction welding is a technique by rubbing between two metal surfaces to produce a heat source, causing the union between the two metal surfaces without using filler metal. The purpose of this research is to improve the mechanical strength of metal welded joints 1045. The research method is done by rubbing between the two metal surfaces with the time variation of friction 25 seconds, 35 seconds, 45 seconds and 55 seconds. Friction time in 45 seconds able to get the highest tensile strength about 703,835 N/mm2 and get fracture in main metal. In other, at the time of friction 25 seconds reach its low tensile strength about 429,671 N/mm2 and occured a fracture in connection welds. Best hardness distribution obtained at the time of friction 55 seconds with a value of 270 BHN in hardness weld metal, the hardness value inleft part of HAZ reach 252 BHN and hardness value of right part of HAZ reach 247.6 BHN. Lowest hardness obtained at Friction time in 25 seconds with welding metal hardness of 250 BHN, hardness value in left side HAZ reach 240.3 BHN and the right sideof reach 236.6 BHN. Time friction affect to the microstructure and mechanical properties of AISI 1045. Smaller crystal structure will be block the movement of the dislocation, so that the mechanical properties of the metal are getting better, and conversely when crystal structuresare formed getting greater, the mechanical properties of the material will decreases.
Keywords: friction welding, friction time, tensile strength, hardness, metallography.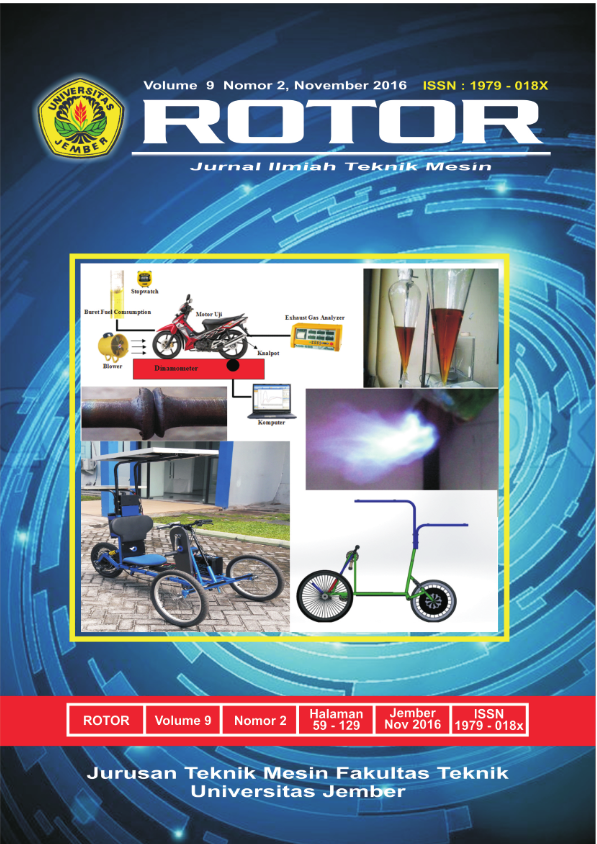 How to Cite
SEPTIAN, Riko; JATISUKAMTO, Gaguk; JUNUS, Salahuddin. PENGARUH WAKTU GESEK FRICTION WELDING TERHADAP KARAKTERISASI BAJA AISI 1045 DENGAN SUDUT CHAMFER 15 DERAJAT.
ROTOR
, [S.l.], v. 9, n. 2, p. 116-120, nov. 2016. ISSN 2460-0385. Available at: <
https://jurnal.unej.ac.id/index.php/RTR/article/view/4748
>. Date accessed: 01 aug. 2021.