PRODUKSI BIODIESEL DARI MINYAK JELANTAH MENGGUNAKAN KATALIS HETEROGEN CANGKANG BEKICOT (ACHATINA FULICA) DENGAN METODE PENCUCIAN DRY WASHING
Zainul Arifin

Bayu Rudiyanto

Yuana Susmiati
Abstract
Biodiesel is an alternative fuel from renewable sources with the composition of fatty acids from vegetable oils or animal oils. Biodiesel production from used cooking oil was counducted to determine the effect of basa heterogen catalyst of snail shell that used on a transesterification reaction with dry washing method for the yield and quality of biodiesel based on the quality standard of Biodiesel according to SNI No. 04 – 7182-2006. The study was designed using Rancang Acak Lengkap (RAL) with two factors, the concentration of catalyst (K): (6, 7 and 8%) and the concentration of magnesium silicate (M): (1 and 1.5%). The parameters analyzed include biodiesel yield, viscosity, density, acid number, flash point, cloud point , water content and heat value. The results showed that the highest yield of 63% was obtained from treatment of the catalyst concentration 6% and magnesium silicate 1% with the quality of biodiesel: viscosity of 5.692 mm2 / s, density of 867.8 kg / m3, the number of acid 0.605 Mg-KOH/Kg, a flash point of 160 oC, 12 oC cloud point, the water content of 0.08% and a heat value of 41.379 MJ / Kg.
Keywords : Biodiesel, Catalyst Heterogenous, Snail Shell, Dry Washing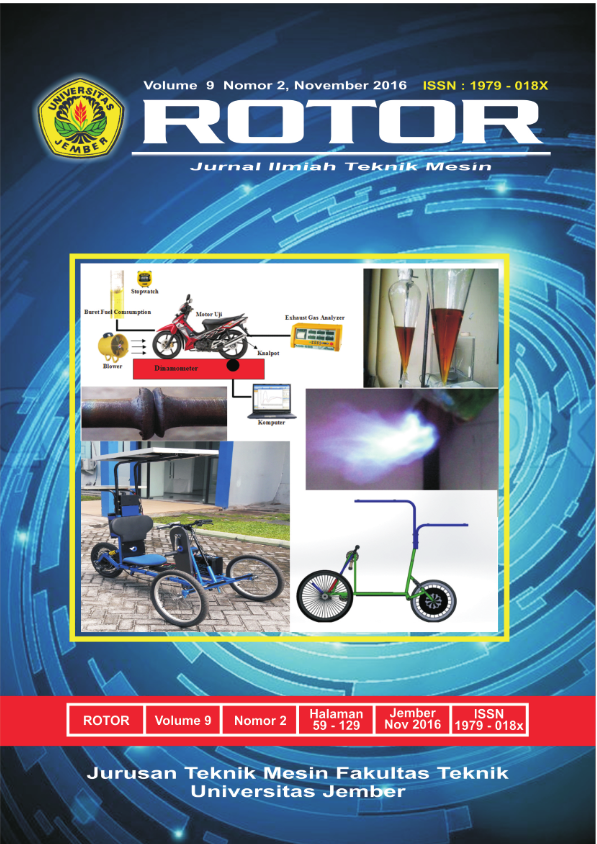 How to Cite
ARIFIN, Zainul; RUDIYANTO, Bayu; SUSMIATI, Yuana. PRODUKSI BIODIESEL DARI MINYAK JELANTAH MENGGUNAKAN KATALIS HETEROGEN CANGKANG BEKICOT (ACHATINA FULICA) DENGAN METODE PENCUCIAN DRY WASHING.
ROTOR
, [S.l.], v. 9, n. 2, p. 100-104, nov. 2016. ISSN 2460-0385. Available at: <
https://jurnal.unej.ac.id/index.php/RTR/article/view/4744
>. Date accessed: 01 aug. 2021.