SINTESIS BIODIESEL DARI MINYAK KESAMBI (Schleichera Oleosa L.) MENGGUNAKAN KATALIS BASA HETEROGEN DARI LIMBAH KARBIT
Mohammad Syarif

Yuana Susmiati

Michael Joko Wibowo
Abstract
Biodiesel is a kind of alternative fuels to replace fossil fuels as form as diesel can be obtain through out transesterification process of vagetable oils and methanol with catalyst. One of all vegetables oil that able to use as biodiesel's material is kesambi seeds oil. The objective of this study is to determine the number of calcium carbide residual catalyst effect to the number of biodiesel's production. Biodiesel produce by esterification-esterification-transesterification (EET) method. Esterification process using methanol amount of 20% w/v, sulfuric acid is 5% w/v, while the reactive temperature is 60oC and stirring duration about 60 minutes. Transesterification process using methanol amount of 75% w/v while the reactive temperature is 60oC, stirring duration is 120 minutes and calcium carbide residue will be variated to 2,3,4,5 and 6% w/v.  The highest biodiesel's production in amount of 51.4% is achieved by 6% catalyst number. While the lowest number in amount of 34.32% is achieved by 2% catalyst number.  R2 number is about 93% which positive correlation slope number reached 475,7x according to correlation between calcium carbide catalyst number and biodiesel's production number. Therefore it has more and more catalyst calcium carbide residue used will obtain the greater biodiesel yield.
Keywords: : Biodiesel, Kesambi seeds oil, Calcium Carbide Residue,Esterification,Transesterification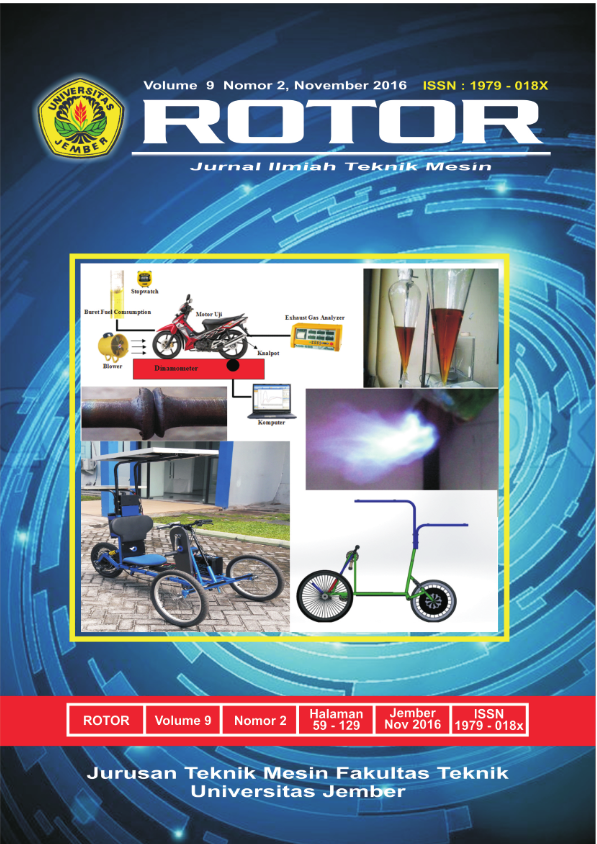 How to Cite
SYARIF, Mohammad; SUSMIATI, Yuana; WIBOWO, Michael Joko. SINTESIS BIODIESEL DARI MINYAK KESAMBI (Schleichera Oleosa L.) MENGGUNAKAN KATALIS BASA HETEROGEN DARI LIMBAH KARBIT.
ROTOR
, [S.l.], v. 9, n. 2, p. 77-80, nov. 2016. ISSN 2460-0385. Available at: <
https://jurnal.unej.ac.id/index.php/RTR/article/view/4740
>. Date accessed: 01 aug. 2021.