KOMPOSISI CAMPURAN KOTORAN SAPI DAN LIMBAH PUCUK TEBU (SACCHARUM OFFICINARUM L) SEBAGAI BAHAN BAKU ISIAN SERTA PENGARUHNYA TERHADAP PEMBENTUKAN BIOGAS
Danial Ahmad Fauzi

Yuli Hananto

Yuana Susmiati
Abstract
Biogas is the result of organic waste fermentation into methane with certain anaerobic microorganisms (air-tight). The purpose of this study is aims to analyze the concentration of a mixture of cow manure and sewage shoots sugar cane based on C/N ratio to produce biogas and to compare the results and identify the best gas production rate. The treatment in this study is using 20, 30 and 40 C/N ratio. The parameters that will be observed is the first time to produce gas, volume of biogas, biogas production rate, ambient temperature and fire flame. Based on this research, biogas optimal results based on 40 C/N ratio that is 40.205,7 ml but it have high CO2this is proved by the flame test, while the C/N ratio of 30 is 32215 ml and C/N ratio of 20 is 6288 ml. Best biogas production rate is 30 C/N ratio which is on the first day can produce 13.733 ml gas, C/N ratio of 40 is 10.666,67 ml and C/N ratio of 20 is 1.203 ml. Therefore, the more a mixture of sugar cane waste in biogas shoots cow manure, the greater the volume of biogas produced.
Keywords: Biogas, Cow manure, waste shoots sugarcane, C/N ratio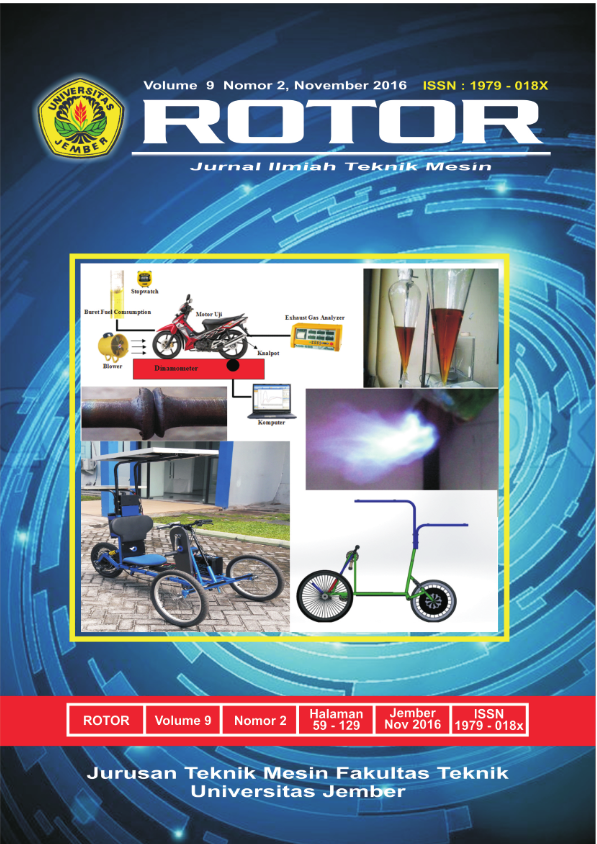 How to Cite
FAUZI, Danial Ahmad; HANANTO, Yuli; SUSMIATI, Yuana. KOMPOSISI CAMPURAN KOTORAN SAPI DAN LIMBAH PUCUK TEBU (SACCHARUM OFFICINARUM L) SEBAGAI BAHAN BAKU ISIAN SERTA PENGARUHNYA TERHADAP PEMBENTUKAN BIOGAS.
ROTOR
, [S.l.], v. 9, n. 2, p. 72-76, nov. 2016. ISSN 2460-0385. Available at: <
https://jurnal.unej.ac.id/index.php/RTR/article/view/4739
>. Date accessed: 01 aug. 2021.