PERUBAHAN MASSA DAN NILAI KALOR CHAR DENGAN VARIASI HEATING RATE DAN TEMPERATUR PADA PIROLISIS SERBUK KAYU MAHONI (SWITENIA MACROPHYLLA)
Farid Majedi

Widya Wijayanti

Nurkholis Hamidi
Abstract
Product pyrolysis process is char, tar and gas. Char important parameters are the mass and caloric value. Therefore, this study discusses the effect of temperature and heating rate due the mass and low heating value. Variations heating rate used was 673 K / h and 1073 K / h.Temperature heatingis varied 523 K, 623 K, 723 K, 773 K and 873 K for each heating rate .The heating temperature is provide by eletric heater with control system (arduino uno system). The measurement is donefor biomass and char mass using measuring cup and measured using mass scale. Bomb calorimeter is used to measure teh low heating value Sawdust mahogany dried powder with temperatures 383-398 K. Sawdust mahogany dry pyrolysis with variations planned. The heating process pyrolysis is taken for 180 minutes using stopwatch.The result show that theheating rate and temperatur has effect due mass char product.The results show that char mass tend to decrease due to heating rate and temperature increasing.. Low heating value tend to increase due to heating rate and temperature increasing.
Keywords: Pyrolysis, sawdust mahogany, heating rate, temperature, mass,low heating value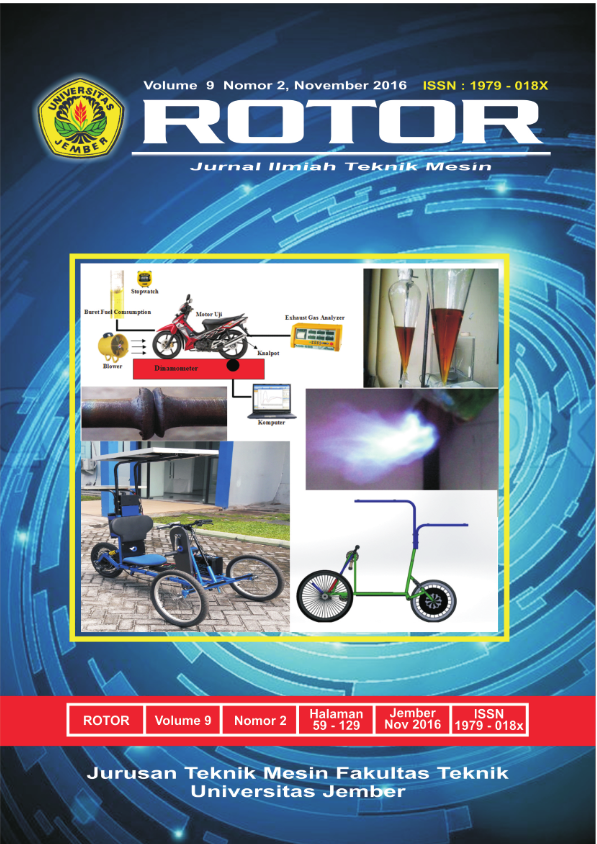 How to Cite
MAJEDI, Farid; WIJAYANTI, Widya; HAMIDI, Nurkholis. PERUBAHAN MASSA DAN NILAI KALOR CHAR DENGAN VARIASI HEATING RATE DAN TEMPERATUR PADA PIROLISIS SERBUK KAYU MAHONI (SWITENIA MACROPHYLLA).
ROTOR
, [S.l.], v. 9, n. 2, p. 59-64, nov. 2016. ISSN 2460-0385. Available at: <
https://jurnal.unej.ac.id/index.php/RTR/article/view/4733
>. Date accessed: 01 aug. 2021.