PENGARUH KONSENTRASI EKSTRAK KULIT BUAH MAJA TERHADAP LAJU KOROSI BAJA KARBON A53 DENGAN MEDIA AIR LAUT
Iwan Faisal Hidayat

Sumarji Sumarji
Abstract
Corrosion is damage or degradation of the metal due to a redox reaction between a metal with a variety of substances in the environment that produce compounds that are not desired. Corrosion is a chemical phenomenon that occurs on metallic materials in a wide range of environmental conditions. Research on the use of tannin as a reaction inhibitor of steel corrosion in a salt solution has been carried out. One of the natural substances containing the compound tannin is maja fruit. Many contain tannins in the skin maja fruit can be used to inhibit the corrosion reaction baja. This study aims to determine the effect of the corrosion rate in carbon steel A53 in a solution of sea water with a variety of fruit skin extracts maja. Variabel used are varied concentration maja fruit skin extracts with a percentage of 0%, 0.1%, 0.2%, 0.3%, and 0 , 4%. While the parameters measured were weight loss. Corrosion rate of carbon steel A53 average at concentrations of 0% is 1.7041 mdd, 0.1% is 0.4674 mdd, 0.2% is 0.4488 mdd, 0.3% is 0.3921 mdd, and 0.4% is 0.3356 mdd. The average efficiency inhibitor maja fruit skin extracts after soaking for 45 days was 75.88% and the most effective immersion occurs on a day to 35 days amounted to 76.12%.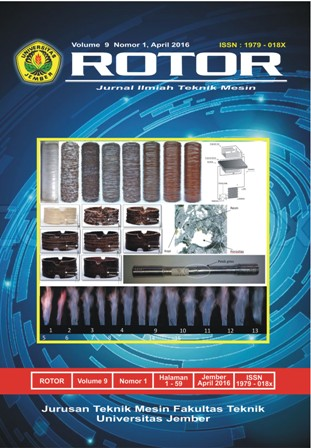 How to Cite
HIDAYAT, Iwan Faisal; SUMARJI, Sumarji. PENGARUH KONSENTRASI EKSTRAK KULIT BUAH MAJA TERHADAP LAJU KOROSI BAJA KARBON A53 DENGAN MEDIA AIR LAUT.
ROTOR
, [S.l.], v. 9, n. 1, p. 24-28, jan. 2017. ISSN 2460-0385. Available at: <
https://jurnal.unej.ac.id/index.php/RTR/article/view/3985
>. Date accessed: 26 oct. 2021.