STUDI PERBANDINGAN KETAHANAN KOROSI STAINLESS STEEL TIPE SS 304 DAN SS 201 MENGGUNAKAN METODE U-BEND TEST SECARA SIKLIK DENGAN VARIASI SUHU DAN PH
Sumarji Sumarji

Staf Pengajar Jurusan Teknik Mesin Fakultas Teknik Universitas Jember
Abstract
There are many failures in a structure that is caused by the damage of the metal that support them. One of the problem which can cause the damage of the metal is corrosion. With its action, corrosion can make a metal  become thin, and in some cases can make a crack and fracture. Some factors are determine how fast the process is occured in corrosion process, for examples are the oxygen concentration, degree of acidity, and temperature. The purpose of this research is to know how is the role of that factors in corrrosion process. This research is implemented in three condision of temperatures (300 C, 500 C, 700 C), variation of HCl's pH (0, 1, 2), and cycle environments condition. That will be combined and will be tested for about 7 days. After this execution, material will be measured for the decrease of the weight to give the value of corrosion rate. From this experiment, the rate of corrosion rises by increasing temperature and the decreasing pH condition. In all condition of this experiment, the SS 304 Stainless Steel has the better resistant to the corrosion in HCl environment.  The highest corrosion rate of cycle condition is 36.119,4 mpy for SS 201 Stainless Steel, and 515,5 mpy for SS 304 Stainless Steel. Form the micro photographs of corrosion happened on SS 201 Stainless Steel is pitting corrosion and SS 304 Stainless Steel is uniform corrosion.
Keywords: Stainless Steel, Cycle and Corrosion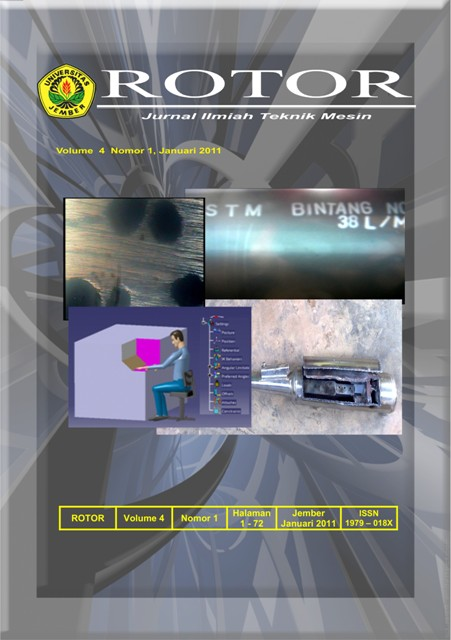 How to Cite
SUMARJI, Sumarji. STUDI PERBANDINGAN KETAHANAN KOROSI STAINLESS STEEL TIPE SS 304 DAN SS 201 MENGGUNAKAN METODE U-BEND TEST SECARA SIKLIK DENGAN VARIASI SUHU DAN PH.
ROTOR
, [S.l.], v. 4, n. 1, p. 1-8, jan. 2011. ISSN 2460-0385. Available at: <
https://jurnal.unej.ac.id/index.php/RTR/article/view/2289
>. Date accessed: 05 aug. 2021.