OPTIMASI DESAIN MOLD UNTUK MEREDUKSI CACAT FLASH DAN SHRINKAGE PADA PRODUK PAKU KOTAK DENGAN MENGGUNAKAN SOFTWARE SIMULASI MOLDFLOW (STUDI KASUS PADA PT. PRIMA SAKTI)
Erfina Ayu W.

Alumni Mahasiswa Jurusan Teknik Mesin Fakultas Teknik Universitas Jember

Hari Arbiantara

Staf Pengajar Jurusan Teknik Mesin Fakultas Teknik Universitas Jember
Abstract
Use of plastic is rapidly increasing, but in injection molding products common product defects, such cracks, shrinkage, unperfect shape, overtopping plastic material, dimensions of product outside specified tolerance and  forth are caused by several factors. The most important factors are mold design. PT. Prima Sakti is injection molding company that produced products rectangle nail that has defects, especially flash and shrinkage, which would harm company. In this study, the authors make analysis to reduce defects in trectangle nail by polypropylene using moldflow simulation software, by varying placement of  gate and diameter of  cooling in mold. The aims are obtaining parameter settings of cylinder temperature, injection pressure, eficient and optimum cooling for rectangle nail, and also obtaining mold that produce  smallest percentage of defect. The test is conducted by varying temperature cylinder 230˚C, 240˚C, 241,1˚C, and 250˚C, and varying injection pressure of 60 MPa, 69.134 MPa, 98.56 MPa and 128 MPa, which aims to determine ratio of shrinkage and fill time. Result that obtained in this study that for rectangle nail product, the best output obtained in design 2 simulation with cylinder temperature 230˚C, injection pressure 60 Mpa and 98,56 Mpa, that obtain shrinkage ratio 15,68% with fill time 0,38 second.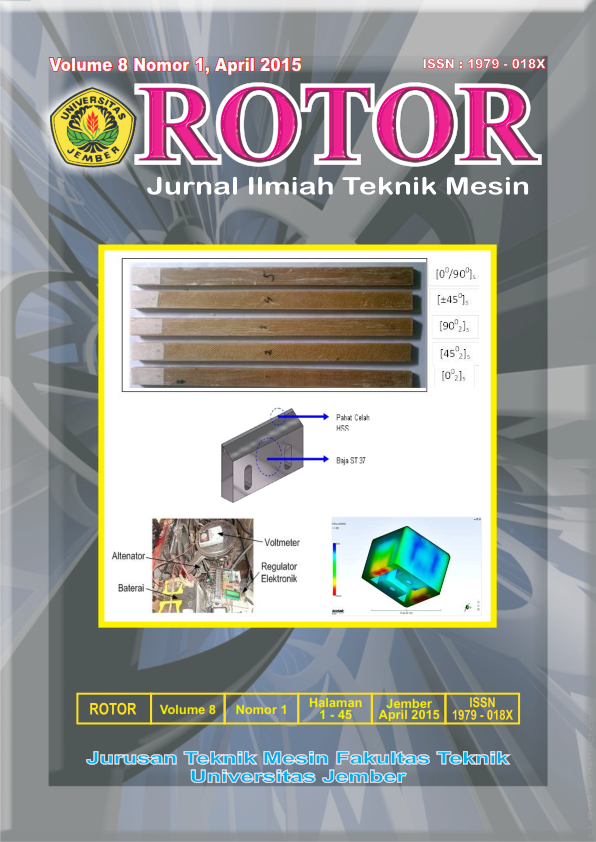 How to Cite
AYU W., Erfina; ARBIANTARA, Hari. OPTIMASI DESAIN MOLD UNTUK MEREDUKSI CACAT FLASH DAN SHRINKAGE PADA PRODUK PAKU KOTAK DENGAN MENGGUNAKAN SOFTWARE SIMULASI MOLDFLOW (STUDI KASUS PADA PT. PRIMA SAKTI).
ROTOR
, [S.l.], v. 8, n. 1, p. 14-18, apr. 2015. ISSN 2460-0385. Available at: <
https://jurnal.unej.ac.id/index.php/RTR/article/view/2148
>. Date accessed: 01 oct. 2022.