PEMILIHAN PISAU POTONG MESIN PERAJANG LIMBAH PLASTIK DENGAN METODE QUALITY FUNCTION DEPLOYMENT (QFD) DAN VALUE ENGINEERING (VE) SEBAGAI ALTERNATIF PENINGKATAN TARAF HIDUP
Widjanarko Widjanarko

Dosen Jurusan Teknik Mesin Politeknik Negeri Malang
Abstract
The problem of waste plastics (especially bottled water brand) and relatively low economic community have a significant impact on the life of the country, and also feared that would contaminate the plastic debris environment, it would seem that negative behavior due to low economic level such as theft, robbery, forgery, trafficking in children, malnutrition, and others.This study aims to identify the scavenger desire in relation to the increase in value of mineral water plastic packaging waste to improve their living standards by the method of Quality Function Deployment (QFD). Method of Value Engineering (VE) was used to obtain the basic functions (primary function) in realizing the desire scavengers who have the technical requirements. Scavenger's desire in the plastic processing waste in this study is able to process the waste plastic in a way that is cheap and efficient. Technical terms on the plastic waste crusher machine developed is about, install and step off, engine capacity, number of components, standard tools, power machines, knife cut, the price of the machine. The knife cut to plastic waste crusher machine there are three options, which made a total of high carbon steel (most expensive), high carbon steel that was inserted on the low carbon steel holder (medium), and a high carbon steel electrode welded on low carbon steel holder (least expensive). The results of 30 scavenger in the city of Malang is the scavenger desire of low-cost machines (83.33%) and the machine capacity is not too large (73.33%). From the percentage of the two wishes are then carried out the product development of plastic waste crusher machine in the price of Rp 3.9 million, crushed capacity of 10 kg / hour.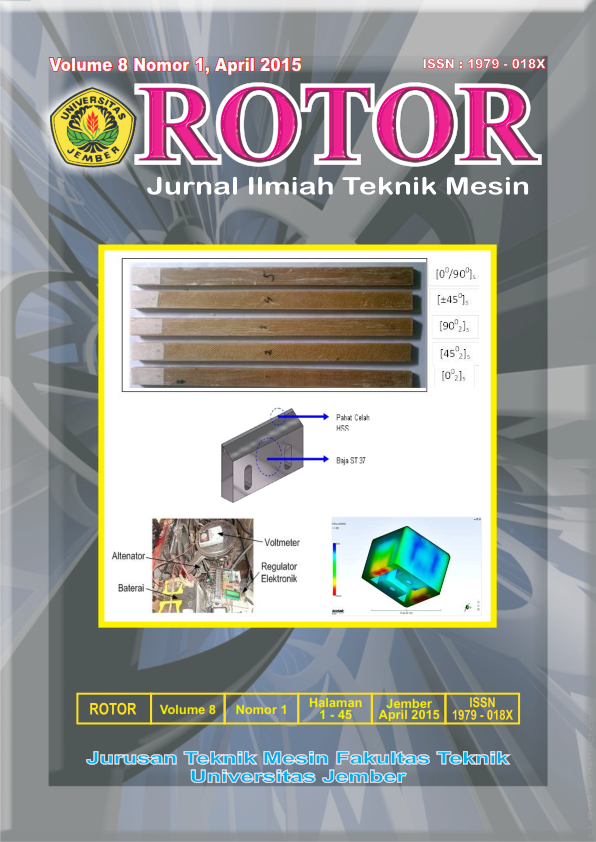 How to Cite
WIDJANARKO, Widjanarko. PEMILIHAN PISAU POTONG MESIN PERAJANG LIMBAH PLASTIK DENGAN METODE QUALITY FUNCTION DEPLOYMENT (QFD) DAN VALUE ENGINEERING (VE) SEBAGAI ALTERNATIF PENINGKATAN TARAF HIDUP.
ROTOR
, [S.l.], v. 8, n. 1, p. 1-4, apr. 2015. ISSN 2460-0385. Available at: <
https://jurnal.unej.ac.id/index.php/RTR/article/view/2144
>. Date accessed: 25 sep. 2022.