ANALISIS KEKERASAN, CACAT LAS, DAN STRUKTUR MIKRO PADA SAMBUNGAN T PADUAN ALUMINIUM 6061 T6511 HASIL GAS METAL ARC WELDING (GMAW) DENGAN VARIASI KUAT ARUS
Ahmad Jukliv Pandu Yoedhawan

Alumni Mahasiswa Jurusan Teknik Mesin Fakultas Teknik Universitas Jember

Sumarji Sumarji

Staf Pengajar Jurusan Teknik Mesin Fakultas Teknik Universitas Jember
Abstract
AA 6061 T6511 is an aluminum alloy with composition Al 96,61 Wt %, Cr 0,04 Wt %, Cu 0,15 Wt %, Fe 0,7 Wt %, Mg 1,15 Wt %, Mn 0,15 Wt %, Si 0,8 Wt %, Ti 0,15 Wt %, and Zn 0,25 Wt %. Gas Metal Arc Welding (GMAW) is a welding process that the energy obtained from an electric arc. Arc welding to occur between the surface of the workpiece with the electrode wire coming out of the nozzle together with the protective gas. GMAW AA 6061 T6511 using filler metal ER 5356 with composition of 0,2% Mn, 0,25% Si, 0,4% Fe, 5,5% Mg, 0,2% Cr, 0,1% Cu, 0,2% Ti, 0,1% Zn, and 0,0003% Be. From a visual test known GMAW process with strong currents 120 amperes generates heat input of 0,504 kJ/mm, GMAW process with strong currents of 150 amperes generates heat input of 0,837 kJ/mm, and the GMAW process with strong currents of 180 amperes generates heat input of 1,168 kJ/mm. From inspection of defects on the surface was found that the results of GMAW are undersize weld, excessive convexity, excessive undercut, overlap, and incomplete fusion. From inspection of surface defects in GMAW welding of AA 6061 T6511 are spherical porosity and wormholes porosity. The area has the highest hardness in the heat affected zone is located at GMAW AA 6061 T6511 180 amperes is equal to 51,33 BHN, the lowest hardness of 24 BHN which is located on the base metal area on GMAW AA 6061 T6511 120 amperes, and microstructure observations show an increase in diameter the highest point on the AA 6061 T6511 from 61 μm after GMAW process 180 amperes becomes 21 μm.
Keywords: AA 6061 T6511, Gas Metal Arc Welding, hardness, microstructure, weld defects.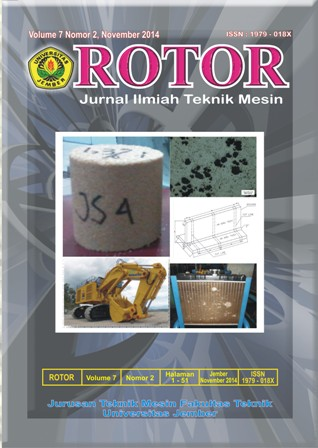 How to Cite
YOEDHAWAN, Ahmad Jukliv Pandu; SUMARJI, Sumarji. ANALISIS KEKERASAN, CACAT LAS, DAN STRUKTUR MIKRO PADA SAMBUNGAN T PADUAN ALUMINIUM 6061 T6511 HASIL GAS METAL ARC WELDING (GMAW) DENGAN VARIASI KUAT ARUS.
ROTOR
, [S.l.], v. 7, n. 2, p. 13-20, nov. 2014. ISSN 2460-0385. Available at: <
https://jurnal.unej.ac.id/index.php/RTR/article/view/1609
>. Date accessed: 04 aug. 2021.