ANALISIS SIFAT MEKANIK DAN STRUKTUR MIKRO ALUMINIUM PADUAN Al-Mg-Si HASIL PENGELASAN FRICTION WELDING DENGAN VARIASI KECEPATAN PUTAR
Setyawan F.W.

Jurusan Teknik Mesin, Fakultas Teknik, Universitas Jember

Dedi Dwilaksana

Staf Pengajar Jurusan Teknik Mesin Fakultas Teknik Universitas Jember
Abstract
All metals can be done, but welding on some metals, especially aluminum alloys with certain hard to do welding . Various ways and development has been carried out to obtain an alternative method which can connect the hard metal welded. Friction welding (friction welding) is one of the solutions to solve difficult problems connecting metal done with fusión welding (welding liquid).
Greatly affect the temperature distribution of welding friction welding results, by varying the rotational speed of the obtained heat more evenly. So that welding can be achieved maximal results. From the results of the largest study of tensile strength at a speed of 1169 rpm is 18.67 MPa, while the tensile strength of the lowest rotational speed of 867 rpm is 16.38 MPa. For the highest hardness values contained in the base metal region (Zud) is 114.5 VHN. while the lowest violence occurred in the HAZ (ZPD) is 52.28 VHN.
Keywords: friction welding, rotation speed, hardness, Al-Mg-Si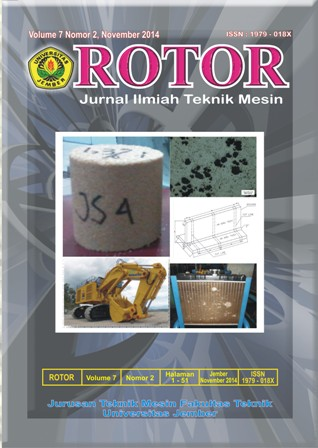 How to Cite
F.W., Setyawan; DWILAKSANA, Dedi. ANALISIS SIFAT MEKANIK DAN STRUKTUR MIKRO ALUMINIUM PADUAN Al-Mg-Si HASIL PENGELASAN FRICTION WELDING DENGAN VARIASI KECEPATAN PUTAR.
ROTOR
, [S.l.], v. 7, n. 2, p. 1-4, nov. 2014. ISSN 2460-0385. Available at: <
https://jurnal.unej.ac.id/index.php/RTR/article/view/1606
>. Date accessed: 04 aug. 2021.