Persepsi Guru Geografi SMA Muhammadiyah 3 Jember Tentang Kegiatan Pembelajaran Online di Masa Pandemi Covid 19
Andika Pratama Rahmadianto

Program Studi Pendidikan Geografi, Fakultas Keguruan Dan Ilmu Pendidikan, Universitas Jember, Jln. Kalimantan 37, Jember 68121, Indonesia

Fahrudi Ahwan Ikhsan

Program Studi Pendidikan Geografi, Fakultas Keguruan Dan Ilmu Pendidikan, Universitas Jember, Jln. Kalimantan 37, Jember 68121, Indonesia

Sri Astutik

Program Studi Pendidikan Geografi, Fakultas Keguruan Dan Ilmu Pendidikan, Universitas Jember, Jln. Kalimantan 37, Jember 68121, Indonesia
Abstract
Penelitian ini bertujuan untuk mengetahui persepsi guru selama pelaksanaan kegiatan pembelajaran online di masa pandemi covid 19. Penelitian ini dilakukan di SMA Muhammadiyah 3 Jember yang merupakan salah satu sekolah di Kabupaten Jember yang melaksanakan kegiatan pembelajaran online dengan subjek penelitian yaitu guru geografi.. Metode pengumpulan data yang digunakan adalah observasi, wawancara mendalam dan dokumentasi. Hasil penelitian menunjukkan : (1) guru mengalami kendala dalam pelaksanaan pembelajaran online, dan (2) guru mendapat pengalaman dan pengetahuan baru dalam penggunaan teknologi ketika pembelajaran online.
References
Agarwal, S., dan J. S. Kaushik. 2020. Student's Perception of Online Learning during COVID Pandemic. The Indian Journal of Pediatrics. 87(7): 554.

Butcher, N., M. W. Strydom, S. U. Trumbic dan S. J. Daniel. 2012. A Guide to Quality in Online Learning. Academic Partnerships.

Cheawjindakarn, B., P. Suwannatthachote dan A. Theeraroungchaisri. 2012. Critical Success Factors for Online Distance Learning in Higher Education: A Review of the Literature. Creative Education Scientific Research. 3: 61-66.

Chick, R. C., G. T. Clifton, K. M. Peace, B. W. Propper, D. F. Hale, A. A. Alseidi, dan T. J. Vreeland. 2020. Using Technology to Maintain the Education of Residents During the COVID-19 Pandemic. Journal of Surgical Education.

Cochran, J. D., H. M. Beker, D. Benson, dan W. Rhea. 2016. Business Student Perceptions of Online Learning: Using Focus Groups for Richer Understanding of Student Perspectives, Organization Management Journal, 13:3, 149-166.

Hidayat, A., dan P. Sadewa. 2020. Pengaruh Penggunaan Aplikasi Eviews Terhadap Sikap Belajar dan Kemampuan Pemecahan Masalah Statistik. Edumaspul: Jurnal Pendidikan, 4(1), 321–328.

Morgan, H. 2020 Best Practices for Implementing Remote Learning during a Pandemic, The Clearing House: A Journal of Educational Strategies, Issues and Ideas, 93:3, 134-140

Murphy, M. P. A. 2020. COVID-19 and emergency eLearning: Consequences of the securitization of higher education for post-pandemic pedagogy, Contemporary Security Policy.

Rahmat, J. 2013. Psikologi Komunikasi. Bandung: Remaja Rosdakarya.

Schultz, R. B., dan M. N. DeMers. 2020. Transitioning from Emergency Remote Learning to Deep Online Learning Experiences in Geography Education. Journal of Geography, 119(5), 142–146. https://doi.org/10.1080/00221341.2020.1813791

Thoha, M. 2003. Prilaku Organisasi Konsep Dasar dan Aplikasinya. Jakarta: Raja Grafindo Persada.

Yin, R. K. 2013. Studi Kasus Desain dan Metode. Jakarta: PT. Raja Grafindo Persada.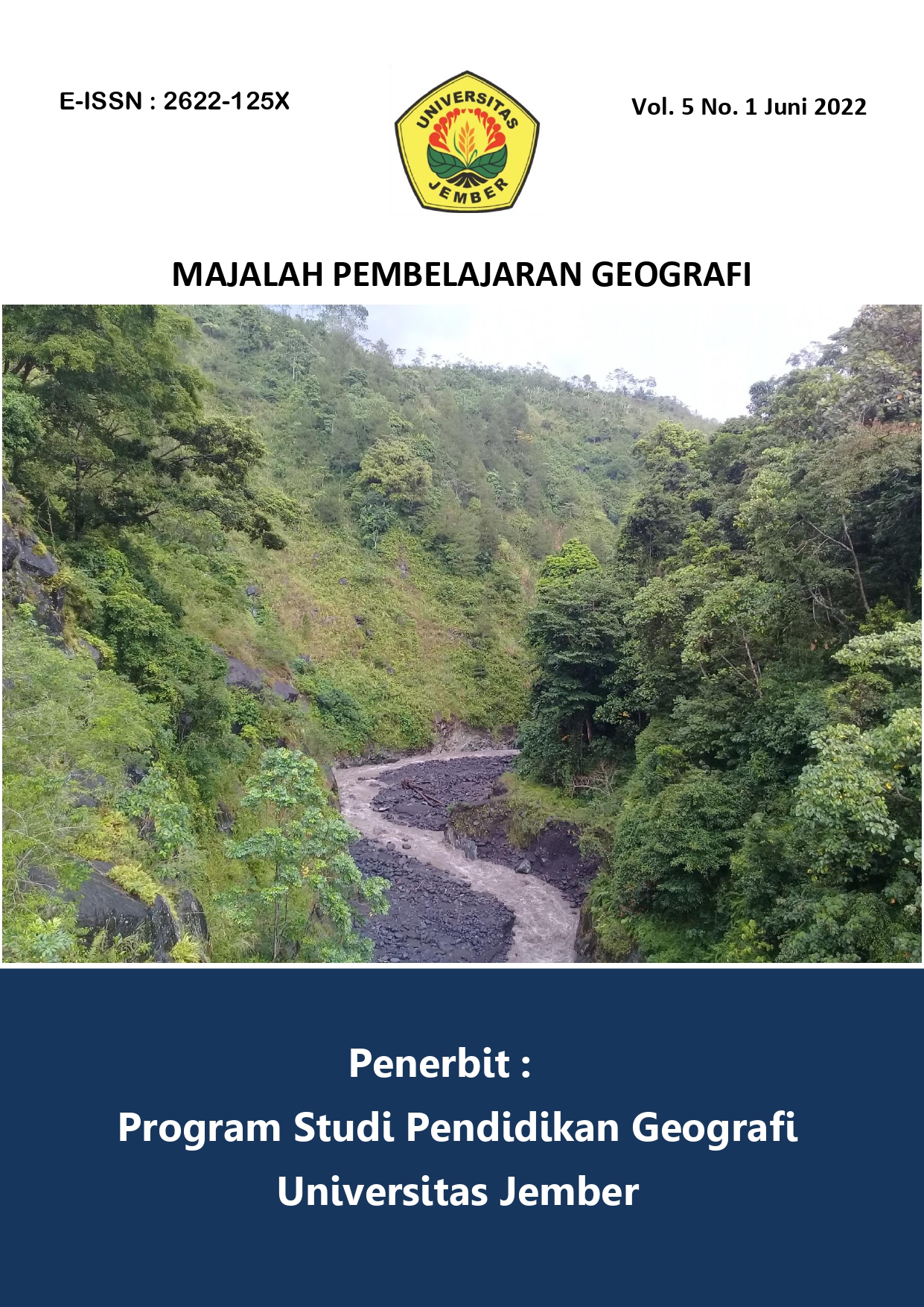 How to Cite
RAHMADIANTO, Andika Pratama; IKHSAN, Fahrudi Ahwan; ASTUTIK, Sri. Persepsi Guru Geografi SMA Muhammadiyah 3 Jember Tentang Kegiatan Pembelajaran Online di Masa Pandemi Covid 19.
MAJALAH PEMBELAJARAN GEOGRAFI
, [S.l.], v. 5, n. 1, p. 19-25, feb. 2022. ISSN 2622-125X. Available at: <
https://jurnal.unej.ac.id/index.php/PGEO/article/view/30019
>. Date accessed: 28 sep. 2022.