ANALISIS SEMIOTIKA FILM CHRISTIAN METZ: STUDI KASUS VISUALISASI PESAN RELIGI DALAM FILM HIJRAH CINTA
Alga Lilis Kusuma Dewi

Muhammad Zamroni

Soekma Yeni Astuti
Abstract
Abstract
This study was investigating about religion message visualization in film "Hijrah Cinta". The goal of this study was to know about religion message visualization and it purposed in film "Hijrah Cinta". This study used the descriptive-qualitiative method which explained the detail of the problem showed on this study. The data analysis in the object used the semiotics analiysis technic. The concept which used in this study was : religion message concept, then the theory whisch used was film semiotics Christian Metz theory and Gestalt cognitive psycology theory. The data analysis result shown the conclusion that the religion message in "Hijrah Cinta" shot series was sincere, patient, no surrender and godfearing. Those message was described to 7 syntagmas by Metz. The explanation of religion message was more complete with presence of gestalt psychological based analysis. 5 characteristic of insight in learning formed the comprehension about sincere, godfearing on religious proselytizing.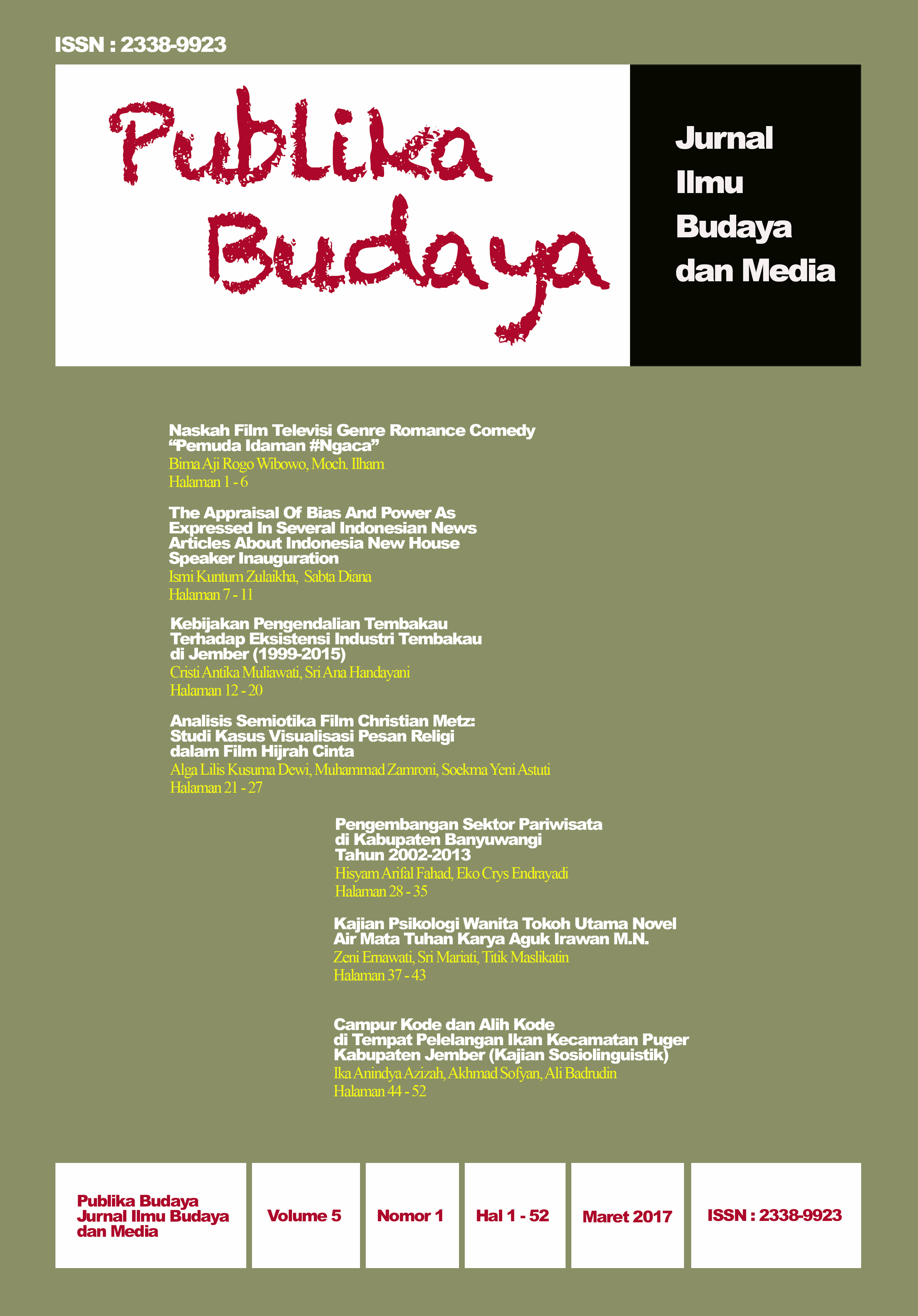 How to Cite
KUSUMA DEWI, Alga Lilis; ZAMRONI, Muhammad; ASTUTI, Soekma Yeni. ANALISIS SEMIOTIKA FILM CHRISTIAN METZ: STUDI KASUS VISUALISASI PESAN RELIGI DALAM FILM HIJRAH CINTA.
Publika Budaya
, [S.l.], v. 5, n. 1, p. 21-27, dec. 2017. ISSN 2338-9923. Available at: <
https://jurnal.unej.ac.id/index.php/PB/article/view/5986
>. Date accessed: 07 june 2023.
Penulis yang mengusulkan naskahnya untuk dapat diproses penerbitannya pada Pustaka Budaya dianggap telah menyetujui beberapa hal sebagai berikut:
1. Penulis tidak dapat menarik naskah yang telah usulkan untuk diproses hingga mendapat jawaban dari Ketua Dewan Penyunting atas status naskah artikel ilmiahnya (diterima atau ditolak untuk diterbitkan).
2. Penerbit tidak bertanggung jawab terhadap kasus plagiasi atas artikel yang terbit pada Pustaka Budaya.
3. Penerbit tidak bertanggung jawab atas data dan isi dari artikel yang diterbitkan pada Pustaka Budaya, dan sepenuhnya merupakan tanggung jawab penulis.
4. Penulis yang artikelnya diterbitkan pada Publika Budaya menyetujui lisensi berikut:
Publika Budaya by
University of Jember
is licensed under a
Creative Commons Attribution-NonCommercial 4.0 International License
.