THE ANALYSIS OF THE FACE THREATENING ACT DELIVERED BY ASPERGER SYNDROME IN ADAM MOVIE
Achmad Mubasyiril Anwar

Syamsul Anam

Wisasongko Wisasongko
Abstract
When language is communicated within a social context where every interlocutor is expected to carry out a linguistically polite communication which will not bring harm both to him or herself and the person to whom the messages are being delivered, speaker socially should maintain it. This study pragmatic understanding is conducted from a framework based on politeness principle (Brown & Levinson 1987) that aims to explain how face as a universal aspect in politeness study. The research is to find out the pragmatic understanding abilities of Adam, and to understand what utterances for person with Asperger Syndrome is potentially confusing leading him to face threatening act. Qualitative and quantitative research are employed in this study. Qualitative research used is to describe the data in the form of extract conversation and quantitative research is used to know the presentage of the results. The results show Adam tend to use bald on record communication without redressive action toward confusing utterances. Therefore, the prominent weakness Adam has is social interaction and emotional abilities.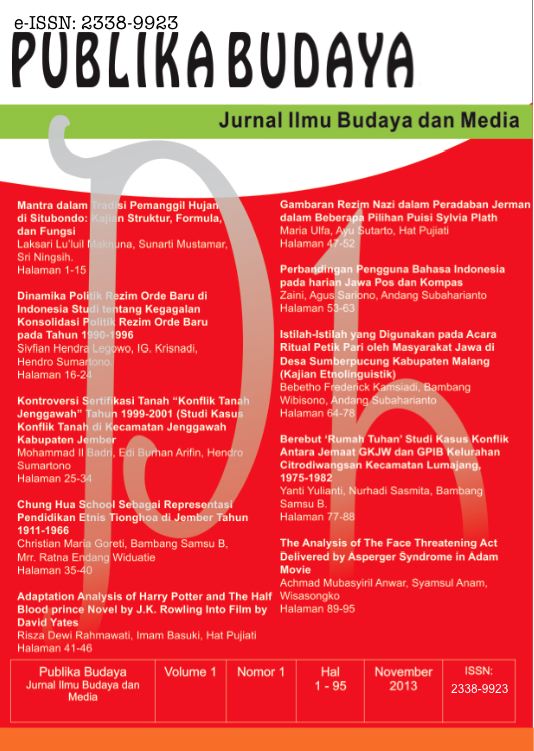 How to Cite
ANWAR, Achmad Mubasyiril; ANAM, Syamsul; WISASONGKO, Wisasongko. THE ANALYSIS OF THE FACE THREATENING ACT DELIVERED BY ASPERGER SYNDROME IN ADAM MOVIE.
Publika Budaya
, [S.l.], v. 1, n. 1, p. 89-95, sep. 2013. ISSN 2338-9923. Available at: <
https://jurnal.unej.ac.id/index.php/PB/article/view/342
>. Date accessed: 25 sep. 2023.
Penulis yang mengusulkan naskahnya untuk dapat diproses penerbitannya pada Pustaka Budaya dianggap telah menyetujui beberapa hal sebagai berikut:
1. Penulis tidak dapat menarik naskah yang telah usulkan untuk diproses hingga mendapat jawaban dari Ketua Dewan Penyunting atas status naskah artikel ilmiahnya (diterima atau ditolak untuk diterbitkan).
2. Penerbit tidak bertanggung jawab terhadap kasus plagiasi atas artikel yang terbit pada Pustaka Budaya.
3. Penerbit tidak bertanggung jawab atas data dan isi dari artikel yang diterbitkan pada Pustaka Budaya, dan sepenuhnya merupakan tanggung jawab penulis.
4. Penulis yang artikelnya diterbitkan pada Publika Budaya menyetujui lisensi berikut:
Publika Budaya by
University of Jember
is licensed under a
Creative Commons Attribution-NonCommercial 4.0 International License
.