Tindak Tutur Asertif Narasumber Grebek Gadget Di Pricebook Dan Pemanfaatannya Sebagai Materi Pembelajaran Teks Persuasi Di SMP
Faisal Makarim

Universitas Jember
Abstract
The Grebek Gadget program is one of the program contents on the Pricebook YouTube channel which discusses the world of communication technology. The concept of this event is in the form of interviews with resource persons presented by a host (host). Information from the speech conveyed by the speaker to the host in the Grebek Gadget program on Pricebook is one of the speech act phenomena that is often encountered in informal speech events. This study aims to describe the forms of assertive speech acts, the mode, and the use of assertive speech acts by Grebek Gadget sources in Pricebook as teaching materials for persuasive texts in junior high schools. The research design used is descriptive qualitative research. The research data is in the form of speech segments and their contexts in the form of words, phrases, clauses, sentences which indicate the form of assertive speech acts and the mode in the speech of Grebek Gadget speakers in Pricebook and KI and KD syllabus for Indonesian language subjects in junior high school class VIII, curriculum 2013, revision 2017. The results of this study shows that assertive speech acts are found in the speech of information conveyed by the resource person to the presenter as many as six kinds, namely, stating, telling, complaining, showing, suggesting, boasting with various modes which include them, indicative mode, optative mode, imperative mode, obligative mode , and conditional mode. The relevance to learning Indonesian in junior high school can be used as persuasive text learning material that is directed at the ability of students to formulate steps for preparing conclusions and concluding how to present information about the content of persuasive texts that are heard and read. Utilization of this research can be used as a learning resource for teaching persuasive texts at the VIII grade semester 2 junior high school level in the form of a Learning Implementation Plan in accordance with the 2013 curriculum.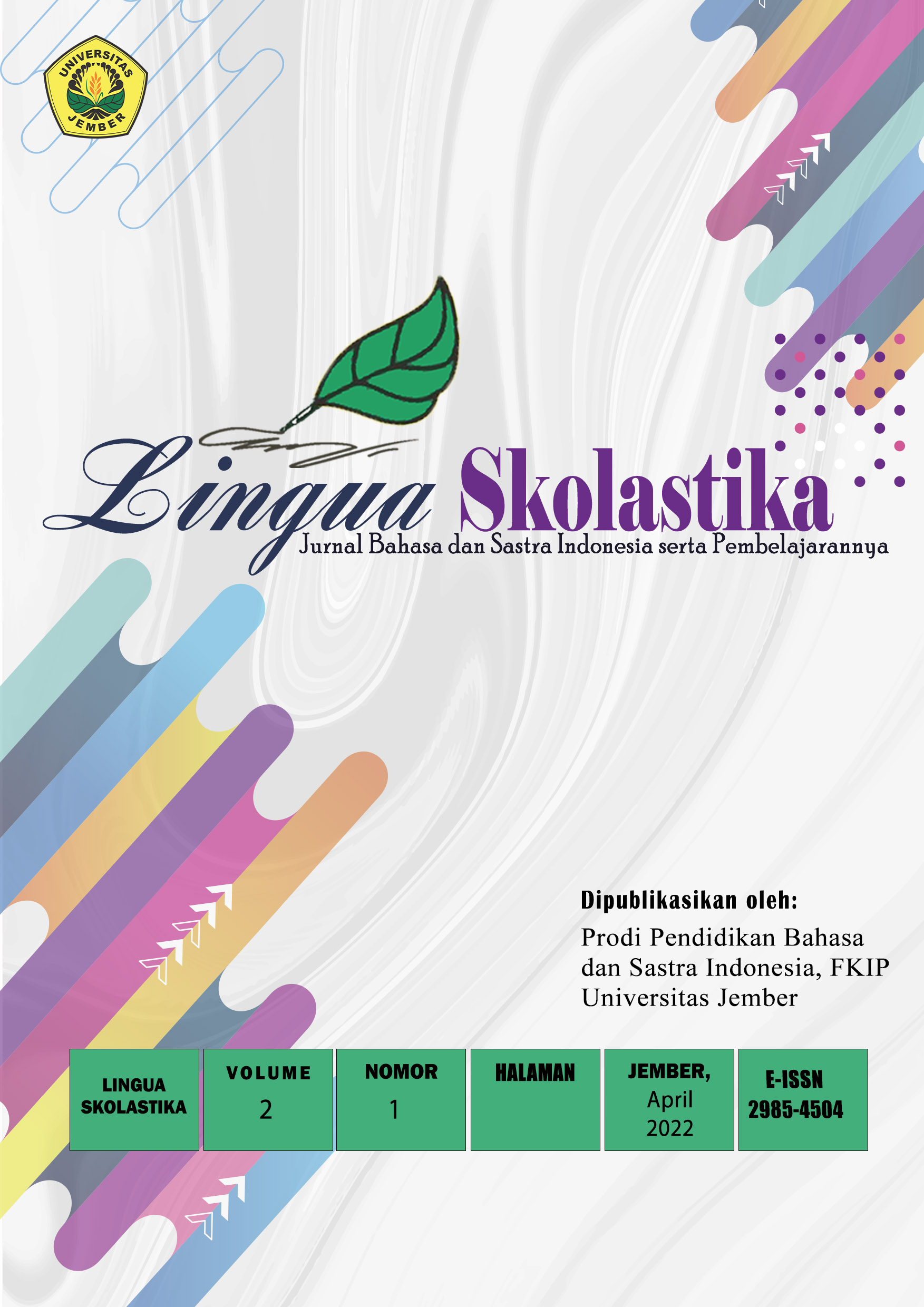 How to Cite
MAKARIM, Faisal. Tindak Tutur Asertif Narasumber Grebek Gadget Di Pricebook Dan Pemanfaatannya Sebagai Materi Pembelajaran Teks Persuasi Di SMP.
Lingua Skolastika
, [S.l.], v. 2, n. 1, p. 21-34, may 2023. ISSN 2985-4504. Available at: <
https://jurnal.unej.ac.id/index.php/LF/article/view/38907
>. Date accessed: 04 oct. 2023.