STUDI KOMPARATIF USAHATANI PADI SEMI ORGANIK DAN KONVENSIONAL DI DESA WATUKEBO KECAMATAN BLIMBINGSARI KABUPATEN BANYUWANGI
Comparative Study of Semi Organic and Conventional Rice Farm Management in Watukebo Village Blimbingsari Sub District of Banyuwangi Regency
Ani Domiah

University of Jember

Jani Januar

University of Jember
Abstract
The rising of semi-organic rice farming in Watukebo Village is due to the doubthness in implementing the semi-organic system. Semi-organic rice farm system require considerable cost savings compared to conventional rice and in the short-term, semi-organic rice production will generally decline. The study was conducted in the Watukebo Village Banyuwangi Regency intentionally. The sample are taken by using total sampling method for semi-organic rice farmers and quota sampling technique for conventional rice farmers. The data used are primary data and secondary data. The Tools of analysis data used are income analysis, R/C ratio analysis, and Cobb-Douglas production function analysis. The results showed that : (1) there was no significant difference between the average income of semi-organic rice farmers and conventional rice farmers, (2) there was no significant difference between the average of cost efficiency of semi-organic rice farming with conventional rice farmers in Watukebo of Blimbingsari, and (3) factors that influence the production of semi organic rice significantly are land area, organic fertilizer, and urea fertilizer. Factors affecting the conventional rice production significantly are the number of seeds and labors.
References
Herawati, Noknik Karliya., J. Hendrani, dan S. Nugraheni. 2014. Viabilitas Pertanian Organik dibandingkan dengan Pertanian Konvensional. Laporan Akhir Penelitian Viabilitas Pertanian Organik.

Heryanto, Mahra Arari., Y. Sukayat, dan D. Supyandi. 2016. Model Perilaku Petani dalam Adopsi Sistem Usahatani Padi Organik : Paradoks SosialEkonomi-Lingkungan. Jurnal Sosiohumaniora, vol. 18(2) : 159 – 165.

Khorniawati, Melisa. 2014. Produk Pertanian Organik di Indonesia : Tinjauan atas Preferensi Konsumen Indonesia Terhadap Produk Pertanian Organik Lokal. Jurnal Studi Manajemen, vol. 8(2) : 171 – 182.

Kompas.com. (2016, February 12) . Tiga Varietas Padi Organik Banyuwangi Resmi Terdaftar di Kementerian Pertanian. [Serial Online]. https://biz.kompas.com/read/2016/12/02/174807728/tiga.varietas.padi.organik.banyuwangi.resmi.terdaftar.di.kementerian.pertanian. Tanggal Akses : 13 Juli 2018.

Kusumo, Rani andriani Budi., A. Chareina, A. H. Sadeli, dan G. W. Mukti. 2017. Persepsi Petani Terhadap Teknologi Budidaya Sayuran Organik di Kabupaten Bandung Barat. Jurnal Paspalum, vol. 5(2) : 19 – 27.

Lesmana, Dina., dan Margareta. 2017. Tingkat Pengetahuan Petani Padi Sawah (Oryza sativa L.) Terhadap Pertanian Organik di Desa Manunggal Jaya Kecamatan Tenggarong Seberang. Jurnal Pertanian Terpadu, vol. 5(2) : 8 – 33.

Mayrowani, Henny. 2012. Pengembangan Pertanian Organik di Indonesia. Forum Penelitian Agro Ekonomi, vol. 30(2) : 91 – 108.

Mungara, Evan., D. Indradewa, dan R. Rogomulyo. 2013. Analisis Pertumbuhan dan Hasil Padi Sawah (Oryza sativa L.) Pada Sistem Pertanian Konvensional, Transisi Organik, dan Organik. Jurnal Vegetalika, vol. 2(3) : 1–12.

Safitri, Sri Ariani. 2013. Strategi Pengembangan Sistem Agribisnis Beras Organik (Studi Kasus : Desa Lubuk Bayas, Kecamatan Perbaungan, Kabupaten Serdang Bedagai). Skripsi. Medan : Fakultas Pertanian Universitas Sumatera Utara.

Soekartawi. 1995. Analisis Usahatani. Jakarta : Universitas Indonesia.

Sugiyono. 2013. Statistika Untuk Penelitian. Bandung : Alfabeta.

Zuriah, Nurul. 2005. Metodologi Penelitian Sosial dan Pendidikan. Jakarta : Bumi Aksara.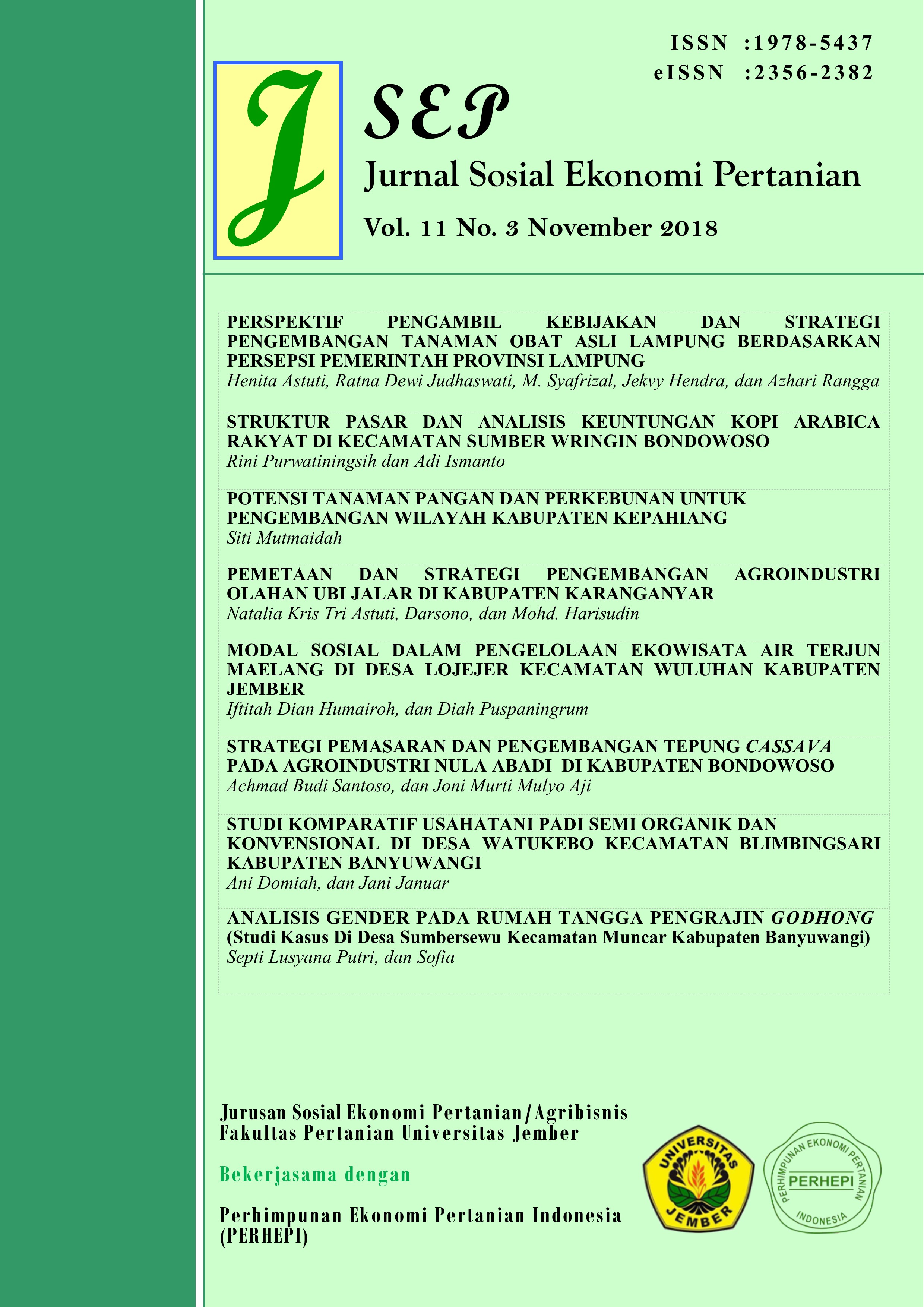 This work is licensed under a Creative Commons Attribution-ShareAlike 4.0 International License.
Authors who publish with this journal agree to the following terms:
Authors retain copyright and grant the journal right of first publication with the work simultaneously licensed under a Creative Commons Attribution License that allows others to share the work with an acknowledgement of the work's authorship and initial publication in this journal.
Authors are able to enter into separate, additional contractual arrangements for the non-exclusive distribution of the journal's published version of the work (e.g., post it to an institutional repository or publish it in a book), with an acknowledgement of its initial publication in this journal.
Authors are permitted and encouraged to post their work online (e.g., in institutional repositories or on their website) prior to and during the submission process, as it can lead to productive exchanges, as well as earlier and greater citation of published work (See The Effect of Open Access).