ANALISIS PEMASARAN DAN PENDAPATAN USAHATANI SEMANGKA KELOMPOK TANI RIDHO LESTARI DI DESA TEMBOKREJO KECAMATAN MUNCAR KABUPATEN BANYUWANGI
Binta Islami Amnimarlianda

University of Jember

Imam Syafi'i

University of Jember

Agus Supriono

University of Jember
Abstract
Banyuwangi Regency is one of the centers of watermelon production in East Java Province. Muncar Sub-district is a watermelon producing district with the highest harvest and production area in Banyuwangi. The village of Muncar sub-district known as watermelon producing village is Tembokrejo Village. This research conducted in the Tembokrejo Village at the farmer group of Ridho Lestari has three purposes, namely: (1) to know the marketing channel of watermelon, (2) to know the margin and efficiency of watermelon marketing, and (3) to know the income and efficiency of watermelon farming. The results showed that farmers of watermelon farmer group Ridho Lestari have 4 marketing channels, namely: (a) farmers - wholesalers - retailers - consumers, (b) farmers - middlemen - wholesalers - retailers - consumers, (c) farmers - middlemen - retailers - consumers, and (d) farmers - exporters - importers; (2) the non-exported watermelon marketing margin is low and efficient, while the export marketing margin is high and inefficient; (3) Ridho Lestari farmers' watermelon farmer's income is beneficial and the cost of watermelon farming is efficient.
References
Bappenas. 2000. Semangka. Jakarta: Sistim Informasi Manajemen Pembangunan di Perdesaan.

Budiarto, Teguh dan Fandy Ciptono. 1997. Pemasaran Internasional. Yogyakarta: BPFE.

Chandra, Gregorius., Tjiptono, Fandy., dan Chandra, Yanto. 2003. Pemasaran Global: Internasionalisasi dan Internetisasi. Yogyakarta: ANDI.

Hanafie, Rita. 2010. Pengantar Ekonomi Pertanian. Yogyakarta: CV. Andi Offset.

Irawan, Bambang. 2007. Fluktuasi Harga, Transmisi Harga, dan Margin Pemasaran Sayuran dan Buah. Jurnal Analisis Kebijakan Pertanian, 5 (4): 358 – 373.

Nazir, Moh. 1988. Metode Penelitian. Jakarta: Ghalia Indonesia.

Sudiyono. 2002. Pemasaran Pertanian. Malang: UMM Press.

Soekartawi. 1993. Prinsip Dasar Ekonomi Pertanian. Jakarta: Raja Grafindo Persada.

Soekartawi. 1995. Analisis Usahatani. Jakarta: Universitas Indonesia.

Tempo Bisnis. 2015. Semangka Banyuwangi di Ekspor ke Singapura.https://m.tempo.co/read/news/2012/12/03/090445592/semangka-banyuwangi-diekspor-ke-singapura [diakses pada tanggal 01 Maret 2016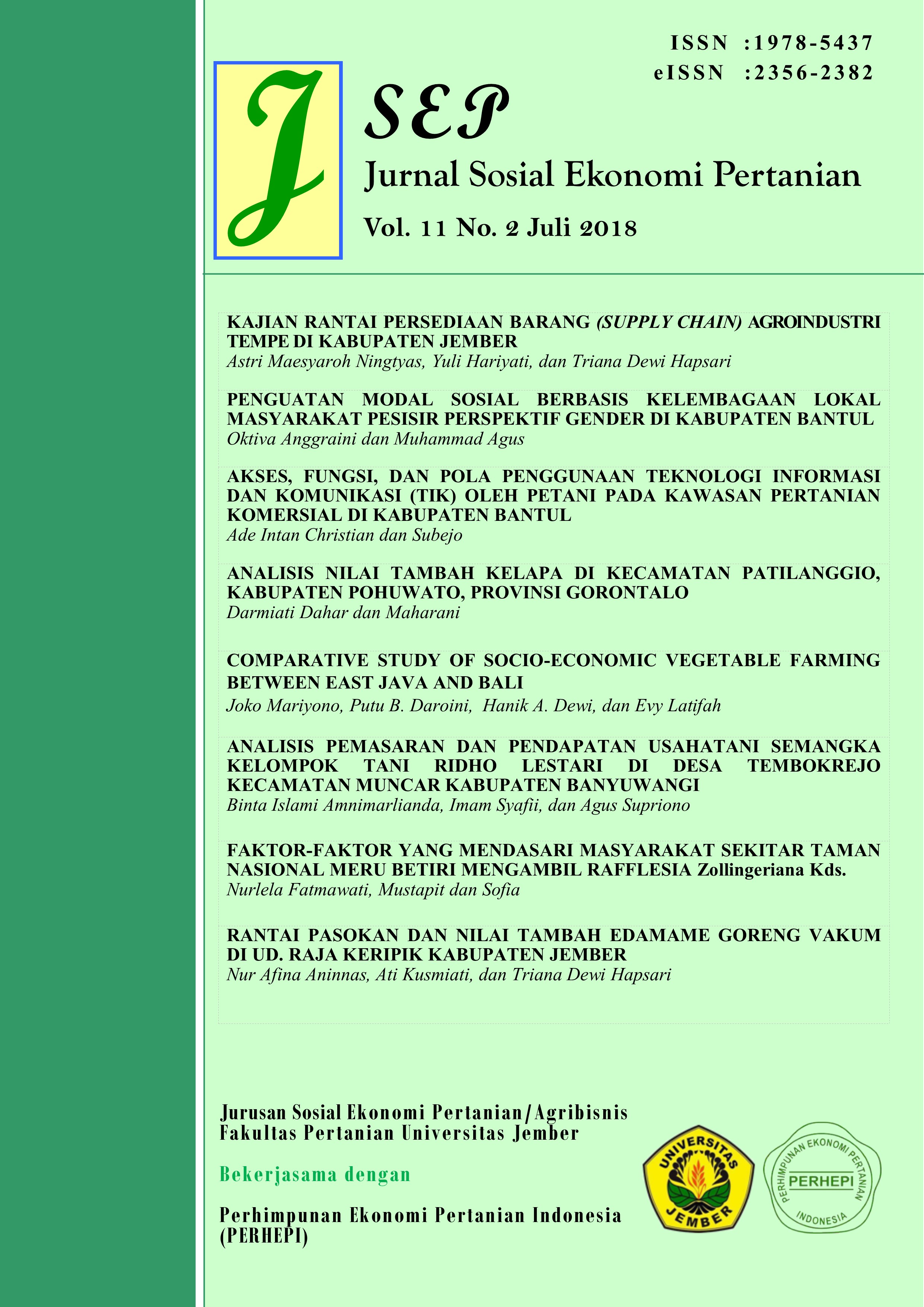 Authors who publish with this journal agree to the following terms:
Authors retain copyright and grant the journal right of first publication with the work simultaneously licensed under a Creative Commons Attribution License that allows others to share the work with an acknowledgement of the work's authorship and initial publication in this journal.
Authors are able to enter into separate, additional contractual arrangements for the non-exclusive distribution of the journal's published version of the work (e.g., post it to an institutional repository or publish it in a book), with an acknowledgement of its initial publication in this journal.
Authors are permitted and encouraged to post their work online (e.g., in institutional repositories or on their website) prior to and during the submission process, as it can lead to productive exchanges, as well as earlier and greater citation of published work (See The Effect of Open Access).