POTENSI TANAMAN PANGAN DAN PERKEBUNAN UNTUK PENGEMBANGAN WILAYAH KABUPATEN KEPAHIANG
Identification Food Crops And Plantation Crops For Potential Regional Development in Kepahiang Regency
siti mutmaidah

Balai penelitian tanaman aneka kacang dan umbi
Abstract
This study aims to determine the regional leading sector of Kepahiang Regency as the information and considerations in planning economic development. Secondary data such as time series of the Gross Regional Domestic Product (GRDP) of Kepahiang and Bengkulu in the period 2011-2014 are applied. Klassen Typology and Location Quotient (LQ) are tools of analysis. The results of the analysis based on two analysis tools indicate that the leading sector with the criterias developed, base, and competitive is agricultural sector. The results showed that the agricultural sector can be used as a leading sector in Kepahiang Regency with criteria of the advanced sector and grow rapidly and is the base sector. Seberang Musi Sub-district has the most potential for cultivation of food crops and plantations with 13 commodities that become the base sector. For the specialization of food crop base sector is Kaba wetan Subdistrict with 5 commodities with base criteria and for plantation crops Merigi and Seberang Musi subdistricts with 9 commodities crops.
References
Anonim, 2014. Visi kedaulatan pangan indonesia 2014-2024. Serikat Petani Indonesia. https://www.spi.or.id/wp-content/uploads/2014/05/VISI-KEDAULATAN-PANGAN-INDONESIA-2014-2024.pdf. diakses 12 Oktober 2016

Fachrurrazy, 2009. Analisis penentuan sektor unggulan perekonomiaan wilayah kabupaten aceh utara dengan pendekatan sektor pembentuk PDRB. Tesis. Universitas Sumatera Utara.

Firmansya, 2015. Ikuti Program Pertanian Padi, Jagung dan Kedelai ini Syaratnya http://kupasbengkulu.com/ikuti-program-pertanian-padi-jagung-dan-kedelai-ini-syaratnya/.akses 2 Desember 2016

http://kepahiangkab.go.id/index.php?option=com_content&view=article&id=66:pariwisata4&catid=36:info-pariwisata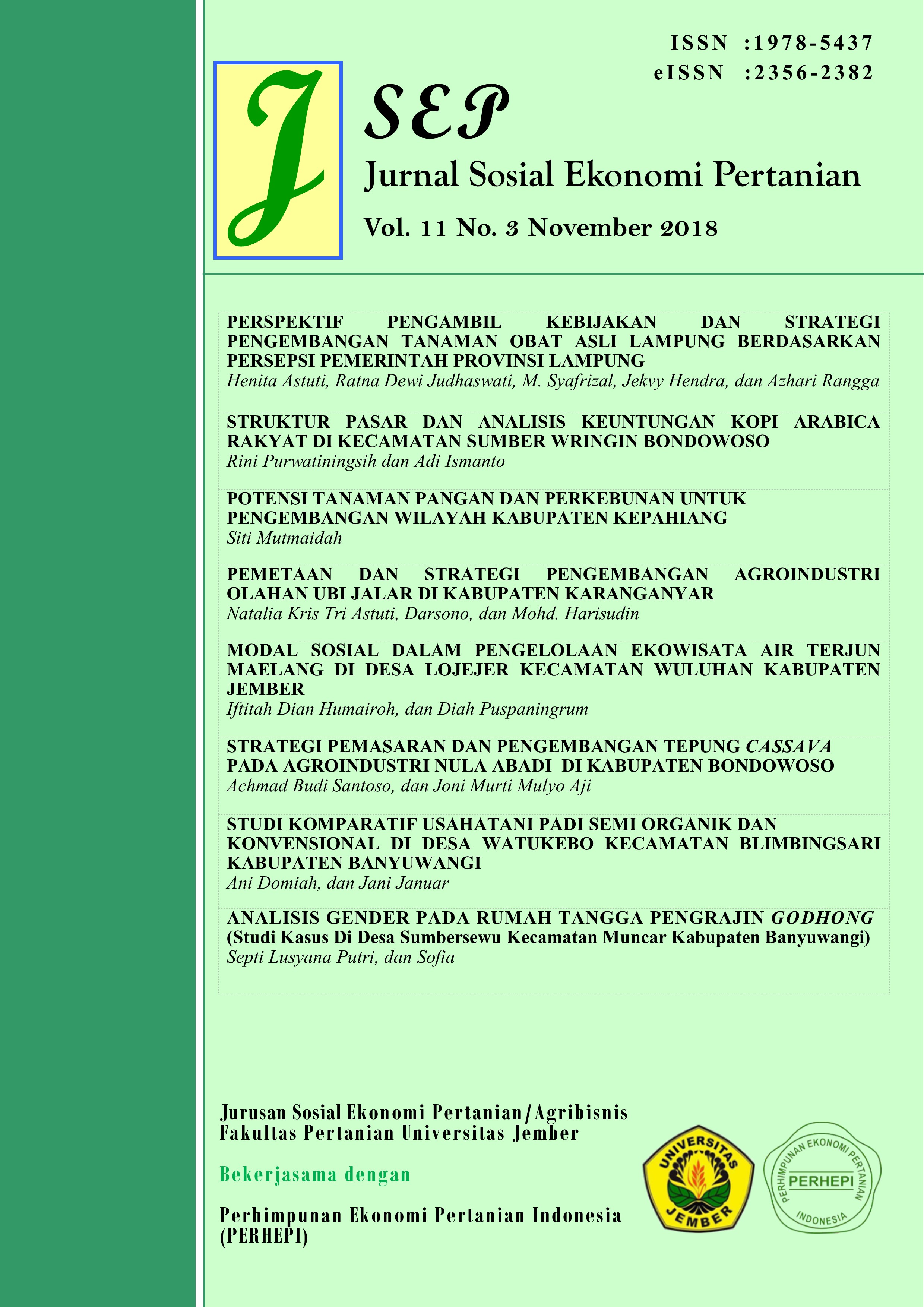 Authors who publish with this journal agree to the following terms:
Authors retain copyright and grant the journal right of first publication with the work simultaneously licensed under a Creative Commons Attribution License that allows others to share the work with an acknowledgement of the work's authorship and initial publication in this journal.
Authors are able to enter into separate, additional contractual arrangements for the non-exclusive distribution of the journal's published version of the work (e.g., post it to an institutional repository or publish it in a book), with an acknowledgement of its initial publication in this journal.
Authors are permitted and encouraged to post their work online (e.g., in institutional repositories or on their website) prior to and during the submission process, as it can lead to productive exchanges, as well as earlier and greater citation of published work (See The Effect of Open Access).