ANALISIS EFISIENSI HARGA DAN BIAYA USAHATANI CABAI MERAH (CAPSIUM ANNUUM L) DI KECAMATAN WULUHAN KABUPATEN JEMBER
Nihliatun Ni'mah

Universitas Jember

Yuli Hariyati

Universitas Jember

Titin Agustina

Universitas Jember
Abstract
The productivity level of red chili in Wuluhan Sub-district in 2010 until 2015 has fluctuated. The level of productivity in red chili commodities in Wuluhan Sub-district is estimated to be influenced by several factors of production (fertilizer, pesticide, labor) and planting season. Some problems experienced by red chili farmers in Wuluhan Sub-district apart from productivity side of unstable but also from unstable selling price side. This research aims to determine (1) the influence of factors of production and planting season on productivity level of red chillies in Wuluhan Sub-district Jember District; (2) the efficiency of the price of the use of production factors at red chili farming in Wuluhan Sub-district, Jember District; (3) cost efficiency at red chili farming in Wuluhan Sub-district, Jember district. Location of research conducted by method of Purposive Method that is determination of research location done intentionally. Data collection methods used for primary data collection is the method of interview and questionnaire (questionnaire) while the data collection method used for secondary data collection is a documentation technique. The analytical tools used include: Cobb-Douglas production function, price efficiency and cost efficiency. The results showed that (1) production factors of pesticide, labor and planting season significantly affect productivity level; (2) The use of fertilizer, pesticide and labor production factor has not reached the price efficiency because the ratio between NPMxi and Pxi is more than one; (3) the use of cost is efficient, the business is run profitable and feasible to cultivate.
References
Hariyati, Yuli. 2007. Ekonomi Mikro. Jakarta: CSS.

Martono, Nanang. 2015. Metode Penelitian Sosial. Jakarta: PT. Raja Grasindo Prasindo.

Nursiyono, Joko Ade dan P.P.H. Nadaek. 2016. Setetes Ilmu Regresi Linier. Malang: Media Nusa Creatif.

Pindyck, Robert S. 2009. Mikroekonomi. Jakarta: Indeks.

Soekartawi. 1995. Analisis Usahatani. Jakarta: UI Press.

Soekartawi. 2013. Agribisnis Teori dan Aplikasinya. Jakarta: Rajawali Press.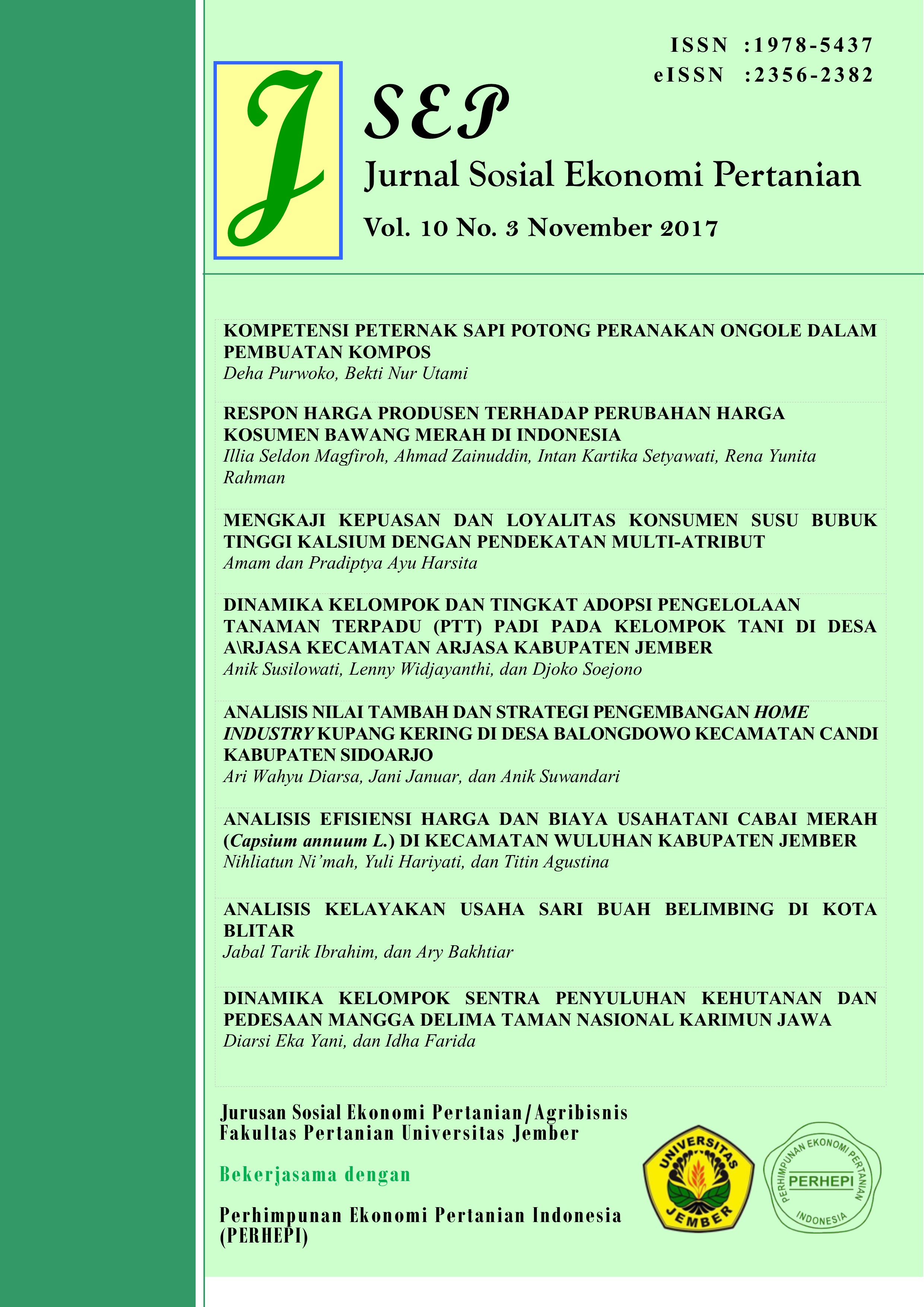 Authors who publish with this journal agree to the following terms:
Authors retain copyright and grant the journal right of first publication with the work simultaneously licensed under a Creative Commons Attribution License that allows others to share the work with an acknowledgement of the work's authorship and initial publication in this journal.
Authors are able to enter into separate, additional contractual arrangements for the non-exclusive distribution of the journal's published version of the work (e.g., post it to an institutional repository or publish it in a book), with an acknowledgement of its initial publication in this journal.
Authors are permitted and encouraged to post their work online (e.g., in institutional repositories or on their website) prior to and during the submission process, as it can lead to productive exchanges, as well as earlier and greater citation of published work (See The Effect of Open Access).