ANALISIS POTENSI WILAYAH BERBASIS KOMODITAS PERTANIAN TANAMAN PANGAN SERTA KONTRIBUSINYA TERHADAP PEREKONOMIAN KABUPATEN BONDOWOSO
THE ANALYSIS OF POTENTIAL REGION BASED ON AGRICULTURAL CROPS AND THEIR CONTRIBUTION TO THE ECONOMIC IN BONDOWOSO
Siti Qomariyah

Agribisnis

Mustapit mustapit

Universitas Jember

Agus Supriono

Universitas Jember
Abstract
Bondowoso regency is one of the regencies in East Java Province which regional economic growth is relatively unprogressive. The main supporters of Bondowoso Regency's economic growth are agriculture, forestry and fishery sectors. This study aims at 1) to determine the kind of crops in each district  in Bondowoso area. 2) to know the potential crops in Bondowoso, 3) To count the crops contribution to the economical sector in Bondowoso 4) To know the economic supporting system in Bondowoso. The method used in this study is analytic. This study also uses the document. The analysis method used is LQ analysis, the strength criteria of LQ,proportion formula, and scalogram analysis. The findings show that ; 1) each district has different comodity result, but the comodity of crops including rice and corn are principally identified in most of Bondowoso area, 2) The comodity such as rice is relatively potential to stand In Bondowoso, 3) the contribution of rice is high, 4) Mostly the districts in Bondowoso area have a good supporting system to stand the potential of crops comodity.
References
Adisasmita, R. 2005. Dasar-Dasar Ekonomi Wilayah. Yogyakarta : Graha Ilmu.

Andriana, Riska. 2011. "Analisis Peran Komoditi Tanaman Bahan Makanan dalam Pembangunan Ekonomi Kabupaten Sleman (Pendekatan Tipologi Klassen)". Tidak Diterbitkan. Skripsi. Surakarta: Universitas Sebelas Maret.

Budiharsono, S. 2001. Teknik Analisis Pembangunan Wilayah Pesisir dan Lautan. Jakarta : Pradnya Pramita.

Kairupan, S.P. 2013. Produk Domestik Regional Bruto (Pdrb), Inflasi Dan Belanja Daerah Pengaruhnya Terhadap Kesempatan Kerja Di Sulawesi Utara Tahun 2000-2012. EMBA, 1 (4) : 2206 – 2216.

Nazir, M. 2009. Metode Penelitian. Bogor :
Ghalia Indonesia.

Nikijuluw, J.B. 2013. Analisis Sektor Ekonomi Unggulan Kabupaten/Kota
Di Propinsi Maluku. Cita Ekonomika, VII (2) : 196 – 303.

Novrilasari, Dylla. 2008. "Analisis Sektor Unggulan Dalam Meningkatkan Perekonomian Dan Pembangunan Wilayah Kabupaten Kuantan Singingi". Tidak Diterbitkan. Skripsi. Bogor : Institut Pertanian Bogor.

Sadik, J. 2016. Keragaan Relatif dan Karakteristik Perkembangan Kecamatan di Kabupaten Bangkalan. Media Trend, 11 (1) : 20-34.

Suryanty, M. Sriyoto, E. Yuliarti. 2014. Kajian Basis dan Priotitas dalam Sektor Pertanian bagi Pembangunan Wilayah Pesisir Bengkulu. AGRISEP Vol. 14 No.1 Maret 2014.

Sapratama, R.M.E dan Erli, H.K.D. 2013. Penentuan Kawasan Agroindustri Berdasarkan Komoditas Unggulan di Kabupaten Bondowoso. Jurnal Teknik Pomits, 2 (2) : 1 – 5.

Suning. 2011. Identifikasi Sektor Ekonomi Basis (Unggulan) dan Hierarki Pusat Pelayanan Berdasarkan Tingkat Kemampuan Fasilitas Dalam Rangka Pengembangan Wilayah (Studi Kecamatan Kasiman dan Kecamatan Padangan Kabupaten Bojonegoro). Teknik Waktu, 9 (2) : 25 – 33.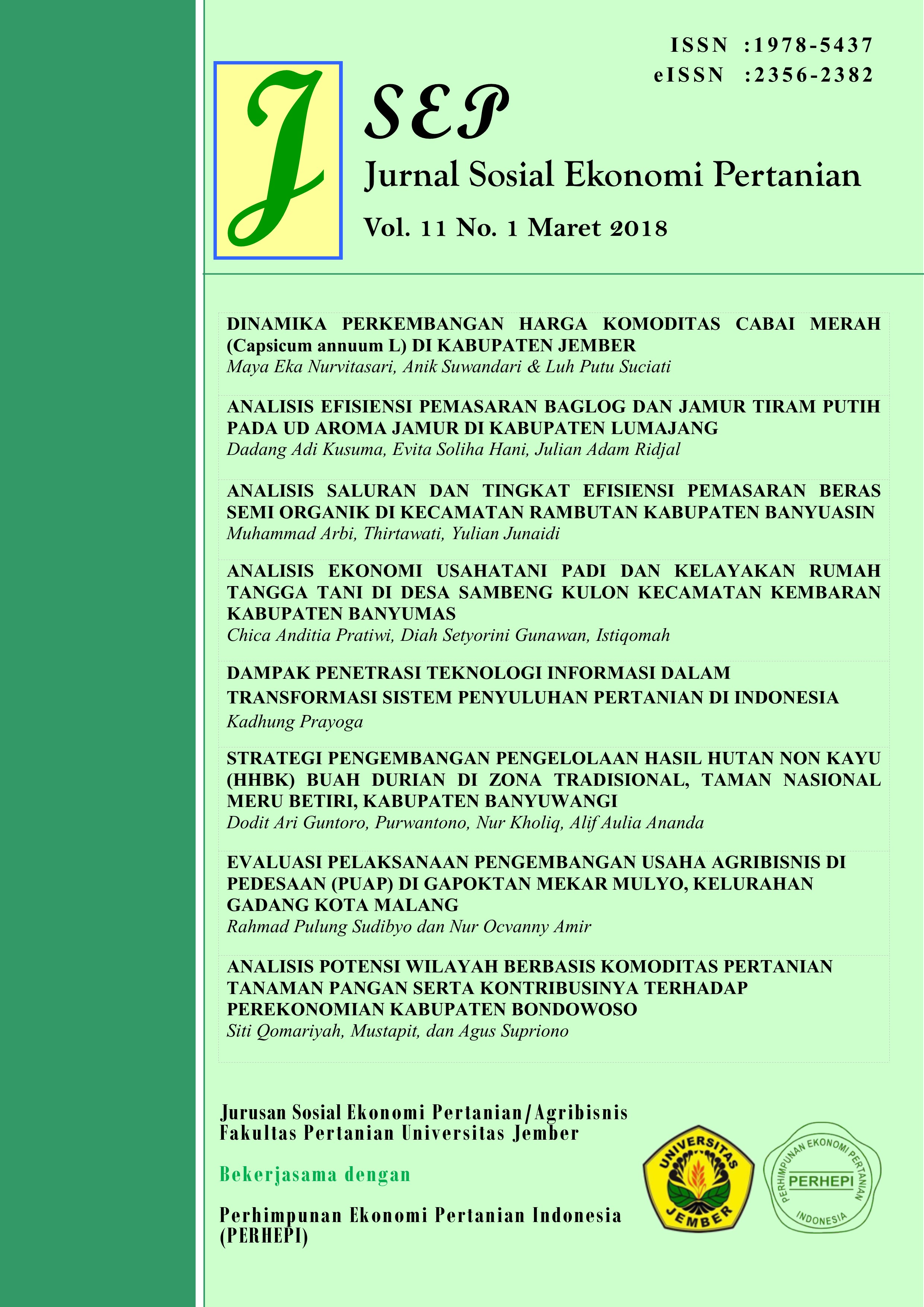 Authors who publish with this journal agree to the following terms:
Authors retain copyright and grant the journal right of first publication with the work simultaneously licensed under a Creative Commons Attribution License that allows others to share the work with an acknowledgement of the work's authorship and initial publication in this journal.
Authors are able to enter into separate, additional contractual arrangements for the non-exclusive distribution of the journal's published version of the work (e.g., post it to an institutional repository or publish it in a book), with an acknowledgement of its initial publication in this journal.
Authors are permitted and encouraged to post their work online (e.g., in institutional repositories or on their website) prior to and during the submission process, as it can lead to productive exchanges, as well as earlier and greater citation of published work (See The Effect of Open Access).