Pemetaan dan Strategi Pemerintah dalam Mengembangkan Agroindustri Olahan Ubi Jalar di Kabupaten Karanganyar
Natalia Kris Tri Astuti

Sebelas Maret University

Darsono Darsono

Universitas Sebelas Maret Surakarta

Mohd. Harisudin

Universitas Sebelas Maret Surakarta
Abstract
Karanganyar Regency is an area that has great potential for agroindustry development. Equivalance with development priorities in this district, industry and agriculture have an important role. Agroindustry processing can improve the performance of the agricultural sector. The purpose of this research is to find out the priority map of agroindustry in Kranganyar Regency, to know the position of competing sweet potato agroindusty, and to formulate priority of development strategy of sweet potato agroindustry in Karanganayar Regency. The basic method of this research is descriptive analytic. Priority agroindustry was analyzed by Delphi method, and the determination of competing position and alternatives strategy was analyzed with Internal-External Matrix (IE) and Grand Strategy Matrix. The decision on strategy selection is determined by Quantitative Startegic Planning Matrix (QSPM). The results showed that sweet potato agroindustry as leading agroindustry in Karanganyar Regency. Based on IE matrix analysis, the position of competing sweet potato agroindustry is in quadrant II (product development strategy and market penetration). Based on the Grand Strategy Matrix, the position of sweet potato agroindustry is in quadrant I which means having perfect strategic position. Based on QSPM obtained the most appropriate strategy recommendation of sweet potato agroindustry is product development strategy.
References
Assauri, Sofyan. 1990. Manajemen Pemasaran Dasar, Konsep, dan Strategi. Jakarta: Rajawali.

Cooper, Donald R. dan Schindler, Pamela S. 2006. Business Research Method. New York: Mc Graw-Hill.
David, FR. 2011. Manajemen Strategis. Jakarta: Salemba Empat.

Firdaus, H. Paramu, Suherman. 2009. Penentuan Komoditas Pertanian Unggulan di Kabupaten Jember. Jurnal Sosial Ekonomi Pertanian (J-SEP). Vol. 3 No.1.

Gutama, W.A. 2010. Pemetaan Potensi Tanaman Pangan di Kabupaten Malang untuk Menuju Ketahanan Pangan Daerah Melalui Strategi Diversifikasi Pangan Primer. Agrise Vol. 10 No. 2

Habibi, Arash, Azam Sarafrazi, Sedigheh Izadyar. 2014. Delphi Technique Theoretical Framework in Qualitative Research. The International Journal Of Engineering And Science (IJES). Volume 3 (1): 08-13.

Hashemi NF, Mazdeh MM, Razeghi A, Rahimian A. 2011. Formulating and Choosing Strategies Using Swot Analysis and QSPM Matrix: A Case Study of Hamadan Glass Company. Proceedings of the 41st 128 J Tek Ind Pert. 23 (2): 120-128 International Conference on Computers & Industrial Engineering. Los Angeles, CA USA, October 23-26, 2011.

Ma'arif, S., dan Tanjung, H. 2003. Teknik-Teknik Kuantitatif Untuk Manajemen. Jakarta: Grasindo.

Marimin. 2004. Pengambilan Keputusan Kreteria Majemuk. Teknik dan Aplikasi. Jakarta: Gramedia Widiasarana Indonesia.

Philip Kotler. 2002. Manajemen Pemasaran, Edisi Millenium, Jilid 2. Jakarta: PT Prenhalindo.

Rosidah. 2010. Potensi Ubi Jalar sebagai Bahan Baku Industri Pangan. Teknuboga 7 (2): 44-52.

Suryanto, Bambang. 2004. Peran Usahatani Ternak Ruminansia dalam Pembangunan Agribisnis Berwawasan Lingkungan. Pidato Pengukuhan Guru Besar Fakultas Peternakan Universitas Diponegoro. Semarang.

Tarigan, Herlina dan Ening Ariningsih. 2007. Peluang dan Kendala Pengembangan Agroindustri Sagu di Kabupaten Jayapura. Pusat Analisis Sosial Ekonomi dan Kebijakan Pertanian. Informatika Pertanian, 17 (2): 173-194.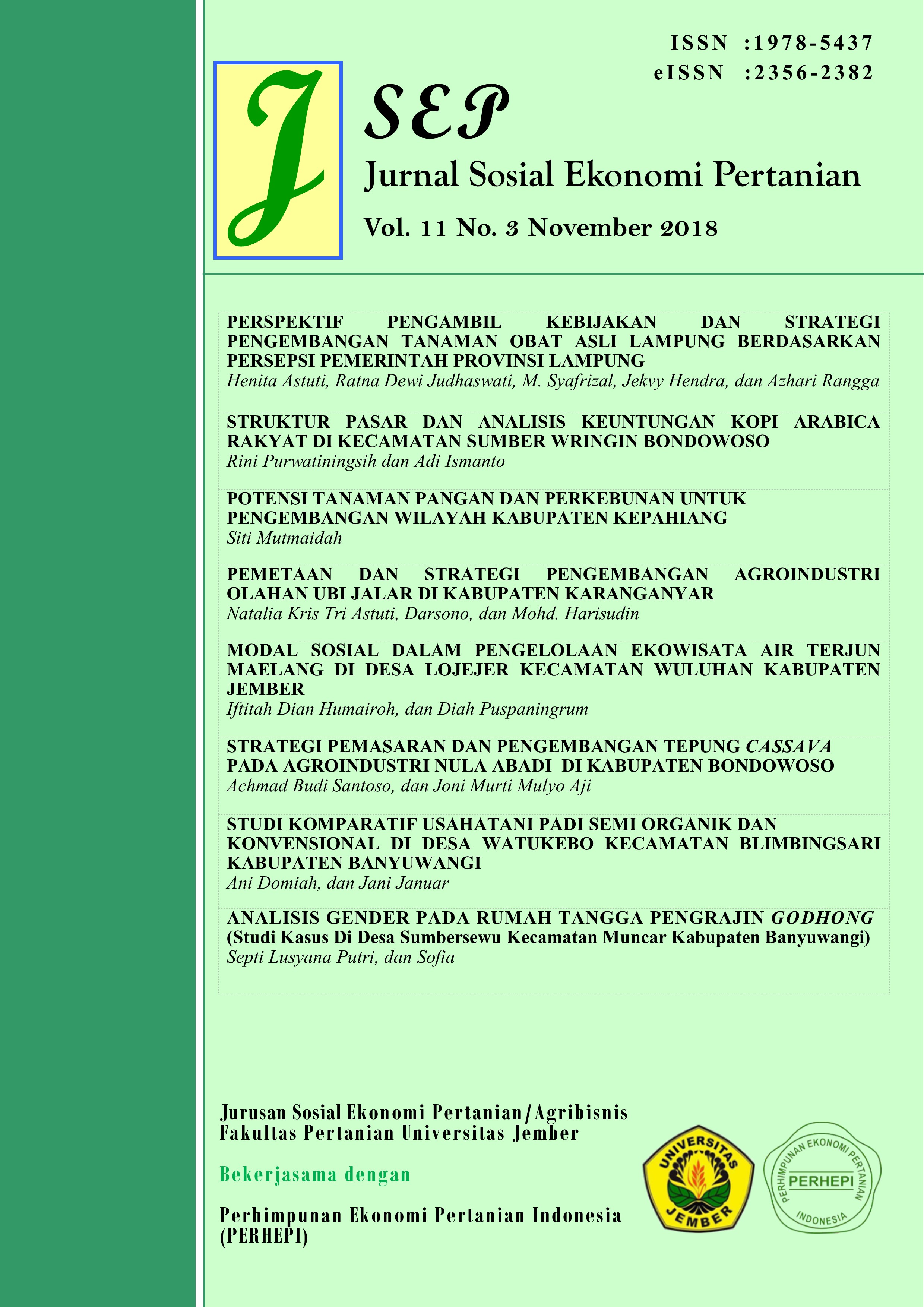 This work is licensed under a Creative Commons Attribution-ShareAlike 4.0 International License.
Authors who publish with this journal agree to the following terms:
Authors retain copyright and grant the journal right of first publication with the work simultaneously licensed under a Creative Commons Attribution License that allows others to share the work with an acknowledgement of the work's authorship and initial publication in this journal.
Authors are able to enter into separate, additional contractual arrangements for the non-exclusive distribution of the journal's published version of the work (e.g., post it to an institutional repository or publish it in a book), with an acknowledgement of its initial publication in this journal.
Authors are permitted and encouraged to post their work online (e.g., in institutional repositories or on their website) prior to and during the submission process, as it can lead to productive exchanges, as well as earlier and greater citation of published work (See The Effect of Open Access).