ANALISIS NILAI TAMBAH KELAPA DI KECAMATAN PATILANGGIO KABUPATEN POHUWATO PROVINSI GORONTALO
Darmiati Dahar

Universitas Ichsan Gorontalo

Maharani maharani

Universitas Ichsan Gorontalo
Abstract
One of the coconut producing areas in Gorontalo Province is Pohuwato District. Subdistrict Patilanggio is one of subdistrict in Pohuwato District that has a high enough production. Coconut plants are still be the main plant in this area. The purpose of this research is to know coconut productivity and value added obtained by farmers (from the processing of coconuts into copra). Data analysis used is analysis of productivity calculation and value added analysis of coconut with hayami method. The study was conducted in Patilanggio Subdistrict by selecting 3 (three)  villages with the most farmers, namely: Manawa Village, Suka Makmur Village, and Dulomo Village. The results obtained, namely: 1) Productivity of coconut in District Patilanggio based on results if data obtained 1.7 tons / ha. 2). The added value obtained from processing coconut into copra is Rp. 1,547,46 / kg with added value ratio obtained for 55,57%. This means if the value of the product by 1 unit increases the added value obtained at 0.5557 units. An added value ratio of more than 50% is said to be high. It means that the processing of coconut into copra has high added value.
References
Alam, Heldy Vanni. 2005. Analisis Nilai Tambah Produk Agroindustri Berbasis Kelapa Terhadap Pendapatan Petani di Kabupaten Gorontalo. Tesis. Universitas Hasanuddin. Makassar.

Awang, S.A. 1991. Kelapa Kajian Sosial Ekonommi. Aditya Media: Yogyakarta.

Daryanto, dkk. 2015. Analisis Nilai Tambah Usaha Tempe di Kabupaten Bogor. Prosiding Seminar Nasional. Yogyakarta. Univeristas Gadjah Mada.

Helda, 2004. Analisis Nilai Tambah Pengolahan Ikan Teri di Pulau Pasaran, Provinsi Lampung. Skripsi. Bogor. Institut Pertanian Bogor.

Mahmud, Z dan Ferry, Y. 2005. Prospek Pengolahan Hasil Samping Buah Kelapa. PERSPEKTIF – Volume 4 Nomor 2, Desember 2005: 55 – 63.

Neeke, H., M. Antara, A. Laapo. 2015. Analisis Pendapatan dan Nilai Tambah Kelapa Menjadi Kopra Di Desa Bolubung Kecamatan Bulagi Utara Kabupaten Banggai Kepulauan. Jurnal e-J.Agrotekbis. Volume 4: 532-542.

Nurdiani, 2015. Profitabilitas Usaha Pengolahan dan Nilai Tambah Produk Minyak Kelapa (Studi Kasus: Tiga Usaha Pengolahan Minyak Kelapa di Kabupaten Ciamis). Skripsi. Bogor. Institut Pertanian Bogor.

Pohan, I.P., L.Sihombing, , T. Sebayang . 2012. Analisis Nilai Tambah dan Pemasaran Kopra (Kasus Desa Silo Baru, Kecamatan Silau Laut, Kabupaten Asahan). Jurnal. USU.

Setiawan, 2002. Kajian Produktivitas dan Nilai Tambah Pengolahan Kelapa Sawit (Studi Kasus pada PT. Perkebunan Nusantara XIII). Skripsi. Bogor. Institut Pertanian Bogor.

Setyamidjaja, 2008. Bertanam Kelapa. Kanisius: Yogyakarta

Sugiyono. 2010. Metode Penelitian Kuantitatif Kualitatif dan R&D. Bandung: Alfabeta.

Vinifera, 2006. Analisis Tataniaga Komoditi Kelapa Kopyor (Studi Kasus: Desa Ngagel, Kecamatan Dukuhseti, Kabupaten Pati, Jawa Tengah). Skripsi. Bogor. Institut Pertanian Bogor.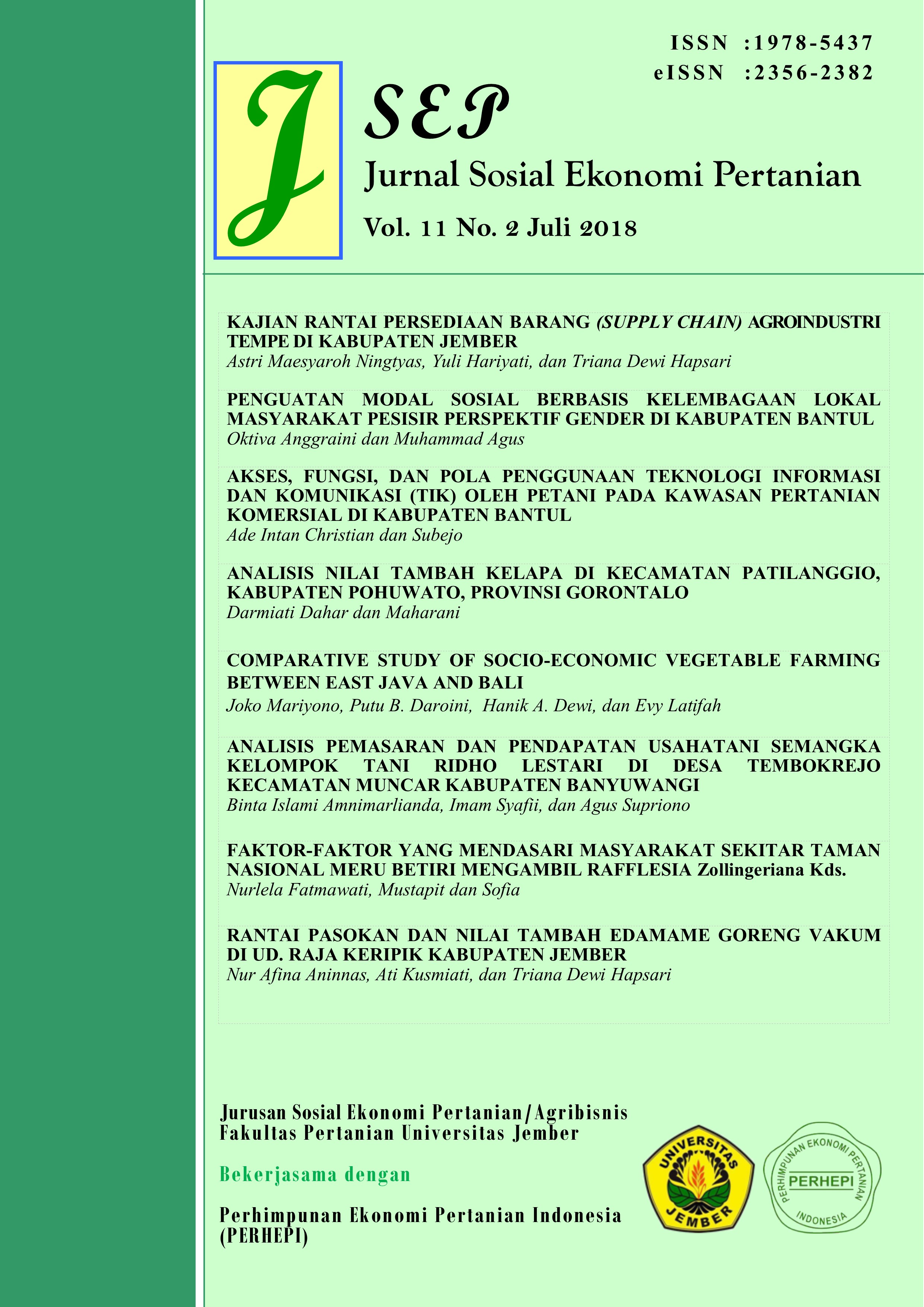 Authors who publish with this journal agree to the following terms:
Authors retain copyright and grant the journal right of first publication with the work simultaneously licensed under a Creative Commons Attribution License that allows others to share the work with an acknowledgement of the work's authorship and initial publication in this journal.
Authors are able to enter into separate, additional contractual arrangements for the non-exclusive distribution of the journal's published version of the work (e.g., post it to an institutional repository or publish it in a book), with an acknowledgement of its initial publication in this journal.
Authors are permitted and encouraged to post their work online (e.g., in institutional repositories or on their website) prior to and during the submission process, as it can lead to productive exchanges, as well as earlier and greater citation of published work (See The Effect of Open Access).