ANALISIS NILAI TAMBAH DAN STRATEGI PENGEMBANGAN HOME INDUSTRY KUPANG KERING DI DESA BALONGDOWO KECAMATAN CANDI KABUPATEN SIDOARJO
Ari Wahyu Diarsa

Universitas Jember

Jani Januar

Universitas Jember

Anik Suwandari

Universitas Jember
Abstract
Shellfish is the raw material for making dried shellfish. Home industry located in Balongdowo village, Sidoarjo regency has long been cultivated, but until now most of the craftsmen have not showed significant development. This study was aimed to determine value added of shellfish based product dried, cost efficiency of dried shellfish processed product, and development strategy at dried shellfish home industry in Balongdowo Village, Sidoarjo Regency. Analyzer used include analysis of value added, analysis efficiency cost, and SWOT analysis. The result of the analysis shows that: (1) Wet shellfish added value in shellfish dried home industries medium, (2) Home industry shellfish dried in the use of production cost has been efficient, (3) The appropriate development strategy to be applied was using the W-O strategy that was by dried shellfish industry should use labour maximization, good packaging process, labelling, and try to get healt-assesment certification to expand the marketing process.
References
Badan Pusat Statistik. 2011. Perusahaan Industri Pengolahan. [Serial Online]. http://www.bps.go.id/subjek/view/id/9. 7 Februari 2016. (Diakses 7 Februari 2016).

Hayami, Yujiro, Toshihiko Kawagoe, Yoshinori Morooka and Masdjidin Siregar. 1987. Agricultural Marketing and Processing in Unpland Java : A Perspective From A Sunda Village. Bogor: Indonesia ESCAP-CGPRT Centre.

Hubeis M. (1997). Menuju Industri Kecil Profesional di Era Globalisasi melalui Pember-dayaan Manajemen Industri. Orasi Ilmiah Guru Besar Tetap Ilmu Manajemen Industri. Fakultas Teknologi Pertanian. Institut Pertanian Bogor.

Januar, Jani. 2006. Pembangunan Pertanian :Stategi, Perencanaan ,dan Kebijakan. Jember : Universitas Jember.

Prayitno dan Susanto T. 2001.Kupang dan makanan tradisional Sidoarjo. Surabaya: Trubus Agriasasana.

Rangkuti. 2003. Analisis SWOT Teknik Membedah Kasus Bisnis. Reorientasi Konsep Perencanaan Strategis Untuk Menghadapi Abad 21. Jakarta: PT Gramedia Pustaka Utama.

Soekartawi. 1995. Analisis Usahatani. Jakarta: Universitas Indonesia (UI-Press).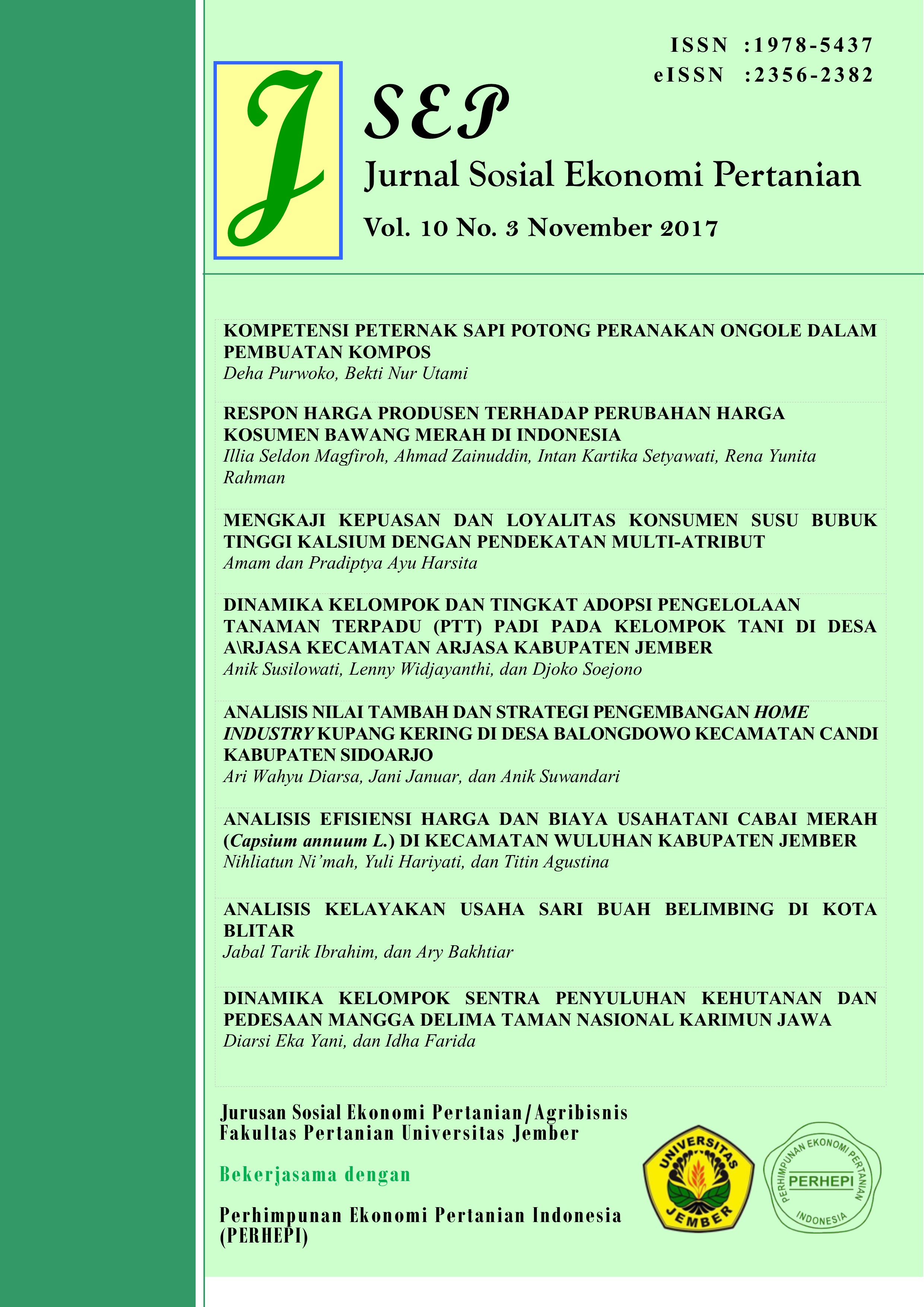 Authors who publish with this journal agree to the following terms:
Authors retain copyright and grant the journal right of first publication with the work simultaneously licensed under a Creative Commons Attribution License that allows others to share the work with an acknowledgement of the work's authorship and initial publication in this journal.
Authors are able to enter into separate, additional contractual arrangements for the non-exclusive distribution of the journal's published version of the work (e.g., post it to an institutional repository or publish it in a book), with an acknowledgement of its initial publication in this journal.
Authors are permitted and encouraged to post their work online (e.g., in institutional repositories or on their website) prior to and during the submission process, as it can lead to productive exchanges, as well as earlier and greater citation of published work (See The Effect of Open Access).