STRATEGI PENGEMBANGAN PENGELOLAAN HASIL HUTAN NON KAYU (HHBK) BUAH DURIAN DI ZONA TRADISIONAL, TAMAN NASIONAL MERU BETIRI, KABUPATEN BANYUWANGI
dodit ari guntoro

meru betiri national park

purwantono purwantono

Nur Kholiq

Alif Aulia Ananda
Abstract
Traditional zone of Meru Betiri National Park (TNMB) has been enacted as a traditional used-area by community who had high dependency on natural resources for generations. Utilization of Non-Timber Forest Products (NTFP) in TNMB in the form of durian was conducted on the area of 25ha spread over 12 blocks with the total number of at least 925 trees (ϕ of >150 cm). Several problems occurred in NTFP management such as: (a) conflict of interest between durian user group and local people, (b) no legacy of NTFP utilization group in TNMB, (3). Low price of durians and no processing durian products. The objectives of this study were to evaluate the internal and external key factors influenced the management of NTFP and to determine the effective strategies to strengthen the sustainable management. Analysis was performed using SWOT with matrix of internal and external factors. The results of this study showed that there were seven (7) factors of each factors of Strength, Weakness, Opportunity and Treat influenced the NTFP management. In general, the conditions of NTFP management in traditional used- area in TNMB was in the position of internally strong and could be improved by developing potential opportunities and reducing the negative effects of potential threads.
References
Anonymous. 2017. Analisis Pra-Kondisi dan Identifikasi Kelompok Masyarakat Pemanfaat di Zona Tradisional. 36 hal.

David, F. R. 2002. Manajemen Strategik. Edisi Ketujuh. Jakarta: PT Prenhallindo.

Soesilo, N.I. 2000. Manajemen Strategik di Sektor Publik (Pendekatan Praktis). Buku-II. Jakarta; Magister Perencanaan dan Kebijakan Publik (MPKP)-Fakultas Ekonomi Universitas Indonesia.

Wiratno. 2014. Strategi dan Kebijakan Pemanfaatan Hasil Hutan Dalam Rangka Kelola Kawasan Untuk Kesejahteraan Masyarakat. Disampaikan dalam Seminar Nasional Peranan dan Strategi Kebijakan pemanfaatan Hasil Hutan Bukan kayu (HHBK) Dalam Meningkatkan Daya Guna Kawasan (Hutan). Yogyakarta. 19-23

Peraturan Perundang-Undangan: (1) UU Pokok Agraria No. 5 Tahun 1960 (2) UU No. 5 Tahun 1967 tentang Ketentuan-Ketentuan Pokok Kehutanan (3) UU No. 41 Tahun 1999 tentang Kehutanan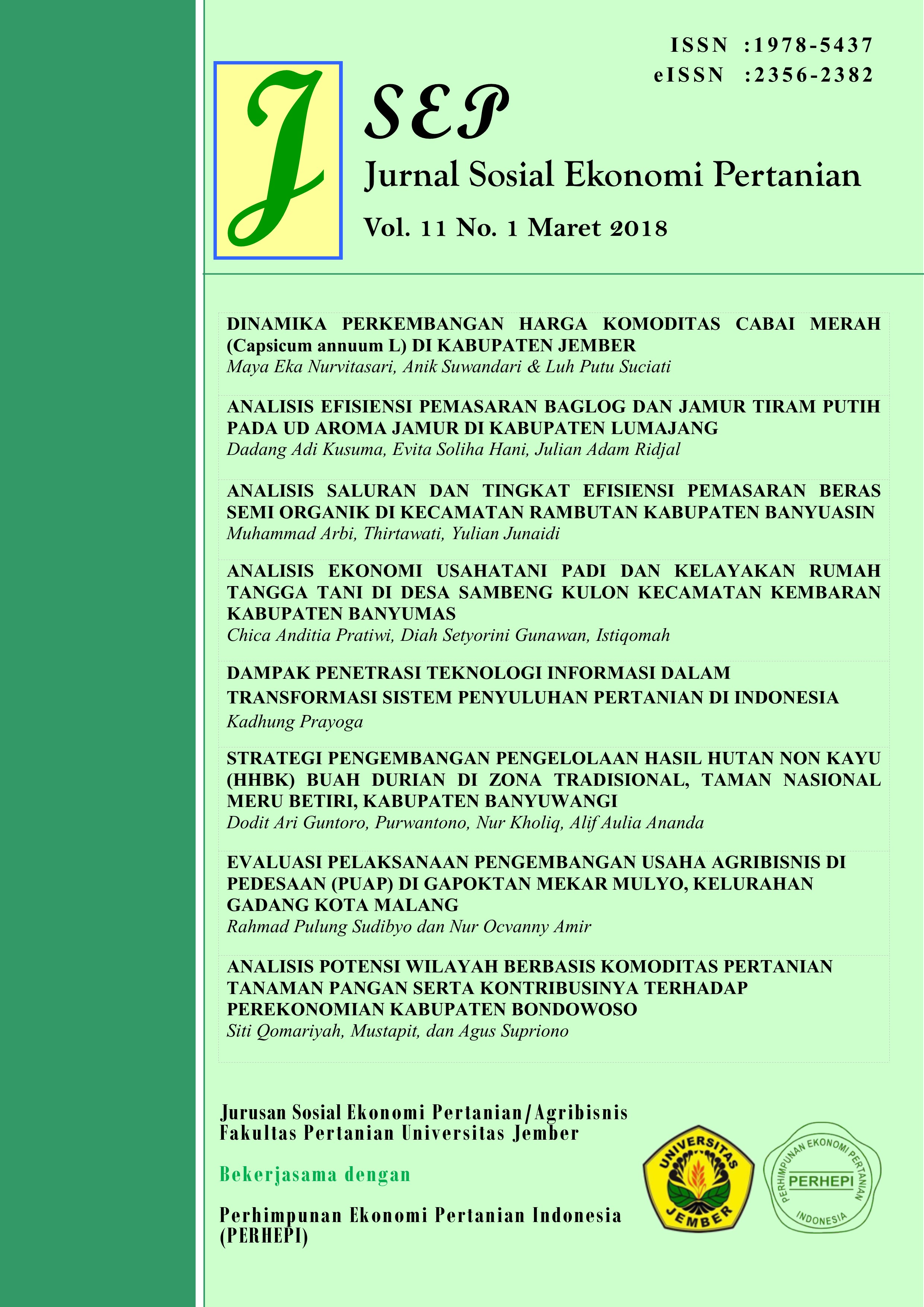 Jurnal Sosial Ekonomi Pertanian (J-SEP) has CC-BY-SA or an equivalent license as the optimal license for the publication, distribution, use, and reuse of scholarly work.
The work is simultaneously licensed under a Creative Commons Attribution-ShareAlike 4.0 International License, which permits others to share the work with an acknowledgement of the authorship and the work's initial publication in this journal. Authors who publish with this journal retain their copyright and grant the journal the right of first publication.