PENGEMBANGAN KAWASAN AGRIBISNIS JAGUNG DAN MANGGA DI KABUPATEN BLORA
Ernoiz Antriyandarti

Universitas Sebelas Maret

Susi Wuri Ani

Universitas Sebelas Maret
Abstract
Blora is one of the main producers of corn and mango in Central Java which have high
contribution to the national production. Therefore, Agribusiness Region Development of corn
and mango in Blora is very important to stimulate economy growth based on regional potency
involved by all actors of agribusiness such as government, farmer, and private sector in Blora.
The objective of this research is to determine comparative advantage of corn and mango in Blora
and to formulate how to develop those commodities. This study applied farming analysis and
Policy Analysis Matrix (PAM). The result of the study show that agribusiness of corn and mango
are profitable and there are not any diseconomies resulted from those agribusiness activites.
Therefore, agribusiness of those commodities can be developed further.
References
BPS Propinsi Jawa Tengah. 2017. http://jateng.bps.go.id/index.php/linkTabelStatis/1192. Diakses 10/09/2017.

BPS Propinsi Jawa Tengah. 2016. Statistik Pertanian Hortikultura Jawa Tengah 2012-2014. Semarang.

Monke EA, dan Pearson, SR. 1995. The Policy Analysis Matrix for Agricultural Development. Cornell University Press. Ithica and London.

Pearson, S., Gotsch, C. Dan Bahri, S. 2004. Applications of The Policy Analysis Matrix In Indonesian Agriculture. Yayasan Obor. Jakarta.

Rohatgi, V.K., dan Saleh, E. 2008. An Introduction to Probability and Statistics. Second Edition. Wiley. New York.

Soekartawi, A. 1995. Analisis Usahatani. Universitas Indonesia. Jakarta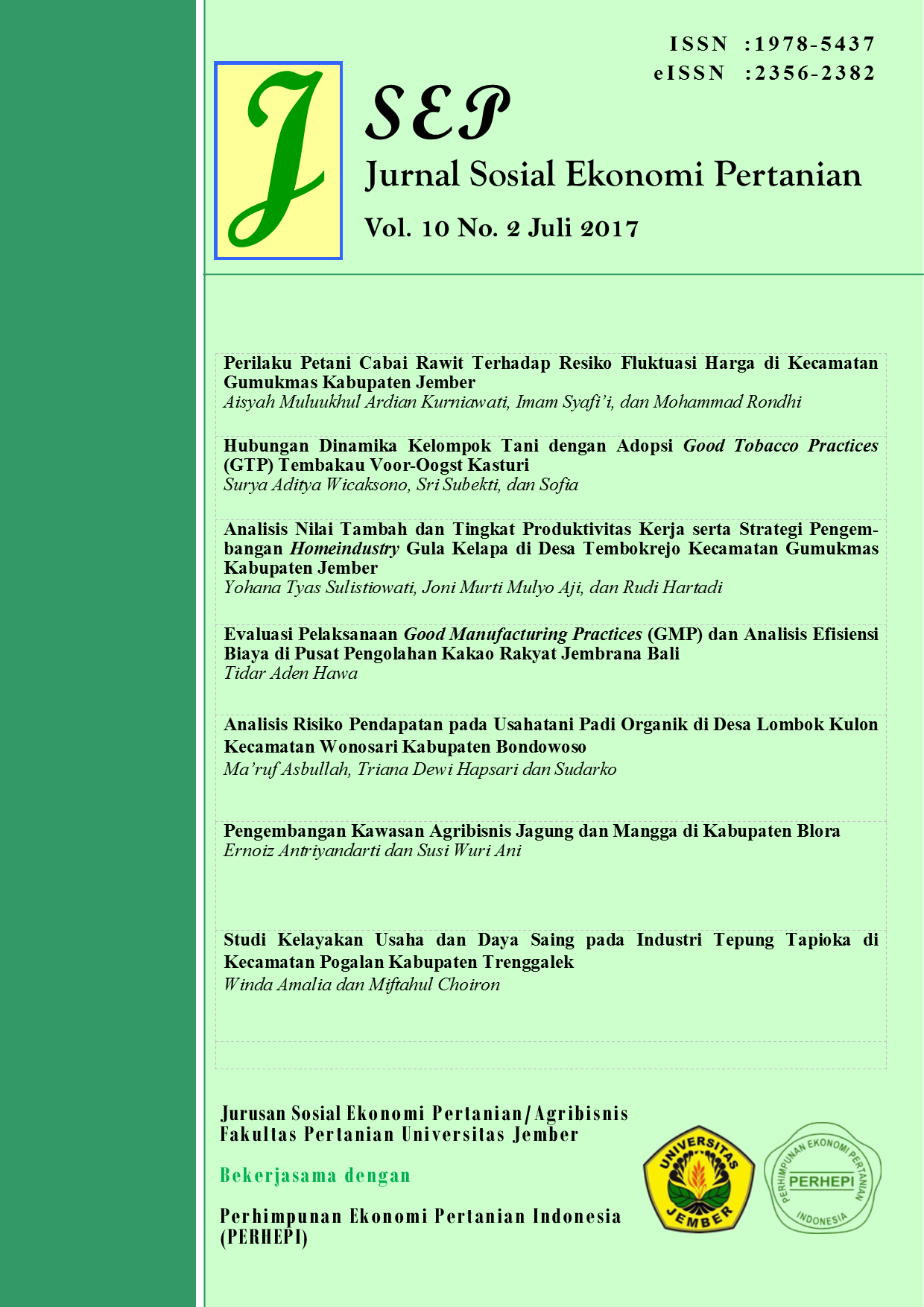 Authors who publish with this journal agree to the following terms:
Authors retain copyright and grant the journal right of first publication with the work simultaneously licensed under a Creative Commons Attribution License that allows others to share the work with an acknowledgement of the work's authorship and initial publication in this journal.
Authors are able to enter into separate, additional contractual arrangements for the non-exclusive distribution of the journal's published version of the work (e.g., post it to an institutional repository or publish it in a book), with an acknowledgement of its initial publication in this journal.
Authors are permitted and encouraged to post their work online (e.g., in institutional repositories or on their website) prior to and during the submission process, as it can lead to productive exchanges, as well as earlier and greater citation of published work (See The Effect of Open Access).