EVALUASI PELAKSANAAN GOOD MANUFACTURING PRACTICES(GMP) DAN ANALISIS EFISIENSI BIAYA DI PUSAT PENGOLAHAN KAKAO RAKYAT JEMBRANA BALI
Abstract
Although the amount of Indonesian cocoa production is quite high, but the volume of cocoagrinding is still relatively low compared to the potential that should be obtained. Therefore, Indonesia should improve the cocoa processing industry sector.This research was intended to: analyze the implementation of each component of Good Manufacturing Practices (GMP) at Smallholder Cocoa Processing Center (PPKR) of Jembrana in accordance with Agriculture Minister's Regulation No. 35/Permentan/OT.140/7/2008; analyze the efficiency level of the use of costs at PPKR Jembrana. The research results showed that the level of GMP implementation based on Agriculture Minister's Regulation No.35/Permentan/OT.140/7/2008 at PPKR Jembrana was still partial (47%). In the one year production, the use of costs at PPKR Jembrana was efficient indicated by the value of R/C>1, but the value was resulted by subsidized cost structure (cost of raw materials/cocoa seeds, employee salaries, depreciation of equipment, machinery depreciation, building depreciation, property and building taxes, electricity cost, and water cost). If subsidies were removed, the value of efficiency would drop even become inefficient. By the whole implementation of GMP, the inefficient costs in form of process failure cost and product return cost can be reduced, so the efficiency of the costs use will increase.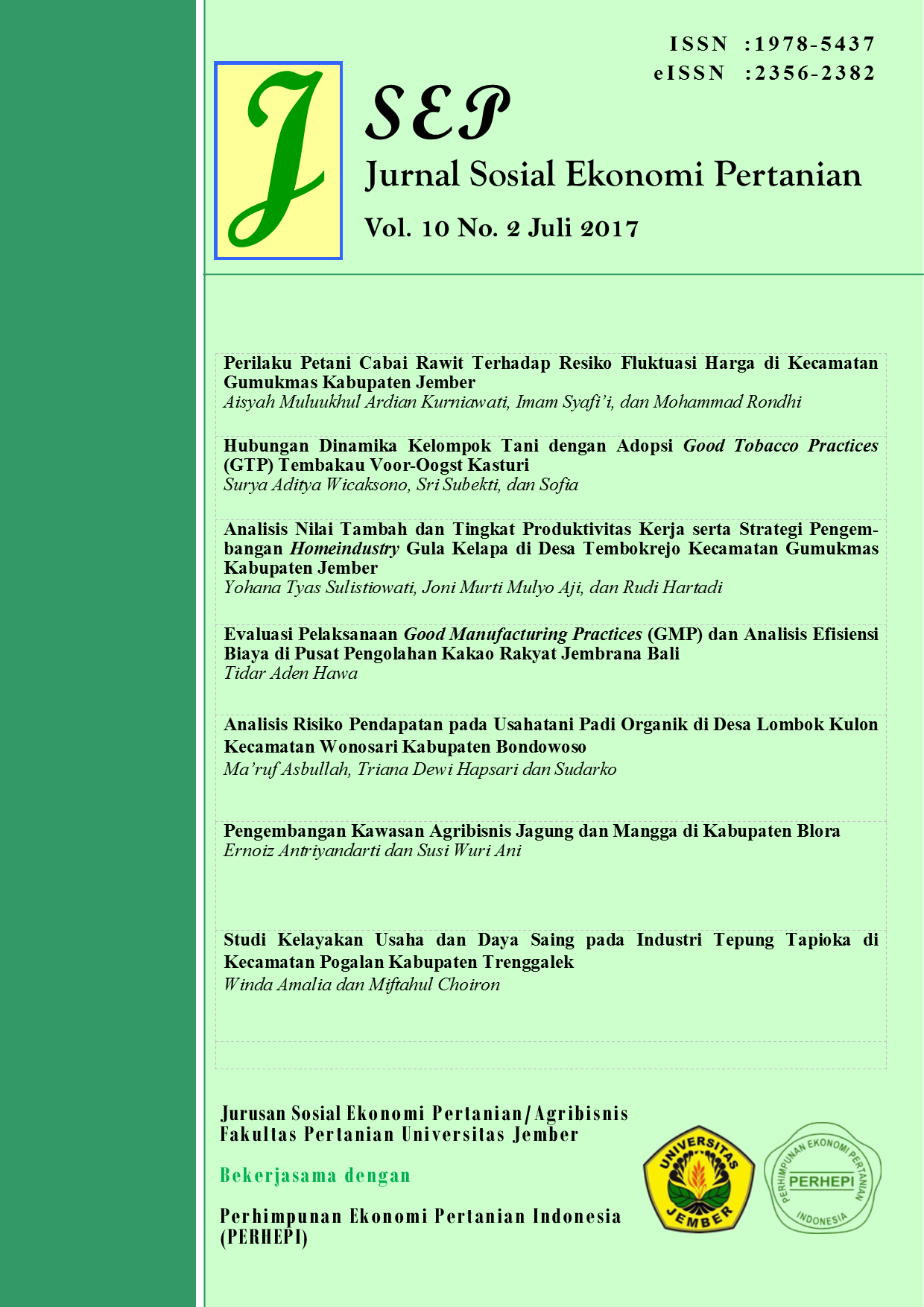 Authors who publish with this journal agree to the following terms:
Authors retain copyright and grant the journal right of first publication with the work simultaneously licensed under a Creative Commons Attribution License that allows others to share the work with an acknowledgement of the work's authorship and initial publication in this journal.
Authors are able to enter into separate, additional contractual arrangements for the non-exclusive distribution of the journal's published version of the work (e.g., post it to an institutional repository or publish it in a book), with an acknowledgement of its initial publication in this journal.
Authors are permitted and encouraged to post their work online (e.g., in institutional repositories or on their website) prior to and during the submission process, as it can lead to productive exchanges, as well as earlier and greater citation of published work (See The Effect of Open Access).