ANALISIS RISIKO PENDAPATAN PADA USAHATANI PADI ORGANIK DI DESA LOMBOK KULON KECAMATAN WONOSARI KABUPATEN BONDOWOSO
Ma'ruf Asbullah

Triana Dewi Hapsari

Sudarko Sudarko
Abstract
Organic farming has become one of risky farming systems, because its yield could be lower than anorganic farming. Moreover, low yield can lead to a suffer in financial loss on organic farming. This might be caused by the changing in input usage when farmers changed their farming system from anorganic to organic farming. The research was aimed to determine : 1) income's risk of organic farming by different cropping seasons. 2)income's risk of organic farming based on its harvested area. The research was designed as descriptive and analytical research. The sampling farmers were selected by using proportioned stratified random sampling, Structural interview and documentational techniques were employed to gain informations about income's risk in organic farming. Coefficient Variances was employed as primary analytical tool in this research. The result showed that : (1) risk in organic farming can be higher as long as it was applied by farmers. This result was concluded based on Coefficient Variance in farmer's group both in Mandiri I which has 45,54% and Mandiri IB which has 41,34%. (2) according to Coeffient Variance Analysis, risk in organic farming can be lower if farmers have few harversted area. The Coeffient Variance for each categories in harvested area were : narrow harvested area (47,53%); medium harvested area (34,61%) and large harvested area (24,45%).
Keywords: Organic Rice, Income, Risk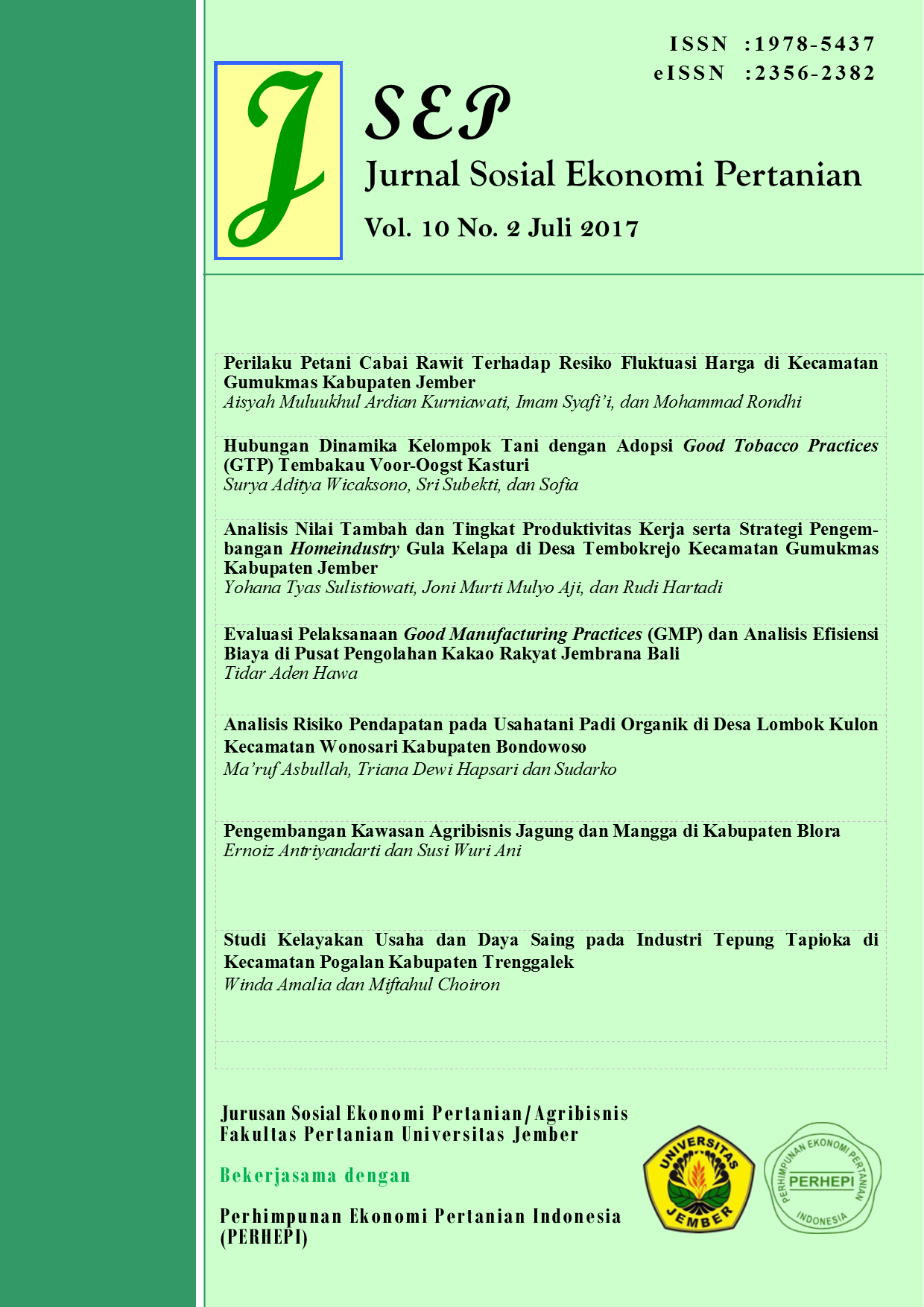 Authors who publish with this journal agree to the following terms:
Authors retain copyright and grant the journal right of first publication with the work simultaneously licensed under a Creative Commons Attribution License that allows others to share the work with an acknowledgement of the work's authorship and initial publication in this journal.
Authors are able to enter into separate, additional contractual arrangements for the non-exclusive distribution of the journal's published version of the work (e.g., post it to an institutional repository or publish it in a book), with an acknowledgement of its initial publication in this journal.
Authors are permitted and encouraged to post their work online (e.g., in institutional repositories or on their website) prior to and during the submission process, as it can lead to productive exchanges, as well as earlier and greater citation of published work (See The Effect of Open Access).