Strategi Model Bisnis Startup Pupuk Berbasis Inovasi Limbah Ternak dan Cangkang Telur di Kabupaten Jember
Anarofida Anarofida

Program Studi Agribisnis Fakultas Pertanian Universitas Jember

Ratih Apri Utami

Program Studi Agribisnis Fakultas Pertanian Universitas Jember

Meihilda Dona Pratiwi

Program Studi Agribisnis Fakultas Pertanian Universitas Jember

Rizky Bangkit Pamungkas

Program Studi Agribisnis Fakultas Pertanian Universitas Jember

Sapna Dwi Elisa

Program Studi Ilmu Tanah Fakultas Pertanian Universitas Jember

Ubaidillah Ubaidillah

Program Studi Agronomi Fakultas Pertanian Universitas Jember
Abstract
The scarcity of fertilizers provides an opportunity for startup businesses to provide alternative organic fertilizers. PTC Organic is one of the pioneering business startups in producing alternative fertilizers that utilize livestock waste as the main ingredient in the form of egg shells, chicken bones, and beef bones that involve a series of processes so that they become available nutrients for plants. The research method used is descriptive-analytic using the Bussiness Model Canvas (BMC) method and SWOT analysis. The objectives of this research are 1) to map out the current PTC Organic business model using BMC, (2) to develop alternative business development strategies using the SWOT method. Internal and external factors include seven aspects of internal factors (Product, Price, Promotion, Business Location, Process, People, and Physical Evidence) and four aspects of external factors (Industrial Competitors, Suppliers, New Entrants, and Buyers). The results obtained are the position of Organic PTC is very profitable, namely in Quadrant I (0.3, 0.22). So anaggressive strategy in creating innovation and product development is necessary for the sustainability of PTC Organic's business.
References
Anggraeni, N. N., & Wibowo, R. (2021). Analisis Pengembangan Kombucha Cascara Pada Ud. Matt Coffee Dengan Pendekatan Triple Layered Business Model Canvas. JSEP (Journal of Social and Agricultural Economics), 14(1), 19. https://doi.org/10.19184/jsep.v14i1.19871

Christian, A. I., & Subejo, S. (2018). Akses, Fungsi, Dan Pola Penggunaan Teknologi Informasi Dan Komunikasi (Tik) Oleh Petani Pada Kawasan Pertanian Komersial Di Kabupaten Bantul. JSEP (Journal of Social and Agricultural Economics), 11(2), 25. https://doi.org/10.19184/jsep.v11i2.9233

Legrisca, M., Yantu, M. R., & Laapo, A. (2013). Pengembangan Strategi Pemasaran Abon Ikan UKM Sri Rejeki: pendekatan marketing mix. Jurnal Agrotekbis, 1(3), 250–258.

Lubis, A., Hasibuan, S., & Indrawati, A. (2020). Pemanfaatan Serbuk Cangkang Telur Ayam dan Pupuk Kascing di Tanah Ultisol terhadap Pertumbuhan dan Produksi Terung Ungu (Solanum Melongena L.). Jurnal Ilmiah Pertanian ( JIPERTA), 2(2), 109–116. https://doi.org/10.31289/jiperta.v2i2.331

Mahfud, M. H. (2020). Metode Penentuan Faktor-faktor Keberhasilan Penting dalam Analisis SWOT. AGRISAINTIFIKA: Jurnal Ilmu-Ilmu Pertanian, 3(2), 113. https://doi.org/10.32585/ags.v3i2.546

Nanda Aulia, E. (2021). Strategi Pengembangan Bisnis Tambak Ikan Bandeng Di Desa Mengare Watuagung Gresik. Profit, 15(01), 112–119. https://doi.org/10.21776/ub.profit.2021.015.01.12

Osterwalder, A dan Pigneur, A. O. dan Y. (2010). Business Model Canvas. (T. Clark, Ed). New Jersey: john wiley dan sons, inc.

Rukajat, A. (2018). Pendekatan Penelitian Kuantitatif. Deepublish.

Setiawati, R. dan M. (2021). Indikator Pertanian 2021. Badan Pusat Statistika.

Yakin, K. (2019). Metode Analitik dan Numerik dengan Matlab. Literasi Nusantara.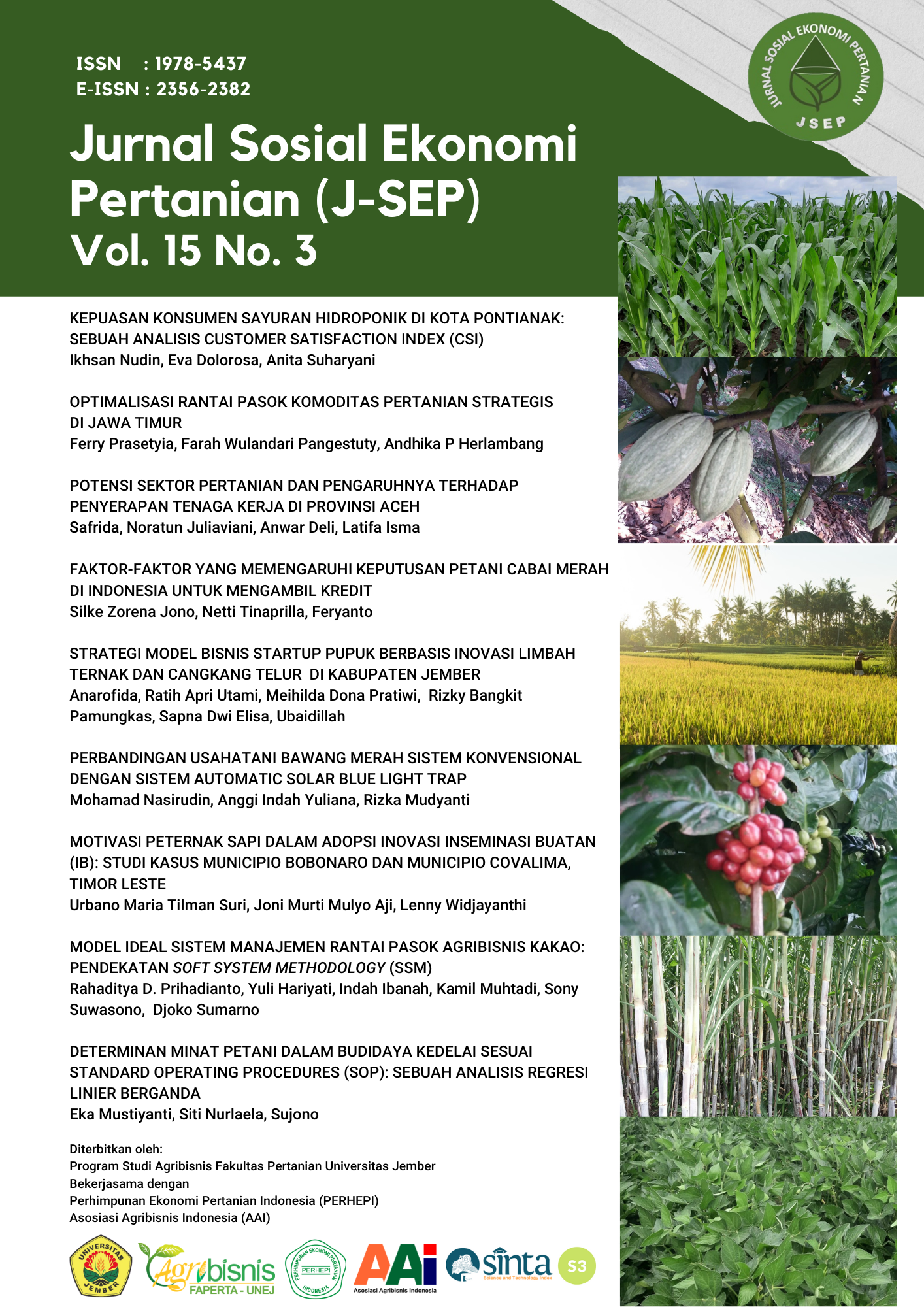 This work is licensed under a Creative Commons Attribution-ShareAlike 4.0 International License.
Jurnal Sosial Ekonomi Pertanian (J-SEP) has CC-BY-SA or an equivalent license as the optimal license for the publication, distribution, use, and reuse of scholarly work.
The work is simultaneously licensed under a Creative Commons Attribution-ShareAlike 4.0 International License, which permits others to share the work with an acknowledgement of the authorship and the work's initial publication in this journal. Authors who publish with this journal retain their copyright and grant the journal the right of first publication.