PENGARUH STRATEGI PEMASARAN TERHADAP KINERJA PEMASARAN PRODUK OLAHAN KOPI
Shalsabillah Nur Fitria

Jurusan Agribisnis Fakultas Pertanian Universitas Pembangunan Nasional "Veteran" Jawa Timur

Sri Widayanti

Jurusan Agribisnis Fakultas Pertanian Universitas Pembangunan Nasional "Veteran" Jawa Timur

Dona Wahyuning Laily

Jurusan Agribisnis Fakultas Pertanian Universitas Pembangunan Nasional "Veteran" Jawa Timur
Abstract
Fore Coffee is a contemporary coffee shop offering a wide variety of high-quality coffee drinks. As coffee shops in Indonesia mushroomed during the COVID-19 pandemic, Fore Coffee carried out various marketing strategies so that sales could survive in an increasingly competitive market. This research aims to describe the 7P marketing components that Fore Coffee has carried out, analyze the effect of the 7P marketing strategy that Fore Coffee has carried out on marketing performance, and explain the implications of the research results for company development. The method in this study uses descriptive analysis and a PLS analysis tool named WarpPLS 6.0 with 100 respondents who are Fore Coffee consumers at Tunjungan Plaza Mall Surabaya. The results showed that the components of the 7P strategy carried out by Fore Coffee were considered quite good by most consumers. In testing the marketing strategy on the marketing performance of Fore Coffee, it was found that all components of the marketing strategy in this study had a significant effect on the acceptance of all research hypotheses. Based on the implications of the research results, theoretically justify and strengthen several theories and previous research.
References
Akroush, M. N. (2011). The 7Ps Classification of the Services Marketing Mix Revisited : An Empirical Assessment of their Generalisability , Applicability and Effect on Performance - Evidence from Jordan ' s Services Organisations. Jordan Journal of Business Administration, 7(1), 116–147.

Alhatiri, S., Tumbel, A. L., & Roring, F. (2017). Pengaruh Daya Tarik Iklan dan Potongan Harga Terhadap Minat Beli Konsumen pada Matahari Departement Store Manado Town Square. Jurnal Riset Ekonomi, Manajemen, Bisnis, Dan Akuntansi, 5(2), 1781–1792.

Andriyanto, L., Syamsiar, S., & Widowati, I. (2020). Analisis Pengaruh Bauran Pemasaran (Marketing Mix 7-P) Terhadap Keputusan Pembelian Di Thiwul Ayu Mbok Sum. Jurnal Dinamika Sosial Ekonomi, 20(1), 26. https://doi.org/10.31315/jdse.v20i1.3248

AR, K. (2016). Pengaruh Harga , Lokasi Dan Bukti Fisik Terhadap Keputusan Konsumen Dalam Memilih Jasa Hotel Harun Square Di Kota Lhokseumawe. Jurnal Visioner & Strategis, 5(2), 9–16.

As'ad, M. H., & Mulyo Aji, J. M. (2020). Faktor Yang Mempengaruhi Preferensi Konsumen Kedai Kopi Modern Di Bondowoso. JSEP (Journal of Social and Agricultural Economics), 13(2), 182–199. https://doi.org/10.19184/jsep.v13i2.16441

Borden, N. H. (1964). The Concept of the Marketing Mix '. Journal of Advertising Research, 4(2), 2–7.

Ekawanti, U. (2019). Pengaruh Lokasi Toko Dan Promosi Terhadap Minat Beli Konsumen Pada Distro Jenawi Oblong Riau Pekanbaru. Journal of Manajement, 6(2), 1–15.

Elvina, L. (2020). WHO Tetapkan Wabah Virus Corona Sebagai Pandemi Global. KompasTV. https://www.kompas.tv/article/70893/who-tetapkan-wabah-virus-corona-sebagai-pandemi-global

Erdiana, A. E., & Farida, S. N. (2021). Analisis Strategi Pemasaran Di Tengah Pandemi Covid-19 Untuk Meningkatkan Omzet Penjualan Pada Restu Bakery Bojonegoro. Journal Publicuho, 4(1), 146. https://doi.org/10.35817/jpu.v4i1.16794

Erlina, E., & Hermawan, D. (2021). Marketing Mix on Customer Loyalty at Coffee Shop in Bandung. Aptisi Transactions on Management (ATM), 5(1), 89–96. https://doi.org/10.33050/atm.v5i1.1488

Hashim, N., & Hamzah, M. I. (2014). 7P's: A Literature Review of Islamic Marketing and Contemporary Marketing Mix. Procedia - Social and Behavioral Sciences, 130(May), 155–159. https://doi.org/10.1016/j.sbspro.2014.04.019

Ivy, J., & Naudé, P. (2004). Succeeding in the MBA marketplace: Identifying the underlying factors. Journal of Higher Education Policy and Management, 26(3), 401–417. https://doi.org/10.1080/1360080042000290249

Khan, M. T. (2014). The Concept of 'Marketing Mix' and its Elements (A Conceptual Review Paper). International Journal of Information, Business and Management, 6(2), 95–107.

Ningsih, S. N. W., Milasari, A. O., & Saifuddin, M. (2021). Strategi Marketing Mix Dalam Menghadapi Pandemi Covid-19 (Studi Kasus Pada Jolly Coffee Surabaya). Jurnal Manajemen Dan Inovasi (MANOVA), 4(1), 20–34. https://doi.org/10.15642/manova.v4i1.388

Pertiwi, N., & Harianto, M. (2019). Pengaruh Kualitas Pelayanan dan Harga Terhadap Minat Beli Kembali Produk Pestisida pada PT. Perusahaan Perdagangan Indonesian (PERSERO) Cabang Pekanbaru. Jurnal of Management, 6(II), 1–15.

Putra, A. S. (2015). Pengaruh Corporate Social Responsibility Terhadap Profitabilitas Perusahaan (Studi Empiris pada Perusahaan Sektor Industri Barang Konsumsi yang Terdaftar di Bursa Efek Indonesia Tahun 2010-2013). Jurnal Nominal, IV(2), 88–110.

Qurtubi, Q., Trisnaningtias, D. M., & Yudhanata, M. F. (2019). Identifikasi Variabel yang Berpengaruh terhadap Kinerja Pemasaran dan Indikator Kinerja Pemasaran untuk Industri Hotel. Jurnal Sistem Dan Manajemen Industri, 3(1), 1. https://doi.org/10.30656/jsmi.v3i1.1432

Rachmawati, R. (2011). Peranan Bauran Pemasaran (Marketing Mix) terhadap Peningkatan Penjualan. Jurnal Kompetensi Teknik, 2(2), 143–150.

Riyono, & Budiharja, G. E. (2016). Pengaruh Kualitas Produk, Harga, Promosi Dan Brand Image Terhadap Keputusan Pembelian Produk Aqua Di Kota Pati. Jurnal STIE Semarang, 8(2), 92–121.

Rondonuwu, G., Kelles, D., & Tamengkel, L. F. (2016). Pengaruh Lokasi Usaha Terhadap Minat Beli Konsumen (Studi Kasus Pasar Swalayan Borobudur Manado). Jurnal Administrasi Bisnis, 1–8.

Rusdian, S., & Nurjanah, I. A. (2020). Pengaruh Bukti Fisik Terhadap Keputusan Pembelian (Studi Pada Ramen Ranjang 69). Prismakom, 17(1), 55–61.

Setyanto, L. E., Arifin, Z., & Sunarti. (2017). Pengaruh Atribut Produk Terhadap Keputusan Pembelian (Survei Pembeli Apple iPhone pada Mahasiswa / Mahasiswi S1 Fakultas Ilmu Administrasi Program Studi Ilmu Administrasi Bisnis Angkatan 2013 / 2014 Universitas Brawijaya Malang). Jurnal Administrasi Bisnis (JAB), 46(2), 19–27.

Silvia, D., Balafif, M., & Rahmasari, A. (2021). Faktor-Faktor yang Mempengaruhi Tingkat Daya Beli Masyarakat di Kabupaten Sidoarjo. Bharanomics, 2(1), 81–92. https://doi.org/10.46821/bharanomics.v2i1.193

Singh, M. (2012). Marketing Mix of 4P's for Competitive Adventage. IOSR Journal of Business and Management, 3(6), 40–45.

Suciati, F. S., Danial, R. D. M., & Ramdan, A. M. (2020). Kapabilitas Pemasaran dalam Meningkatkan Kinerja Pemasaran pada Coffee Shop. Ekuitas: Jurnal Pendidikan Ekonomi, 8(1), 37–45.

Sukarno, G. (2018). Meningkatkan Kinerja Pemasaran Umkm Melalui Peran Lingkungan, Inovasi Produk Dan Kreatifitas Strategi Pemasaran. EKUITAS (Jurnal Ekonomi Dan Keuangan), 15(3), 332–351. https://doi.org/10.24034/j25485024.y2011.v15.i3.372

Surahman, B., Fatma, M., & Erna, B. (2021). Pengaruh proses ( process) dan fisik (physical evidence) terhadap minat beli konsumen pada sultan market simpang balek kecamatan wih pesam bener meriah. Jurnal Ekonomi, Sosial & Humaniora, 2(11), 103–118.

Syardiansah. (2017). Pengaruh Fasilitas , Harga , Lokasi dan Promosi terhadap Keputusan Sewa Lapangan Futsal oleh Mahasiswa (Studi kasus pada Mahasiswa Fakultas Ekonomi Tingkat IV). Jurnal Samudra Ekonomi Dan Bisnis, 8(2), 678–688.

Utami, R. P., & Saputra, H. (2017). Pengaruh Harga Dan Kualitas Produk Terhadap Minat Beli Sayuran Organik Di Pasar Sambas Medan. Niagawan, 6(2), 44–53. https://doi.org/10.24114/niaga.v6i2.8334

Yuritanto. (2020). Determinasi Iklim Komunikasi, Kompetensi, dan Disiplinkerja Terhadap Kinerja Pegawai Kantor Distrik Navigasi Kelas I Tanjungpinang, Melalui Kepuasan Kerja Sebagai Intervening. Journal Competency of Business, 4(I), 17–30.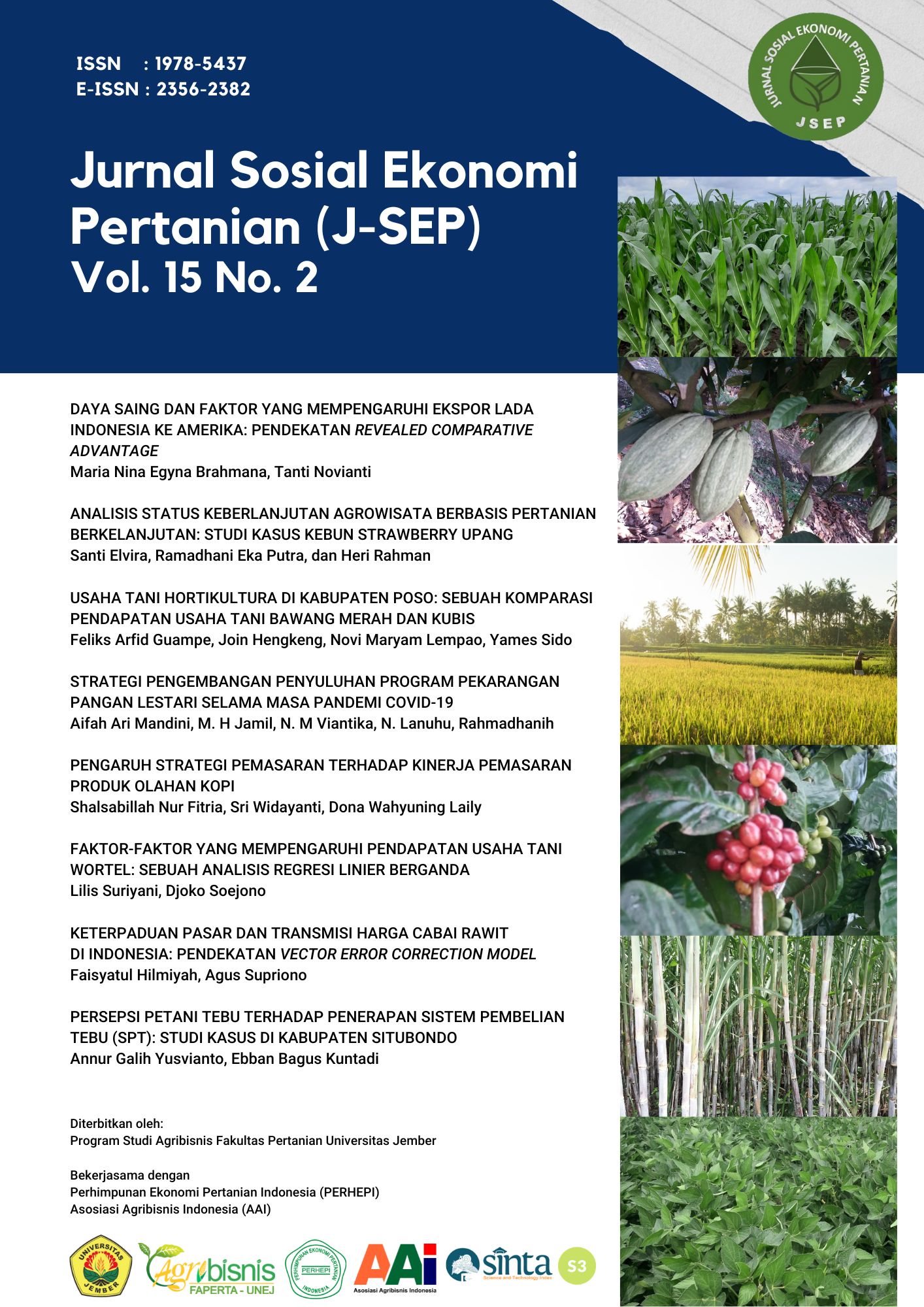 This work is licensed under a Creative Commons Attribution-ShareAlike 4.0 International License.
Jurnal Sosial Ekonomi Pertanian (J-SEP) has CC-BY-SA or an equivalent license as the optimal license for the publication, distribution, use, and reuse of scholarly work.
The work is simultaneously licensed under a Creative Commons Attribution-ShareAlike 4.0 International License, which permits others to share the work with an acknowledgement of the authorship and the work's initial publication in this journal. Authors who publish with this journal retain their copyright and grant the journal the right of first publication.