ANALISIS NILAI TAMBAH PRODUK OLAHAN SUSU PADA USAHA RUMAH SUSU: PENDEKATAN METODE HAYAMI
Shinta Ayu Istiani

Program Studi Agribisnis Fakultas Pertanian Universitas Jember

Soetriono Soetriono

Program Studi Agribisnis Fakultas Pertanian Universitas Jember
Abstract
Sales of dairy products tend to fluctuate during the covid-19 pandemic. This condition affects income. This study aims to (1) find out the dairy products, (2) find out the income of dairy products, (3) find out the added value of dairy products, (4) know the risk of income from dairy products. The research sample was selected using a purposive method. This research uses descriptive analysis, Hayami method added value analysis, and coefficient of variation. The results showed that (1) the products produced by the dairy house were pasteurized milk, fresh milk, and ice cream; (2) dairy products provide positive income; (3) the added value of dairy products provides positive added value to the dairy house because of the added value; (4) profitable dairy production activities. To increase the income of dairy houses during the pandemic, it is necessary to diversify other dairy products, such as making yogurt and milk crackers.
References
Apriyani, D., Muchariman, R., Joni, & Wijaya, T. (2021). Peningkatan Nilai Tambah Susu Kambing Etawa di UM Purefresh Kabupaten Ciamis. Jurnal Pengabdian SIliwangi, 7(2), 71–77.

Badan Pusat Statistik. (2018). Data Produksi Susu Segar menurut Kabupaten/Kota Jawa Timur 2014-2018. Badan Pusat Statistik Jawa Timur.

Girsang, R. M., & Agustina, T. (2019). Analisis Nilai Tambah dan Strategi Pengembangan Usaha Pengolahan Susu Sapi Perah Best Cow pada Unit Produksi Koperasi Peternak Galur Murni di Kecamatan Ajung Kabupaten Jember. UNEJ E-Proceeding, 301–313. https://jurnal.unej.ac.id/index.php/prosiding/article/view/8924

Hariyati, Y. (2007). Ekonomi Mikro. CSS.

Hartin, A. G. S. P., & Santoso, E. B. (2020). Analisa Nilai Tambah Produk Olahan Susu di Desa Sukorejo, Kecamatan Musuk, Kabupaten Boyolali. Jurnal Teknik ITS, 9(2).

Hernanto, F. (1996). Ilmu Usaha Tani. PT Penebar Swadaya.

Hidayat, S. (2012). Model Penyeimbangan Nilai Tambah Berdasarkan Tingkat Risiko Pada Rantai Pasok Minyak Sawit. Institut Pertanian Bogor.

Ibrahim, M. Y. (2009). Studi Kelayaka Bisnis. Rineka Cipta.

Mulyadi, R. (2018). Analisis Profitabilitas dan Nilai Tambah Susu Pada Koperasi Produksi Susu (KPS) Bogor, Jawa Barat. Institut Pertanian Bogor.

Pusat Data dan Sistem Informasi Pertanian. (2016). Outlook Susu. Pusat Data dan Sistem Informasi Pertanian.

Ramadhani, F., Santoso, S. I., & Sumarsono, D. (2019). Analisis Nilai Tambah Komoditi Produk Olahan Susu di Koperasi Peternakan Bandung Selatan (KPBS), Kecamatan Pangalengan, Kabupaten Bandung. Jurnal Ekonomi
Pertanian Dan Agribisnis, 3(4), 738–750. https://doi.org/10.21776/ub.jepa.2019.003.04.9

Rumijati, A., Asfiah, N., & Fuadiputra, I. R. (2021). Rebranding Untuk Meningkatkan Nilai Tambah Produk Di Kelompok Usaha Mikro Olahan Susu Pada Ikatan Pengusaha 'Aisyiyah (Ipas). Jurnal Budimas, 03(01), 5–24.

Setiyowati, L. (2020). Rantai Pasok dan Nilai Tambah Susu Sapi Perah. Efficient: Indonesian Journal of Development Economics, 3(2), 780–798. https://journal.unnes.ac.id/sju/index.php/efficient/article/view/39299

Soekartawi. (1995). Analisis Usahatani. Gramedia Pustaka Utama.

Sudiyono, A. (2002). Pemasaran Pertanian. UMM Press.

Sukirno, S. (2013). Mikroekonomi Teori Pengantar. PT Raja Grafindo Persada.

Winahyu, N., & Lestari, R. D. (2021). Analisis Keuntungan Produk Olahan Susu Pasteurisasi Skala Rumah Tangga. Journal Science Innovation and Technology (SINTECH), 2(1), 22–27.

Wulandari, B. R. D., Suhubdy, Media, I. G. L., Aryadin, R., & Yulianto, W. (2021). Peningkatan Nilai Tambah Susu Kambing Menjadi Karamel Susu pada Kelompok PKK "Mavilla" Desa Bajur Kecamatan Labuapi Kabupaten Lombok Barat. Jurnal PEPADU, 2(3), 320–324.

Zainuddin, A., & Wibowo, R. (2018). Preferensi Risiko Produksi Petani Tebu Di Wilayah PT. Perkebunan Nusantara X. Prosiding Seminar Nasional Hasil Penelitian Sosial Ekonomi Pertanian.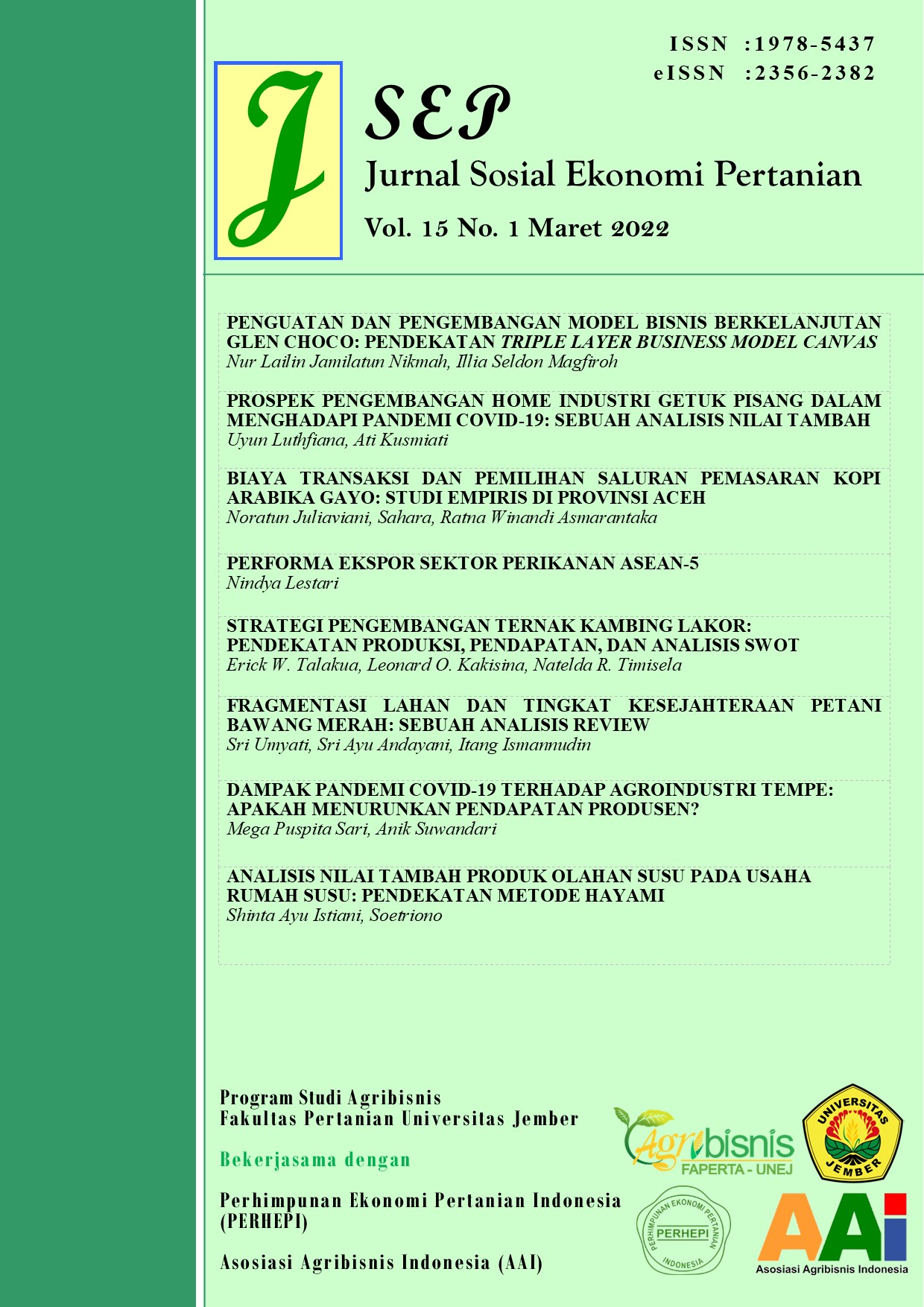 This work is licensed under a Creative Commons Attribution-ShareAlike 4.0 International License.
Authors who publish with this journal agree to the following terms:
Authors retain copyright and grant the journal right of first publication with the work simultaneously licensed under a Creative Commons Attribution License that allows others to share the work with an acknowledgement of the work's authorship and initial publication in this journal.
Authors are able to enter into separate, additional contractual arrangements for the non-exclusive distribution of the journal's published version of the work (e.g., post it to an institutional repository or publish it in a book), with an acknowledgement of its initial publication in this journal.
Authors are permitted and encouraged to post their work online (e.g., in institutional repositories or on their website) prior to and during the submission process, as it can lead to productive exchanges, as well as earlier and greater citation of published work (See The Effect of Open Access).