PENGUATAN DAN PENGEMBANGAN MODEL BISNIS BERKELANJUTAN GLEN CHOCO: PENDEKATAN TRIPLE LAYER BUSINESS MODEL CANVAS
Nur Lailin Jamilatun Nikmah

Program Studi Agribisnis Fakultas Pertanian Universitas Jember

Illia Seldon Magfiroh

Program Studi Agribisnis Fakultas Pertanian Universitas Jember
Abstract
Cocoa plants are a leading plantation commodity that entirely exists in Indonesia. One of which is the highest production of Edel Cocoa in 2019 located at PTPN XII Kendenglembu, which has cocoa processing industry, namely Doesoen Kakao, and has great potential in improving the economy and social aspects. However, the weakness is using aluminum foil packaging, which is considered less environmentally friendly. The purpose of this study is to find out the mapping of the sustainable business model of the "Glen Choco" using TLBMC (Triple Layer Business Model Canvas) and decision using PMIA (Plus Minus Implication Analysis). The research method uses descriptive and analytic methods. The results show: 1) The results on TLBMC at the economic layer describe all elements, the environmental layer can't describe the End of Life because the packaging isn't environmentally friendly, the social layer can't describe the Social Impact because it has no impact poor social society, 2) Decision on PMIA is the economic layer has a high score of 109 to strengthen the business model. The environmental layer has the lowest score of 70 to develop a business model, and the social layer has a high score of 96 to strengthen the business models.
References
Furqon, C., M.A. Sultan., dan F. W. (2019). Business Development of Coffee Farmers Group Using Triple Layered Business Model Canvas. Journal of Business and Economics Review, 4(4), 163–170.

Joyce, A. and R. L. P. (2016). The Triple Layered Business Model Canvas : A Tool to Design More Sustainable Susiness Models. Journal of Cleaner Production, 135(1), 1474–1486. https://doi.org/10.1016/j.jclepro.2016.06.067

Osterwalder, A. (2004). The Business Model Ontology A Proposition In A Design Science Approach. America: John Willey and Sons.

PT Perkebunan Nusantara XII. (2019). https://ptpn12.com/2019/07/09/kakao-edel-finest-cocoa-variety/ (Diakses tanggal 12 November 2020, pukul 14.30).

Saebani, B. . (2008). Metode Penelitian. Bandung : CV Pustaka Setia.

Sunanto. (1992). Cokelat Budidaya, Penglahan Hasil dan Aspek Ekonominya. Yogyakarta: Kosinus.

Yusuf, A. . (2017). Metode Penelitian Kuantitatif, Kualitatif & Penelitian Gabungan. Jakarta : Kencana.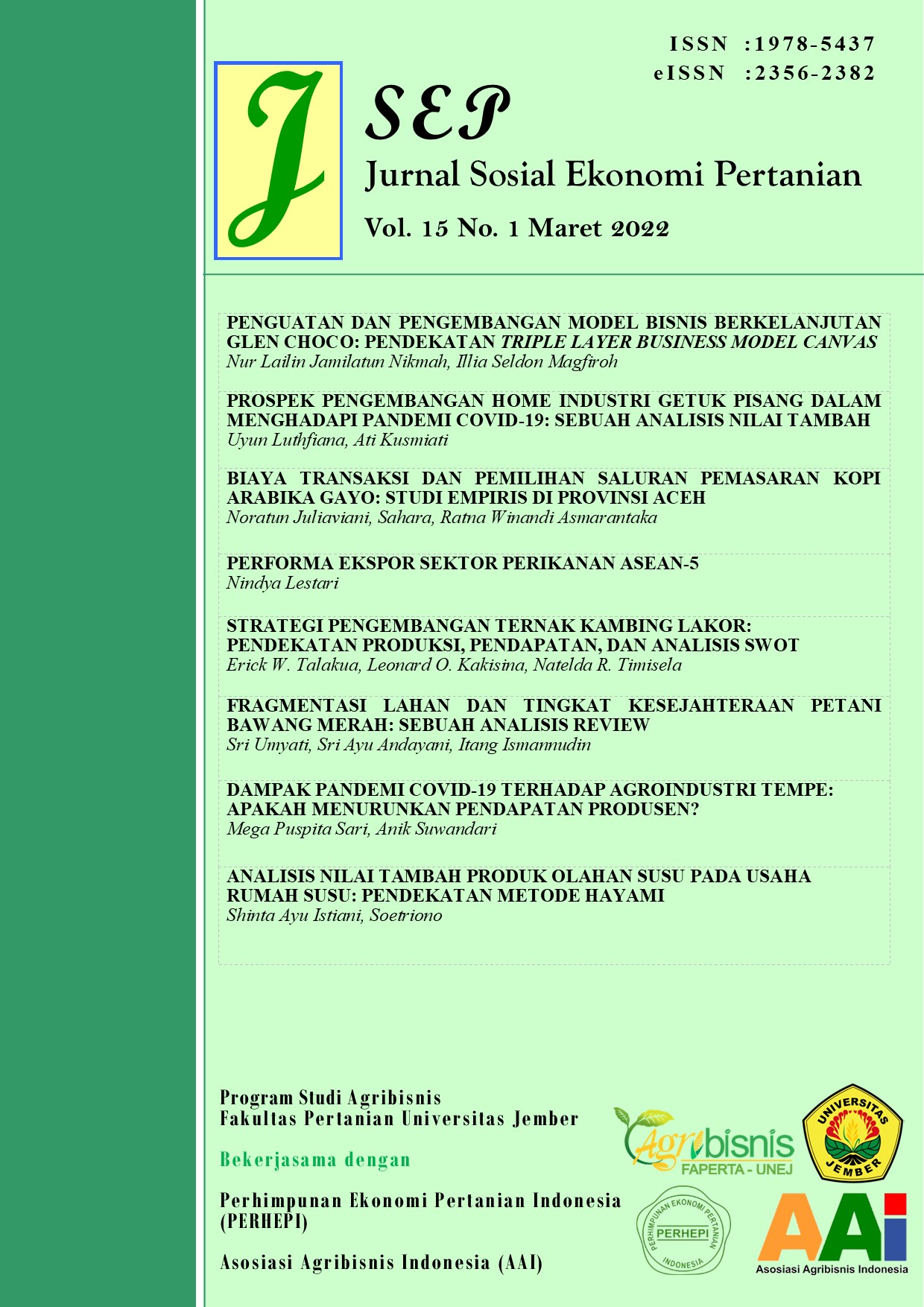 This work is licensed under a Creative Commons Attribution-ShareAlike 4.0 International License.
Authors who publish with this journal agree to the following terms:
Authors retain copyright and grant the journal right of first publication with the work simultaneously licensed under a Creative Commons Attribution License that allows others to share the work with an acknowledgement of the work's authorship and initial publication in this journal.
Authors are able to enter into separate, additional contractual arrangements for the non-exclusive distribution of the journal's published version of the work (e.g., post it to an institutional repository or publish it in a book), with an acknowledgement of its initial publication in this journal.
Authors are permitted and encouraged to post their work online (e.g., in institutional repositories or on their website) prior to and during the submission process, as it can lead to productive exchanges, as well as earlier and greater citation of published work (See The Effect of Open Access).