FRAGMENTASI LAHAN DAN TINGKAT KESEJAHTERAAN PETANI BAWANG MERAH: SEBUAH ANALISIS REVIEW
Sri Umyati

Universitas Majalengka

Sri Ayu Andayani

Program Studi Agribisnis Fakultas Pertanian Universitas Majalengka

Itang Ismannudin

Program Studi Agribisnis Fakultas Pertanian Universitas Majalengka
Abstract
One of the reasons for the shrinkage of agricultural land in Indonesia is the existence of a system for inheritance and conversion of agricultural land which generally occurs on productive lands. If this condition continues, it will certainly become a serious threat to national food availability. This study aims to determine the extent of land fragmentation that occurs and measure the level of welfare of shallot farmers. The research method used is the descriptive qualitative method with the technique of determining respondents using snowball sampling. The analytical technique used is a descriptive approach and uses welfare indicators from the National Population and Family Planning Agency (BKKBN). Based on the results of the study, land fragmentation in shallot farmers occurs through a system of inheritance, buying and selling, and land renting. Land fragmentation through inheritance is the most common and the largest area of inherited land comes from the wife's family with an average land area of 1.19. The highest level of welfare of shallot farmers was obtained at the prosperous family stage I with a percentage of 37.04%, for the pre-prosperous family stage with a percentage of 33.33%, and the lowest results were obtained at the prosperous family stage with a percentage of 29, 63%.
References
Ammar, M. N. (2021). Tourism Sector Village Development Sebuah Kajian Pustaka Terstruktur ( Systematic Literature Review ) Pendahuluan Dalam sebuah penelitian untuk mendapatakn data yang ingin diketahui mengenai suatu hal diperlukan adanya analisis terhadap variabel-variabel. Kybernan: Jurnal Studi Kepemerintahan, 4(1), 55–74.

Badan Pusat Statistik. (2021). Distribusi 17 Sektor Utama Terhadap PDB Nasional (TW II-2021). Badan Pusat Statistik.

Daniel, M. (2004). Pengantar Ekonomi Pertanian. PT Bumi Aksara.

Fauzan, M. (2020). Pendapatan Rumah Tangga Petani Bawang Merah Lahan Pasir Pantai Di Kabupaten Bantul. JAS (Jurnal Agri Sains), 4(1), 60. https://doi.org/10.36355/jas.v4i1.362

Khaliq, A. J. A., & Boz, İ. (2018). The Role Of Agriculture In The Economy Of Afghanistan. 2nd International Conference on Food and Agricultural Economics, 192–198.

Kilmanun, J. C., & Astuti, D. W. (2016). Potensi dan Kendala Revolusi Industri 4.0. di Sektor Pertanian. Balai Penkajian Teknologi Pertanian Kalimantan Barat, 35–40.

Niroula, G. S., & Thapa, G. B. (2005). Impacts and causes of land fragmentation, and lessons learned from land consolidation in South Asia. Land Use Policy, 22(4), 358–372. https://doi.org/10.1016/j.landusepol.2004.10.001

Pasaribu, M., & Istriningsih. (2020). Pengaruh Status Kepemilikan Lahan Terhadap Pendapatan Petani Berlahan Sempit Di Kabupaten Indramayu Dan Purwakarta. Pengkajian Dan Pengembangan Teknologi Pertanian, 23(2), 187–198.

Saragih, B. (2010). Agribisnis Paradigma Baru Pembangunan Ekonomi Berbasis Pertanian. Pustaka Wirausaha Muda Bogor.

Sugiyono. (2008). Metode Penelitian Kuantitatif Kualitatif dan R&D. Alfabeta Bandung.

Sukmadinata. (2006). Metode Penelitian Pendidikan. Remaja Rosdakarya.

Susanti, A. (2017). Pengendalian dan penguasaan lahan pertanian di Pegunungan Tengger Lereng Atas: Adaptasi petani melalui sistem pewarisan. Jurnal Kajian Ruang Sosial Budaya, 1(1), 49–63. https://doi.org/10.21776/ub.sosiologi.jkrsb.2017.001.1.05

Tan, S., Heerink, N., & Qu, F. (2006). Land fragmentation and its driving forces in China. Land Use Policy, 23(3), 272–285. https://doi.org/10.1016/j.landusepol.2004.12.001

Wan, G. H., & Cheng, E. (2001). Effects of land fragmentation and returns to scale in the Chinese farming sector. Applied Economics, 33(2), 183–194. https://doi.org/10.1080/00036840121811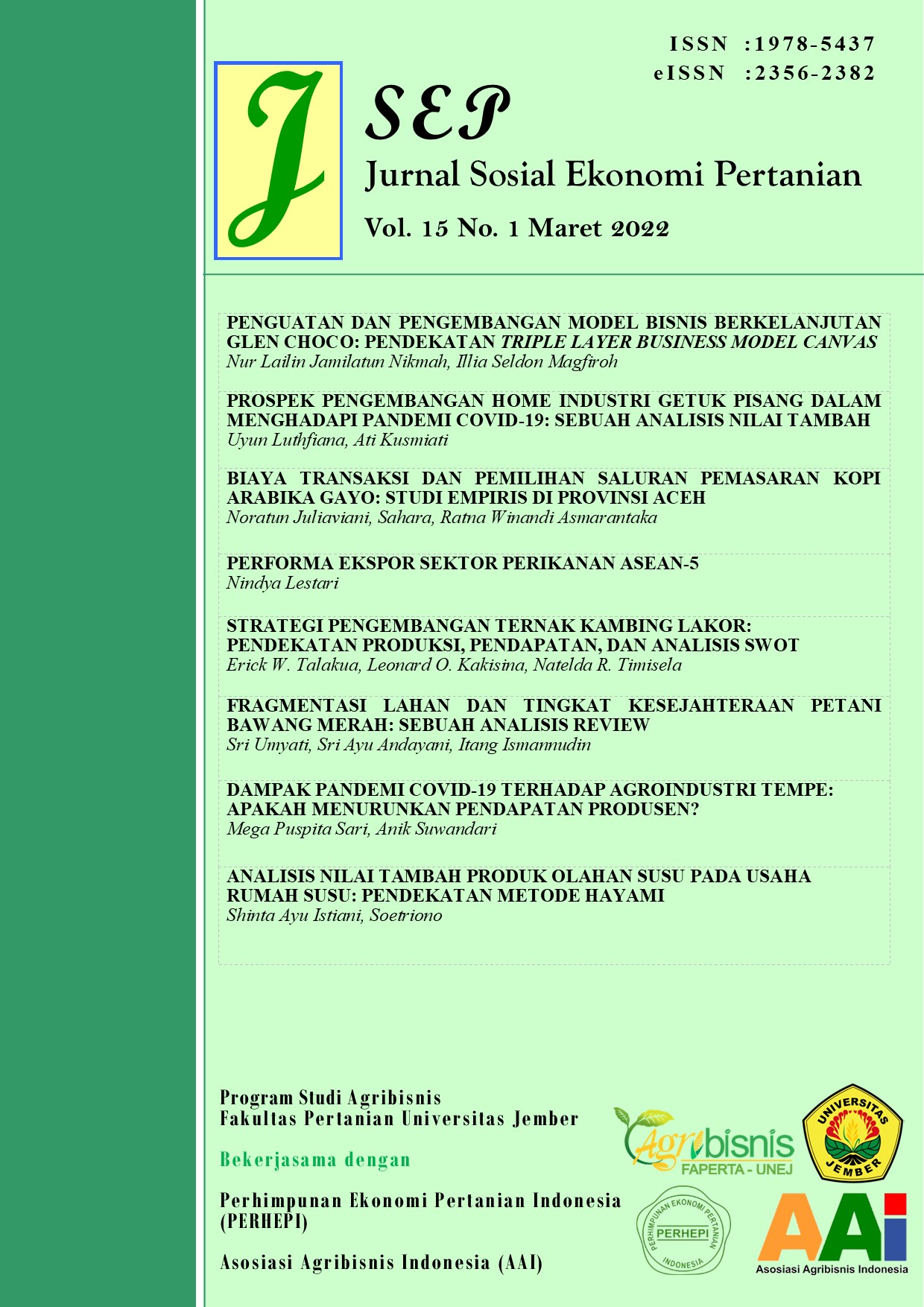 This work is licensed under a Creative Commons Attribution-ShareAlike 4.0 International License.
Authors who publish with this journal agree to the following terms:
Authors retain copyright and grant the journal right of first publication with the work simultaneously licensed under a Creative Commons Attribution License that allows others to share the work with an acknowledgement of the work's authorship and initial publication in this journal.
Authors are able to enter into separate, additional contractual arrangements for the non-exclusive distribution of the journal's published version of the work (e.g., post it to an institutional repository or publish it in a book), with an acknowledgement of its initial publication in this journal.
Authors are permitted and encouraged to post their work online (e.g., in institutional repositories or on their website) prior to and during the submission process, as it can lead to productive exchanges, as well as earlier and greater citation of published work (See The Effect of Open Access).