STRATEGI PENGEMBANGAN TERNAK KAMBING LAKOR: PENDEKATAN PRODUKSI, PENDAPATAN, DAN ANALISIS SWOT
Erick W. Talakua

Dinas PUTR Kabupaten Maluku Barat Daya

Leonard O. Kakisina

Jurusan Sosial Ekonomi Pertanian, Fakultas Pertanian Universitas Pattimura

Natelda R. Timisela

Jurusan Sosial Ekonomi Pertanian, Fakultas Pertanian Universitas Pattimura
Abstract
This study aims to analyze the factors that influence the production and income of Lakor goats. The research used a survey method using interview techniques and field observations. The study was conducted in Letoda Village, Lakor Island District, Southwest Maluku Regency, with the number of respondents selected as many as 45 people (50%) from 90 population of Lakor goat breeders. Primary and secondary data were analyzed using qualitative and quantitative descriptive methods. The results showed that determining the factors that affect the production of Lakor goats after being analyzed by multiple regression analysis showed that the independent variables, namely length of business, seeds, number of workers, area of ​​cages, and feed together, significantly affected the production of Lakor goats. Meanwhile, for the effect of each independent variable on the production of Lakor goats, it was found that the length of business, seeds, cage area, feed had a significant effect, and labor had no effect on the production of Lakor goats. The income of the Lakor goat breeder per year is IDR 10,963,611. The feasibility of the Lakor goat livestock business has an R/C ratio value of 2.03 and a B/C ratio of 1.03 so that the Lakor goat business is feasible to be cultivated and developed for the welfare of the community.
References
ACIAR (2008) Strategies to Increase Growth of Weaned Bali Cattle.

Asnavy, M., Harisudin, M. and Setyowati, N. (2017) 'Strategi Pengembangan Usaha Peternakan Kambing Etawa Farm Di Kecamatan Tawangmangu Kabupaten Karanganyar', AGRISTA, 5(2), pp. 1–11.

Badan Pusat Statistik Kabupaten Maluku Barat Daya (2020) Maluku Barat Daya Dalam Angka Tahun 2020. Taikur: BPS Kabupaten Maluku Barat Daya.

Dirjen PKH Direktorat Jenderal Peternakan dan Kesehatan Hewan (2015) Kambing Lakor, Kambing Lakor. Available at: http://bibit.ditjenpkh.pertanian.go.id/ sites/ default/ files/ Kambing Lakor.pdf.

Firdaus, Kadir, I. A. and Makmur, T. (2020) 'Strategi Pengembangan Usaha Ternak Kambing Potong Abu Aqiqah Di Kecamatan Krueng Barona Jaya Kabupaten Aceh Besar', Jurnal Ilmiah Mahasiswa Pertanian Unsyiah, 5(2), pp. 167–179.

Fitriza, Y. T. (2012) 'Analisis pendapatan dan persepsi peternak plasma terhadap kontrak perjanjian pola
kemitraan ayam pedaging di Provinsi Lampung', Buletin Peternakan, 36(1), pp. 57–65.

Hariyati, Y.; Rahman, R.Y.; Zainuddin, A. (2018) Analisis Kuantitatif: Konsep dan Aplikasi untuk Permasalahan penelitian Agribisnis. Jember: Unej Press.

Hendrayani, E. and Febrina, D. (2009) 'Analisis Faktor-Faktor yang Dipengaruhi Motivasi Beternak Sapi di Desa Koto Benai Kecamatan Benai Kabupaten Kuantan Singingi', Jurnal Peternakan, 6(2), p. 53.

Mardikanto, T. (2009) 'Sistem Penyuluhan Pertanian. Sebelas Maret University Press. Surakarta.'

Miftahudin (2020) 'Analisis Ekonomi Kambing Etawa Pola Gaduhan: Studi Kasus di Desa Sukomulyo, Kecamatan Kajoran, Kabupaten Magelang', Jurnal Paradigma Multidisipliner ( JPM ), 1(1), pp. 1–12. Available at: http://smkn1magelang.sch.id/jpm/index.php/jpm/article/view/1/1.

Moelong, L. J. (2006) Metode Penelitian Kualitatif. Bandung: Remaja Rosdakaria.

Mulyo, I. T., Marsuki, S. and Santoso, S. I. (2012) 'Profil Darah Domba setelah pemberian CF Amofer', JITP, 2(1), pp. 10–19.

Nugroho, E. et al. (2012) 'Kajian evaluasi manfaat dan kontribusi dana APBN dalam pembangunan peternakan di Jawa Timur', Jurnal Ilmu-Ilmu Peternakan, 20(2), pp. 14–23.

Rusdiana, S. and Maesya, A. (2018) 'Sikap Dan Motivasi Petani Tanaman Padi Terhadap Adopsi Program Kartu Tani Di Kabupaten Grobogan (Attitudes and Motivation of Rice Farmers on Adoption Farmer Card Programs (Program Kartu Tani) in Grobogan Regency)', Jurnal Sosial Ekonomi dan Kebijakan Pertanian, 7(2), pp. 176–187.

Sarwono, B. (2007) Beternak Kambing Unggul. Jakarta: Penebar Swadaya.

Singarimbun and Effendi (1989) Metode Penelitian Survey. Jakarta: LP3ES.

Siregar, G. (2012) 'Analisis Kelayakan Dan Strategi Pengembangan Usaha Ternak Sapi Potong', Jurnal Agrium, 17(3), pp. 192–201.

Soekartawi (2002) Agribisnis Teori dan Aplikasinya. Rajawali Press. Malang: Universitas Brawijaya.

Soekartawi (2006) Analisis Usaha Tani. Jakarta: UI-Press.

Suhuby (2007) 'Strategi Penyediaan Pakan Untuk Pengembangan Usaha Ternak Kerbau', Wartazoa, 17(1), pp. 1–11.

Supanggat, A. (2007) tatistik Dalam Kajian Deskriptif, Inferensi dan Non Parametrik. Pertama. Jakarta: Kencana prenada media Group.

Supriyanto, Haryadini, A. F. and Nurdayati (2020) 'Analisis Faktor Yang Mempengaruhi Minat Peternak Dalam Mengembangkan Ternak Kambing', Jurnal Pengembangan Penyuluhan Pertanian, 17(3), pp. 137–149.

Tiven, N. C. et al. (2019) 'Potensi Pengembangan Peternakan Kambing Di Kabupaten Kepulauan Aru Provinsi Maluku', Jurnal Ilmu Ternak Universitas Padjadjaran, 19(1), p. 10. doi: 10.24198/jit.v19i1.20070.

Yuslizar and Syahrantau, G. (2020) 'Analisis Usaha Jual Beli Kambing di Kelurahan Tembilahan Kota Kecamatan Tembilahan', Jurnal Agribisnis Unisi, 9(2), pp. 62–72.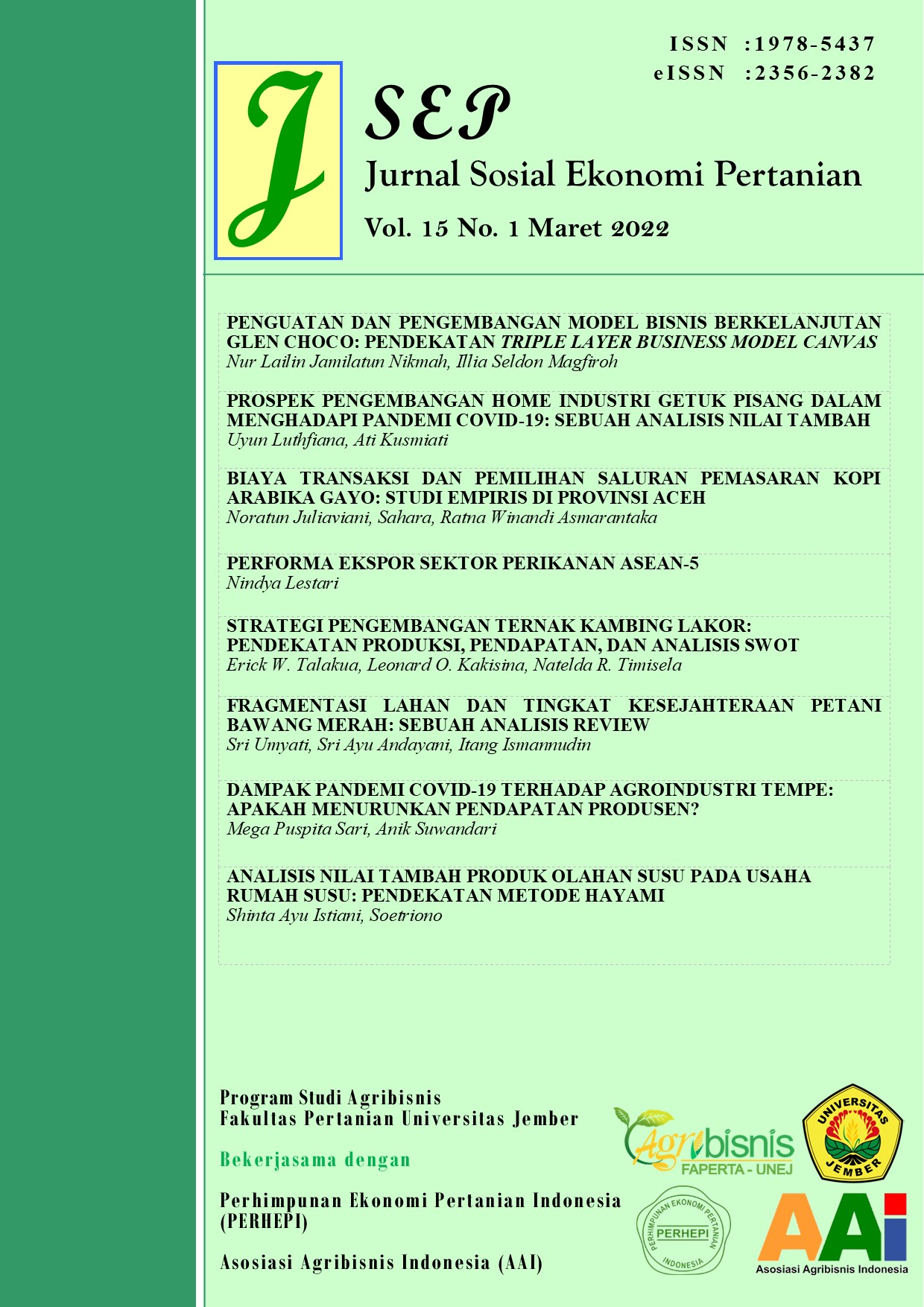 How to Cite
TALAKUA, Erick W.; KAKISINA, Leonard O.; TIMISELA, Natelda R.. STRATEGI PENGEMBANGAN TERNAK KAMBING LAKOR: PENDEKATAN PRODUKSI, PENDAPATAN, DAN ANALISIS SWOT.
Jurnal Sosial Ekonomi Pertanian (J-SEP)
, [S.l.], v. 15, n. 1, p. 59-76, mar. 2022. ISSN 2356-2382. Available at: <
https://jurnal.unej.ac.id/index.php/JSEP/article/view/26474
>. Date accessed: 28 sep. 2022. doi:
https://doi.org/10.19184/jsep.v15i1.26474
.
This work is licensed under a Creative Commons Attribution-ShareAlike 4.0 International License.
Authors who publish with this journal agree to the following terms:
Authors retain copyright and grant the journal right of first publication with the work simultaneously licensed under a Creative Commons Attribution License that allows others to share the work with an acknowledgement of the work's authorship and initial publication in this journal.
Authors are able to enter into separate, additional contractual arrangements for the non-exclusive distribution of the journal's published version of the work (e.g., post it to an institutional repository or publish it in a book), with an acknowledgement of its initial publication in this journal.
Authors are permitted and encouraged to post their work online (e.g., in institutional repositories or on their website) prior to and during the submission process, as it can lead to productive exchanges, as well as earlier and greater citation of published work (See The Effect of Open Access).