DETERMINAN PENGAMBILAN KEPUTUSAN KONSUMEN DAGING AYAM RAS DI PASAR TRADISIONAL MURNI DAN SNI KABUPATEN SITUBONDO
Rara Winda Apriliana Dzakiyyah

Program Studi Agribisnis Fakultas Pertanian Universitas Jember

Titin Agustina

Program Studi Agribisnis Fakultas Pertanian Universitas Jember
Abstract
Consumer decision making to buy purebred chicken meat in pure traditional markets is higher than SNI traditional markets which have advantages in cleanliness, facilities, and service. This study aimed to determine the characteristics of consumers and the determinants of consumer decision-making to buy chicken meat in pure and traditional SNI markets. The research method used was descriptive-analytic. The sample was 100 people with convenience sampling. Chi-square and Mann-Whitney tests were used to analyze consumer characteristics, and logistic regression to analyze consumer decision-making factors. The results showed that there was a relationship between the consumer's occupation and the decision to buy chicken meat, and there were differences in education and income between consumers in pure traditional markets and SNI traditional markets. Variables that significantly influence consumer decisions are the price of purebred chicken, location, number of family members, and education. For managers of traditional markets in Situbondo Regency, it is necessary to arrange shops, improve market facilities such as waiting rooms and maintain cleanliness so that they remain consumer choices.
References
Amelia, D. P., Purnomo, dan Sudiyono. (2018). Faktor- Faktor yang Mempengaruhi Permintaan Daging Ayam Kampung di Pasar Tradisional Kota Surakarta. Sains Peternakan. 16(1): 23–29.

Anas, A. Y., A. W Riana, dan N. C. Apsari. (2015). Desa Dan Kota Dalam Potret Pendidikan Penelitian dan Pengabdian kepada Masyarakat. 2(3): 418–422.

Andriniawati, N. L., dan I. A. N. Saskara. (2018). Analisis Faktor-faktor yang Mempengarui Permintaan Daging Ayam Broiler di Provinsi Bali. Ekonomi Pembangunan Unibersitas Udayana. 7(9): 2011-2037.

Aryani, G. A. D. dan I Made. (2019). Analisis Faktor-Faktor Yang Mempengaruhi Permintaan Daging Ayam Broiler Di Provinsi Bali. Ekonomi Pembangunan. 8(5): 1062–1091.

Burhanudin, A. (2011). Analisis Perilaku Konsumen Pada Pembelian Daging Ayam Ras (Broiler Chicken) Di Pasar Tradisional dan Pasar Modern Kota Jember. Skripsi. Universitas Jember.

Dalimunthe, M. N., I. Sembiring, N. Ginting. (2016). Analisis Faktor-Faktor yang berpengaruh Terhadap Konsumsi Daging Ayam Broiler di Kabupaten Padang Lawas Utara. Peternakan Integratif, 4(2): 143–154.

Dwipuspa, S. (2016). Analisis Proses Keputusan Pembelian Daging Ayam Ras dan Implikasi terhadap Bauran Pemasaran (Studi Kasus Pasar Baru dan Giant Botani Square). Ekonomi dan Manajemen. Institut Pertanian Bogor. Bogor.

Hamka. (2014). Pengaruh harga dan kualitas terhadap keputusan pembelian ayam potong di pasar Gamalama. Ilmiah Agribisnis dan Perikanan. 7(1): 1-6

Haslinda, A. N. (2016). Analisis tingkat permintaan daging ayam ras pedaging di pasar tradisional sungguminasa dan pasar sentral kecamatan somba opu kabupaten gowa. Skripsi. Sains dan Teknologi. Universitas Islam Negri Alauddin: Makassar.

Hariyati, Y.; Rahman, R.Y.; Zainuddin, A. (2018). Analisis Kuantitatif: Konsep dan Aplikasi untuk Permasalahan penelitian Agribisnis. Unej Press.

Ningrum, S., S. (2013). Analisis Preferensi Konsumen Dalam Membeli Daging Ayam Broiler di Pasar Tradisional di Kabupaten Karanganyar. Skripsi. Pertanian. Univrsitas Sebelas Maret: Surakarta.
Peraturan Daerah Situbondo Nomor 6 Tahun 2016. Pengelompokkan pasar tradisional Berdasarkan Jumlah Penjual. Situbondo: Disperindag Situbondo.

Potorondo, M., M. (2016). Perubahan Perilaku Berbelanja dari Pasar Tradisional Ke Pasar Modern di Kota Manado Dipandang dari Aspek Sosiologi. Ilmiah Al-Syirah. 14(2): 14-39.

Putra, I. G. N. Y., M. Sudarma, A. Wulandari. (2016). Faktor- Faktor yang Mempengaruhi Masyarakat Membeli Daging Ayam Boiler di Kabupaten Bangli. Agribusiness and Agritourism). 4(1): 47–55.

Sianturi, W. J. (2016). Sikap Dan Pengambilan Keputusan Konsumen Dalam Membeli Ayam Potong Di Kota Bandar Lampung. Ilmu-Ilmu Agribisnis. 4(4): 406–413.

Siregar, Syofian. (2014). Statistik Parametrik untuk penelitian Kuantitatif. Jakarta: Bumi Aksara

Ulupi, N., I. R.H. Soesanto, S. K. Inayah. (2015). Performa Ayam Broiler dengan Pemberian Serbuk Pinang sebagai Feed Aditive. Ilmu Produksi dan Teknologi Hasil Peternakan. 3(1): 8–11.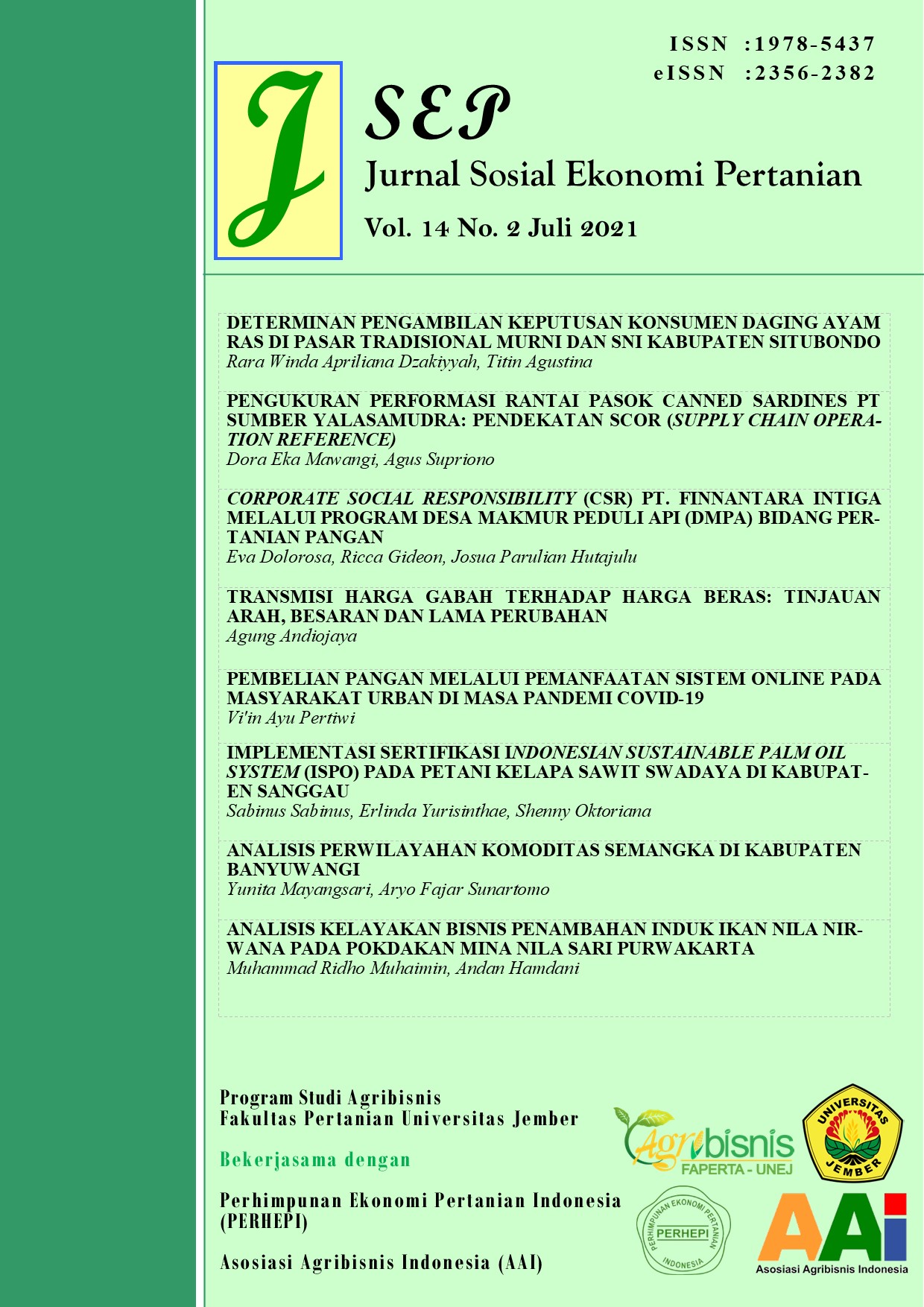 This work is licensed under a Creative Commons Attribution-ShareAlike 4.0 International License.
Jurnal Sosial Ekonomi Pertanian (J-SEP) has CC-BY-SA or an equivalent license as the optimal license for the publication, distribution, use, and reuse of scholarly work.
The work is simultaneously licensed under a Creative Commons Attribution-ShareAlike 4.0 International License, which permits others to share the work with an acknowledgement of the authorship and the work's initial publication in this journal. Authors who publish with this journal retain their copyright and grant the journal the right of first publication.