KELAYAKAN USAHATANI TEMBAKAU VIRGINIA: STUDI KOMPARASI PADA PROSES PENGOVENAN DI KABUPATEN LOMBOK TIMUR
Muhammad Anwar

Fakultas Pertanian Universitas Gunung Rinjani

Rini Endang Prasetyowati

Fakultas Pertanian Universitas Gunung Rinjani

Hidayatul Ahyani

Fakultas Ekonomi Universitas Gunung Rinjani
Abstract
There are two methods of flue curing process used in virginia tobacco farmers in East Lombok, which are curing with fossil fuel and curing with local (alternative) fuels (candlenut shell, palm kernel shells, wood, and corn cobs). Now days, due to increasing fossil fuels price, farmer tend to use local fuels. The research objective was to compare the costs, income, and feasibility level of virginia tobacco farming on the use of various alternative fuels in the oven process in East Lombok Regency. The method used is descriptive survey method to 40 farmers. The cost of farming virginia tobacco using candlenut shell as fuel is Rp. 44,788,057/ha/planting season with an R/C ratio of 1.6 palm kernel shells of 45,081,109/ha/planting season with an R/C ratio of 1.5 wood of Rp. 49,498,452/ha/planting season with an R/C ratio of 1.4 and corn cobs of Rp. 39,184,196/ha/planting season with an R/C ratio of 1.8. The highest income is obtained from farmers who use corn cobs as fuel of Rp. 30,037,854/ha/planting season, the income of the farmers who use hazelnut shell and palm shell as fuel each is Rp. 25,938,788/ha/planting season and Rp. 23,757,891/ha/planting season. The lowest income using wood fuel is Rp. 16,883,748/ha/planting season. Because the R/C value is more than 1, it means that virginia tobacco farming using various alternative materials in the oven process in East Lombok Regency is feasible.
References
Arikunto, S. (2010). Prosedur Penelitian: Suatu Pendekatan Praktek (Edisi Revi). Rineka Cipta.

Halil. (2013). Pengaruh Kemitraan Terhadap Efisiensi Tembakau Virginia Di Pulau Lombok Nusa Tenggara Barat [IPB University]. https://repository.ipb.ac.id/handle/123456789/66682

Nazam, M., Suriadi, A., & Sahram. (2014). Analisis Ekonomi Usaha Tani Tembakau Virginia dan Permasalahannya di Nusa Tenggara Barat (Kasus di Kabupaten Lombok Timur). Semiloka Nasional Tanaman Pemanis,Serat, Tembakau, Dan Minyak Industri Pusat Penelitian Dan Pengembangan Perkebunan, 179–188.

Osanthia, L. F. (2015). Analisis Kelayakan Penggunaan Berbagai Jenis Bahan Bakar Pada Pengomprongan Tembakau Virginia Di Kabupaten Lombok Timur.

Primandoko, A. H. (2019). Pengaruh Campuran Limbah Tongkol Jagung, Batang Singkong Dan Batu Bara Dengan Perekat Tapioka Terhadap Kualitas Briket BiocoaL. Universitas Lampung.

Rakhman, F. (2018). Ketika Tembakau Picu Kerusakan Lingkungan di Lombok (Bagian 1). Mongabay.Co.Id.

Ratnaningsih, Y. (2014). ANALISIS EFISIENSI PENGGUNAAN BERBAGAI JENIS BAHAN BAKAR PADA PENGOVENAN TEMBAKAU VIRGINIA DI KABUPATEN LOMBOK TIMUR. Media Bina Ilmiah, 8 nomer 1(Efisiensi Bahan Bakar), 81–88.

Riduwan. (2010). Metode Dan Teknik Menyusun Tesis. ALFABETA.

Rifdah, R., Herawati, N., & Dubron, F. (2017). Pembuatan Biobriket Dari Limbah Tongkol Jagung Pedagang Jagung Rebus Dan Rumah Tangga Sebagai Bahan Bakar Energi Terbarukan Dengan Proses Karbonisasi. Jurnal Distilasi, 2(2), 39. https://doi.org/10.32502/jd.v2i2.1202

Soekartawi. (2006). Analisis Usaha Tani. UI-Press.

Unukoly, P., Lawalata, V. N., & Sipahelut, S. G. (2016). Kualitas Briket Arang Sebagai Bahan Bakar Alternatif Berbahan Baku Limbah Tongkol Jagung Dan Bambu. Jurnal Agroforestri, 11(1), 69–77.

Wijana, M., & Nurchayati, N. (2013). Desain Tungku Briket Biomassa System Kontinyu Sebagai Teknologi Pemanfaatan Energi Alternatif Pengganti Bahan Bakar Terpakai Pada Oven Tembakau Di Masyarakat Pedesaan. Dinamika Teknik Mesin, 3(1), 60–66. https://doi.org/10.29303/d.v3i1.89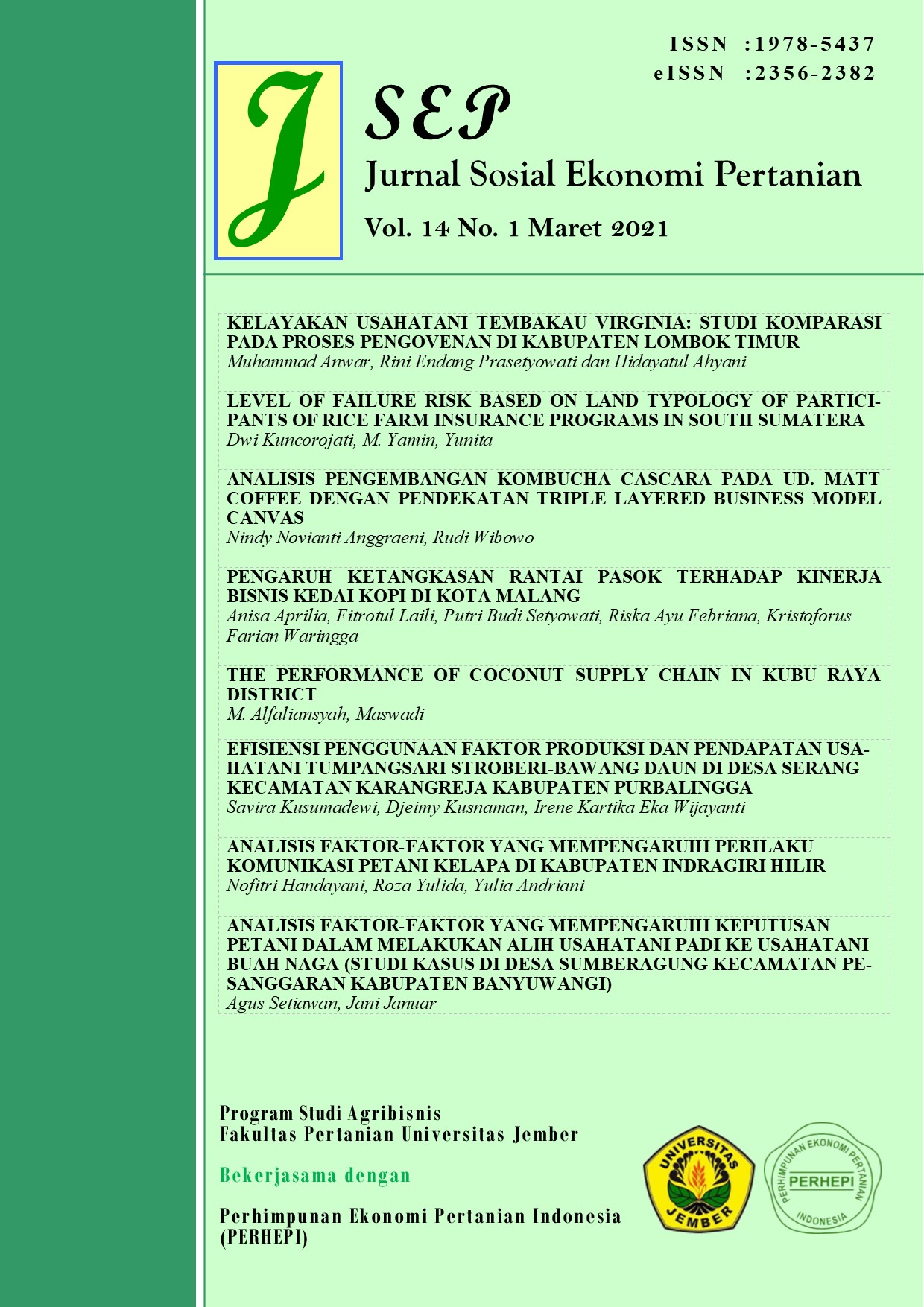 This work is licensed under a Creative Commons Attribution-ShareAlike 4.0 International License.
Authors who publish with this journal agree to the following terms:
Authors retain copyright and grant the journal right of first publication with the work simultaneously licensed under a Creative Commons Attribution License that allows others to share the work with an acknowledgement of the work's authorship and initial publication in this journal.
Authors are able to enter into separate, additional contractual arrangements for the non-exclusive distribution of the journal's published version of the work (e.g., post it to an institutional repository or publish it in a book), with an acknowledgement of its initial publication in this journal.
Authors are permitted and encouraged to post their work online (e.g., in institutional repositories or on their website) prior to and during the submission process, as it can lead to productive exchanges, as well as earlier and greater citation of published work (See The Effect of Open Access).