ANALISIS FAKTOR-FAKTOR YANG MEMPENGARUHI PENDAPATAN PETERNAK RAKYAT SAPI POTONG DI KECAMATAN LAMPASIO KABUPATEN TOLITOLI PROVINSI SULAWESI TENGAH
Ibrahim Ibrahim

Program Studi Peternakan Fakultas Peternakan Universitas Madako Tolitoli

Supamri Supamri

Program Studi Peternakan Fakultas Peternakan Universitas Madako Tolitoli

Zainal Zainal

Program Studi Peternakan Fakultas Peternakan dan Perikanan Universitas Tadulako
Abstract
This research aims to determine the factors affected the income of farmer in business of beef cattle in Lampasio district, Tolitoli regency. This research applied purposive sampling technique in choosing sample. There were 36 selected sampless as respondents of three districts: Sibea, Lampasio, and Tinading. The observed variables were the characteristics of respondents' income such as breeders' age. Level of education, number of family, and farming experinence. The multiple regression was employed to find out the significant effect of the farmer income. The result showed that farmer age is old with low education level, with more than 7 years experience. The coefficient value of R by 0,131which means that observed variables was 13,1% whereas the value of unobserved variables in this research was 86,9%. Eventhough there is no significant variable effect to farmer income, the education effects positvively to farmer income.  
Keywords: income, beef cattle, multiple regression
References
Afriani, H., Idris, N., & Fatati, F. (2014). Minat dan Motivasi Peternak untuk Mengembangkan Ternak Sapi Pada Kawasan Perkebunan Kelapa Sawit di Propinsi Jambi. Jurnal Ilmiah Ilmu-Ilmu Peternakan, 17(2), 77-83.

Ahmadi, A. H. (2003). Sosiologi Pendidikan. PT. Rineka Cipta.

Alam, A., Sumekar, S., & Dwijatmiko, W. (2014). Motivasi Peternak terhadap Aktivitas Budidaya Ternak Sapi Potong di Kabupaten Buru Provinsi Maluku. AGRONEMA, 32(2), 75–89.

BPS. (2019). Tolitoli dalam Angka. BPS Toli-Toli.

Ditjen_Peternakan. (2008). Kajian Pola Penggembangan Peternakan Rakyat Berwawasan Agribisnis. Derektorat Jenderal Peternakan.

Fathoni, A. H., 2004. Manajemen Sumber Daya Manusia. Penerbit PT. Rineka Cipta, Jakarta.

Gujarati, D. (2004). Basics Econometrics (4th ed.). The McGraw Hill Companies.

Harmoko. (2017). Tingkat Motivasi Petani dalam Beternak Sapi di Kecamatan Sambas Kabupaten Sambas. JSEP : Jurnal Sosial Ekonomi Pertanian, 10(1).

Harmoko, H., & Padang, P. (2019). Kondisi Performa dan Status Fisiologis Kambing Kacang dengan Pemberian Pakan Tepung Daun Jarak (Jatropha gossypifolia) Fermentasi. Jurnal Peternakan Indonesia (Indonesian Journal of Animal Science), 21(3), 183-191.

Harmoko, H., Ibrahim, I., Kusrianty, N., & Marhayani, M. (2020). Gambaran Struktur Populasi Ternak Kambing di Kecamatan Galang Kabupaten Tolitoli. Cendekia Eksakta, 5(2).

Hendrayani, E., & Febrina, D. (2009). Analisis Faktor-Faktor yang Dipengaruhi Motivasi Beternak Sapi di Desa Koto Benai Kecamatan Benai Kabupaten Kuantan Singingi. Jurnal Peternakan, 6(2), 53.

Hermanto, F. (2006). Ilmu Usaha Tani. Penebar Swadaya.

Hoddi, A.H, Rombe, M.B, Fahrul. 2011. Analisis Pendapatan Peternakan Sapi Potong Di Kecamatan Tanete Rilau, Kabupaten Barru. Jurusan Sosial Ekonomi Peternakan. Jurnal Agribisnis Vol. X (3), Hal 100. Fakultas Peternakan Universitas Hasanuddin. Makassar

Kusnadi, U., Diwyanto, K., & Bahr, S. (2005). Pengembangan Sistem Usaha Tani Ternak-Tanaman Pangan Berbasis Kambing di Kabupaten Lombok Timur NTB. Prosiding Seminar Nasional Teknologi Peternakandan Veterineri Bogor, 685–692.

Luanmase, M. C., Nurtini, S., & Haryadi, F. T. (2011). Analisis Motivasi Beternak Sapi Potong Bagi Peternak Lokal dan Transmigran Serta Pengaruhnya terhadap Pendapatan di Kecamatan Kairatu, Kabupaten Seram Bagian Barat. Buletin Peternakan, 35(2), 113–123.

Mosher, A. T. (2007). Menggerakkan dan Membangun Pertanian. Yasguna.

Saleh, E., & Sofyan, Y. H. 2006. Analisis Pendapatan Peternak Sapi Potong di Kecamatan Hamparan Perak Kabupaten Deli Serdang (Analysis of Income's Cattleman in Subdistrict of Hamparan Perak District of Deli Serdang). Jurnal Agribisnis Peternakan. Vol. 2 (1): 36–42.

Santoso. 1997. Prospek Agribisnis Penggemukan Pedet. Penebar Swadaya, Jakarta

Setiana, M. G. (2000). Pengenalan Jenis Hijauan Makanan Ternak Unggul. Institut Pertanian Bogor.

Sirajuddin. 2007. Faktor-faktor yang Memotivasi Peternak dalam Melakukan Kemitraan Kecamatan Bantimurung, Kabupaten Maros. Jurnal Agribisnis, Vol VI (2), Juni.

Siregar, S. A. (2009). Analisis Pendapatan Peternakan Sapi Potong Dikecamatan Stabat Kabupaten Langkat. Universitas Sumatera Utara.

Soekartawi. (2002). Prinsip Dasar Ekonomi Pertanian Teori dan Aplikasi. Raja Grafindo Persada.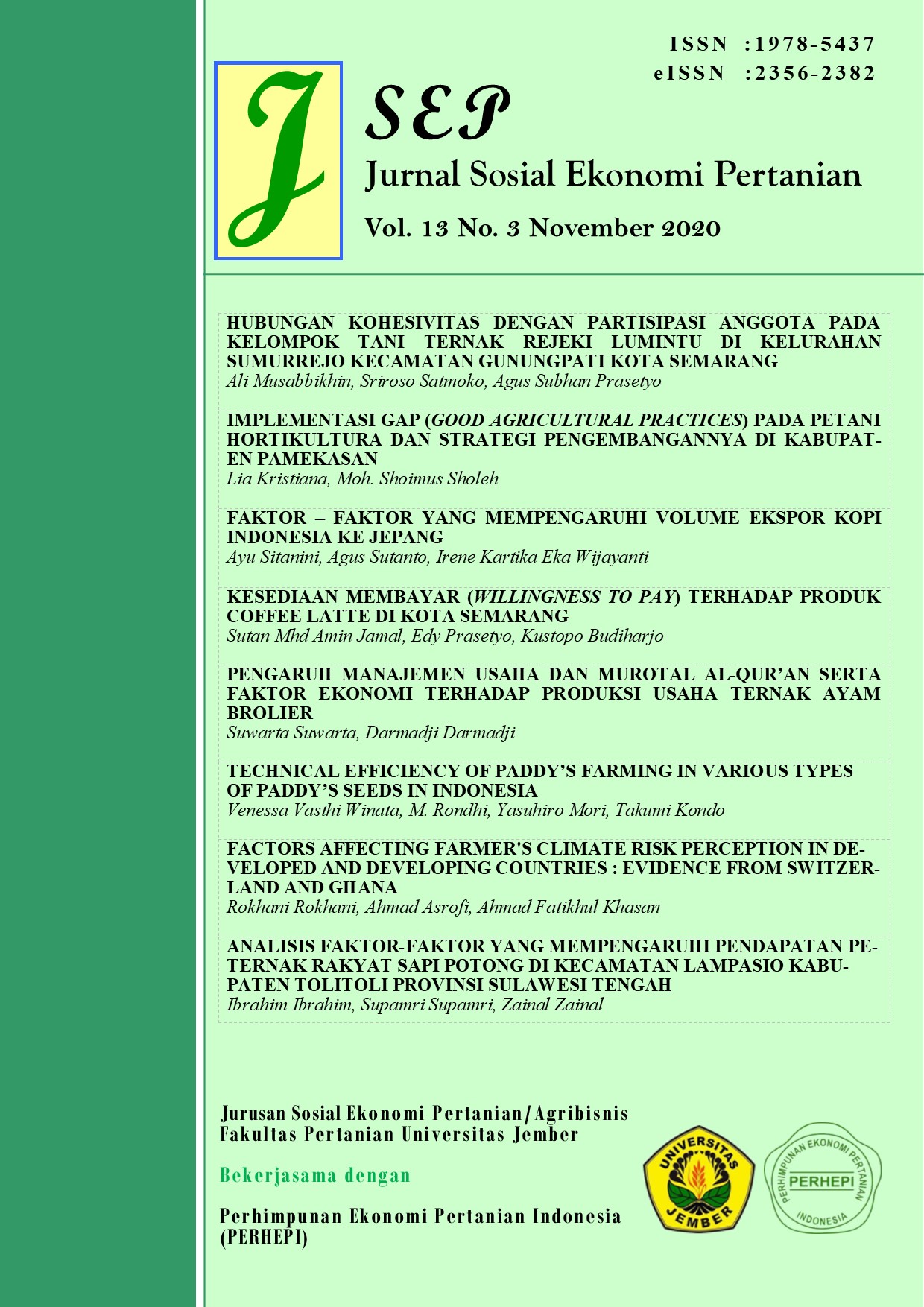 This work is licensed under a Creative Commons Attribution-ShareAlike 4.0 International License.
Jurnal Sosial Ekonomi Pertanian (J-SEP) has CC-BY-SA or an equivalent license as the optimal license for the publication, distribution, use, and reuse of scholarly work.
The work is simultaneously licensed under a Creative Commons Attribution-ShareAlike 4.0 International License, which permits others to share the work with an acknowledgement of the authorship and the work's initial publication in this journal. Authors who publish with this journal retain their copyright and grant the journal the right of first publication.