Screening Nematoda Entomopatogen Isolat Jawa Timur Sebagai Agens Pengendali Hayati Serangga Hama Helicoverpa sp. Pada Tanaman Jagung
. NUGROHORINI

Arika PURNAWATI

Didik SULISTYANTO

. WAGIYANA
Abstract
Corn is the important food and crop for Indonesian. Recently, production of corn decreased because of
the pest (Helicoverpa sp.). Until now, the control of Helicoverpa sp. depend on the using of chemical
element. However, effect of synthetic chemical element usage was the appearance of secondary pest,
the death of useful insect and the high accumulation of pesticide residue both in biotic and abiotic
agroecosystem. The residue of pesticide should effect on human health and environment balance.
Furthermore, the control method using biological agents that have pathogenicity to host was done..
One of biological agents is entomopathogenic nematodes. Entomopathogenic nematodes can kill it's
host at 24-72 hours, have wide host range such as Lepidoptera, Coleoptera, Diptera and Hymenoptera
order, and have no negatif effect on environment. The aim of the research is to find nematodes as
biological agents that effective against pest of corn (Helicoverpa sp.). The research was done in
laboratory of HPT UPN "Veteran" Jawa Timur and HPT University of Jember. Methods of the
research were : 1) Isolating entomopathogenic nematodes from many endemic area of Helicoverpa
spp. In East Java; 2) Identificating Entomopatogenic Nematodes; 3) Screening Isolates
Entomopathogenic nematodes from East Java. The result indicated that there was an
Entomopathogenic Nematodes Isolate from Tulungagung that has the highest pathogenicity (100%).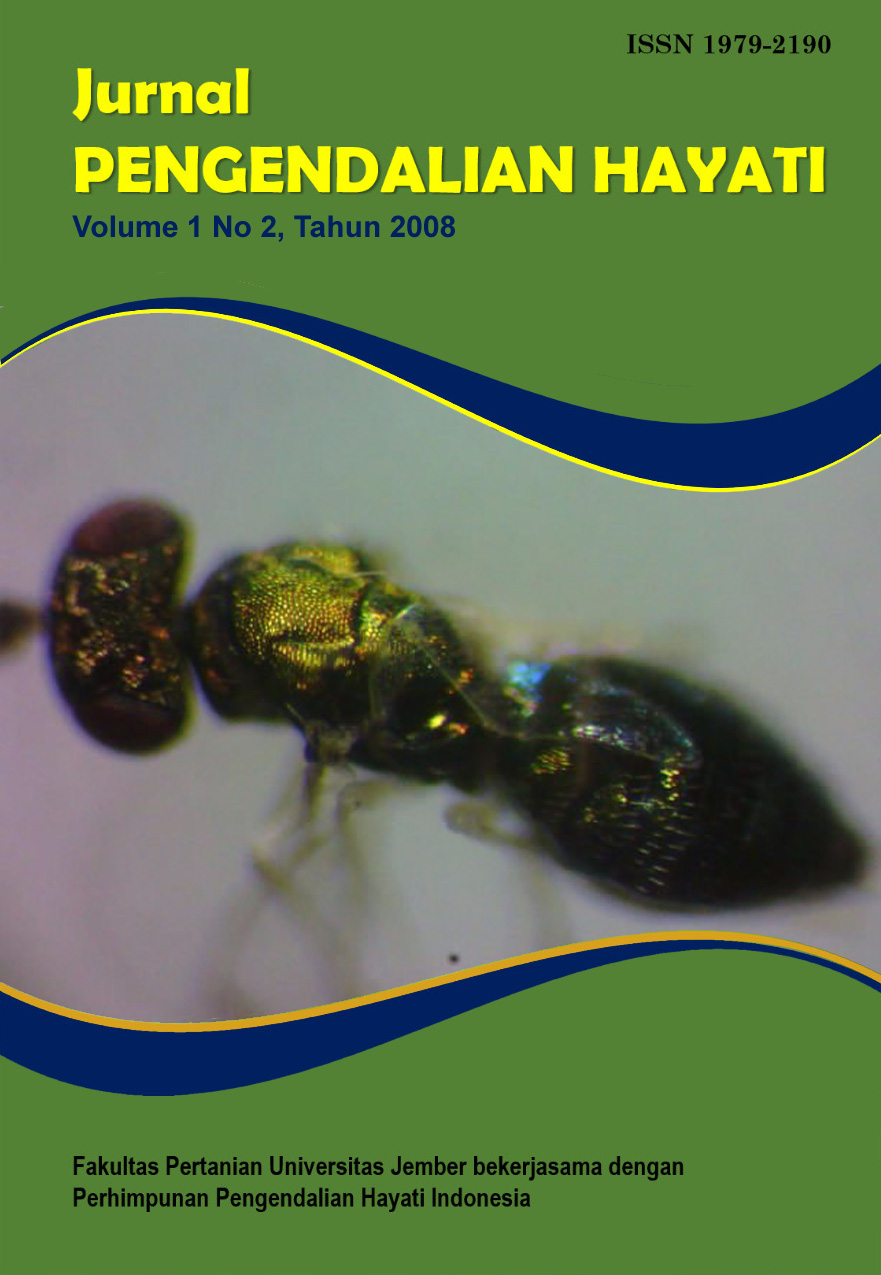 How to Cite
NUGROHORINI, . et al. Screening Nematoda Entomopatogen Isolat Jawa Timur Sebagai Agens Pengendali Hayati Serangga Hama Helicoverpa sp. Pada Tanaman Jagung.
Jurnal Pengendalian Hayati
, [S.l.], v. 1, n. 2, p. 110-112, dec. 2012. ISSN 2721-7701. Available at: <
https://jurnal.unej.ac.id/index.php/JPH/article/view/29
>. Date accessed: 05 aug. 2020.
Keywords
Nematoda entomopatogen, Pengendali hayati, Helicoverpa sp., Jagung
Authors who publish with this journal agree to the following terms:


Authors retain copyright and grant the journal right of first publication with the work simultaneously licensed under a Creative Commons Attribution License that allows others to share the work with an acknowledgement of the work's authorship and initial publication in this journal.


Authors are able to enter into separate, additional contractual arrangements for the non-exclusive distribution of the journal's published version of the work (e.g., post it to an institutional repository or publish it in a book), with an acknowledgement of its initial publication in this journal.


Authors are permitted and encouraged to post their work online (e.g., in institutional repositories or on their website) prior to and during the submission process, as it can lead to productive exchanges, as well as earlier and greater citation of published work.