Produksi Massal Agens Hayati Trichoderma harzianum Untuk mengendalikan Penyakit Layu Fusarium pada Pisang
Abstract
Pemanfaatan T. harzianum sebagai agens hayati dalam skala luas belum banyak dilakukan, salah satu
kendalanya adalah terbatasnya agens hayati isolat lokal yang diproduksi secara massal. Oleh karena
itu diperlukan teknologi untuk produksi massal T. harzianum yang murah dan mudah dilakukan.
penelitian ini dilakukan untuk membandingkan perbanyakan T. harzianum pada beberapa media cair
ekstrak kentang, ekstrak beras, ekstrak jagung muda dan air kelapa muda dengan menggunakan alat
Fermentor Sangat Sederhana (FSS) dengan media organik limbah pertanian yaitu sekam, bekatul dan
serbuk gergaji. isolat Ralstonia solanacearum hasil isolasi di daerah Malang mempunyai virulensi
yang tinggi. Hasil ekplorasi agensia hayati bakteri Pseudomonad fluoresen diperoleh 130 isolat. Dari
130 isolat tidak semua mampu menghambat bakteri Ralstonia solanacearum. Ada 37 isolat yang
berpotensi sebagai agensia hayati terpilih dengan zona hambatan terbesar dengan mekanisme
beragam yaitu bakteriostatik dan bakterisida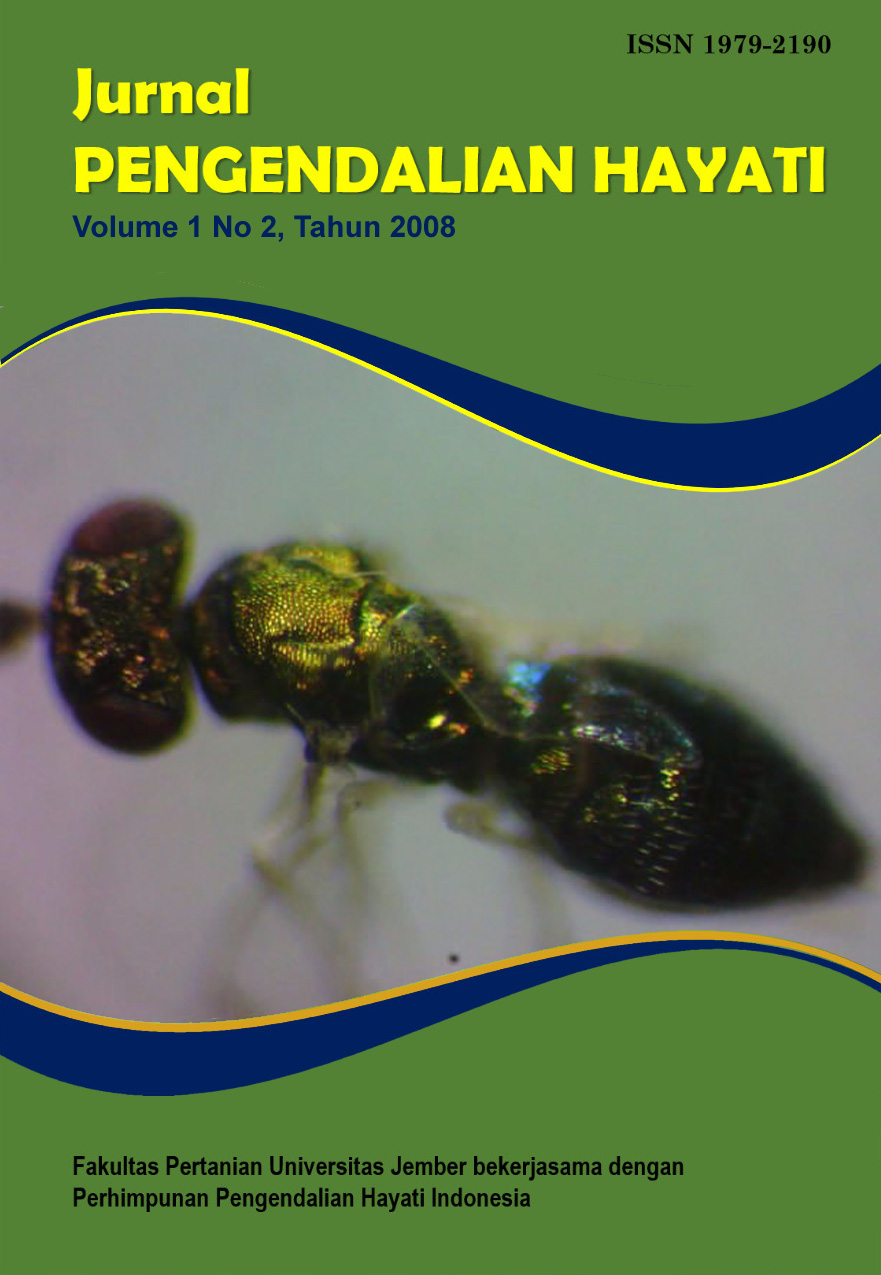 How to Cite
MAJID, Abdul. Produksi Massal Agens Hayati Trichoderma harzianum Untuk mengendalikan Penyakit Layu Fusarium pada Pisang.
Jurnal Pengendalian Hayati
, [S.l.], v. 1, n. 2, p. 94-97, dec. 2012. ISSN 2721-7701. Available at: <
https://jurnal.unej.ac.id/index.php/JPH/article/view/24
>. Date accessed: 05 aug. 2020.
Keywords
T. harzianum, F. oxysporum f.sp. cubense, Pisang
Authors who publish with this journal agree to the following terms:


Authors retain copyright and grant the journal right of first publication with the work simultaneously licensed under a Creative Commons Attribution License that allows others to share the work with an acknowledgement of the work's authorship and initial publication in this journal.


Authors are able to enter into separate, additional contractual arrangements for the non-exclusive distribution of the journal's published version of the work (e.g., post it to an institutional repository or publish it in a book), with an acknowledgement of its initial publication in this journal.


Authors are permitted and encouraged to post their work online (e.g., in institutional repositories or on their website) prior to and during the submission process, as it can lead to productive exchanges, as well as earlier and greater citation of published work.