Ratio Legis Pendirian Perseroan Perorangan Ditinjau dari Undang-Undang Nomor 11 Tahun 2020 tentang Cipta Kerja
Murni Safitri

University of Jember

Iswi Hariyani

University of Jember
Abstract
Law Number 11 of 2020 concerning Job Creation was prepared using the omnibus law concept. The Job Creation Law provides ease of doing business for MSE actors by presenting a new legal entity concept, namely an individual legal entity, in changing the regulatory provisions regarding Limited Liability Companies, namely Individual Companies. But of course, this is not following the limited principle that should be done by two people. This study aims to examine the legal ratio for the establishment of an individual company with the criteria for micro and small businesses and to examine the responsibilities of the founder of an individual company based on the job creation law. This research is a normative juridical law research using a statutory approach and a conceptual approach. This study found several articles, namely Article 153C and Article 15G in the Job Creation Act which is not in line with Article 7 paragraph (2) letter g of PP Number 8 of 2021. The responsibility of the founder of an individual company with the MSE criteria is limited to the paid-up capital as regulated in Article 153J of the Job Creation Act. Contrary to the principle of separate legal entity and limited liability. The government immediately makes adjustments to the norms of the individual company regulations. Improvements are also made to the Government Regulation (PP) regarding Individual Companies with the Law above it, or it is necessary to make a new provision in the laws and regulations that specifically regulate the organs of Individual Companies. The executive and legislature should be able to make clearer regulations and there is a need for additional regulations regarding matters that have not been specifically regulated in the Job Creation Act.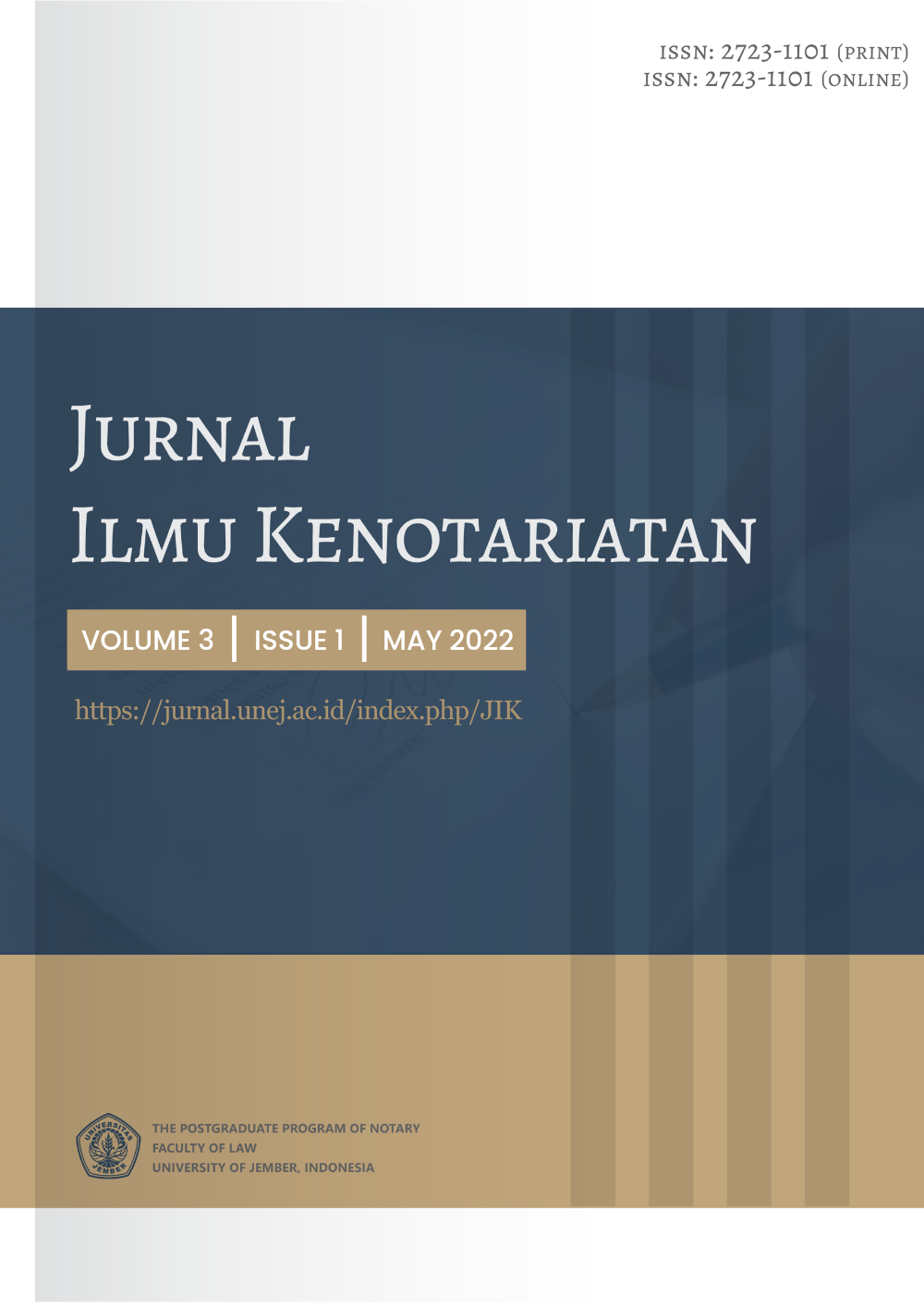 This work is licensed under a Creative Commons Attribution-NonCommercial-ShareAlike 4.0 International License.
The copyright to this article is then transferred to Jurnal Ilmu Kenotariatan (JIK) if the article is accepted for publication. Therefore, JIK has the non-exclusive right to reproduce, reprint, translation, provide articles in all forms of publication such as photographs, microfilm and any other similar activities of reproductions.
Permission
Authors still has the right to duplicate, download and distribute of the published material as long as the author and source are cited. Any violation found in future of any copyright come in notice, then the author will be responsible for getting sanction in accordance with prevailing regulations.
The licensor cannot revoke these freedoms as long as you follow the license terms.