The Future of Constitutional Complaint in Indonesia: An Examination of Its Legal Certainty
Standy Wico

Tarumanagara University, Indonesia

Michael Michael

Tarumanagara University, Indonesia

Patricia Louise Sunarto

Tarumanagara University, Indonesia

Anastasia Anastasia

Tarumanagara University, Indonesia
Abstract
To date, there is no trial mechanism for Indonesian citizens to claim their rights through the constitutional complaint, even if the Constitutional Court has existed since 2003. Consequently, there has been a mechanism for upholding and promoting constitutional rights, and it has been regarded to improve Indonesian democracy. Adhere to this view, in democratic states like Indonesia and Germany, constitutional rights are often ignored by the state, even though these rights are essential in the rule of law. This paper aimed to revisit the range of a constitutional complaint following its legal certainty wield to the Indonesian Constitutional Court. This paper used juridical research by examining legal principles, legal systematics, legal synchronization, legal history, legal theory, and using a comparative law approach. This paper showed that as the constitutional complaint different from judicial review, the adoption of this mechanism should be an alternative instead of an ultimate mechanism under the constitutional rights doctrine. To ensure legal certainty to a constitutional complaint, a legal basis was needed by regulating and applying it for actual implementation in society. Meanwhile, the Constitutional Court in adjudicating a constitutional complaint could be realized through the amendment of the 1945 Constitution.
KEYWORDS: Constitutional Complaint, Constitutional Court, Indonesian Constitution.
References
Adji, Oemar Seno, Seminar Ketatanegaraan Undang-Undang Dasar 1945 (Jakarta: Seruling Masa, 1966).

Apeldoorn, Van, Pengantar Ilmu Hukum (Jakarta: Pradnya Paramita, 1990).

Guyanie, Gugun El, "Urgensi Pengujian Constitutional Complaint Oleh Mahkamah Konstitusi Republik Indonesia" (2013) In Right 3:1.

Hidayat, Eko. Perlindungan Hak Asasi Manusia dalam Negara Hukum Indonesia (Bandar Lampung: ASAS, 2019).

Hidayat, Rofiq, RUU MK Dihapuskan dan Alasan Penghapusan Konstitusional Komplain, Hukum Online: .

HukumOnline, Menggagas Constitutional Complaint Lewat Kasus Ahmadiyah. Online: .

Ibrahim, Johnny, Teori dan Metodologi Penelitian Hukum Normatif (Malang: Bayumedia Publishing, 2005).

Fatkhurohman, et al., Memahami Keberadaan Mahkamah Konstitusi di Indonesia. (Bandung: Citra Aditya Bakti, 2010).

Krisdanar, Vino Devanta Anjas, "Menggagas Constitutional Complaint Dalam Memproteksi Hak Konstitusional Masyarakat Mengenai Kehidupan dan Kebebasan Beragama Di Indonesia" (2016) 7:3 Jurnal Konstitusi 185–208.

Mahfud MD, Moh., Demokrasi dan Konstitusi di Indonesia: Studi tentang Interaksi Politik dan Kehidupan Ketatanegaraan (Jakarta: Rineka Cipta, 2003).
Mahkamah Konstitusi, Rekapitulasi Perkara Pengujian Undang-Undang, Online: .

Mahkamah Konstitusi, Menimbang Pengaduan Konstitusional di Tangan MK, Online: .

Palguna, I Dewa Gede. Pengaduan Konstitusional (Cnostitutional Complaint) Upaya Hukum Terhada Pelanggaran Hak-hak Konstitusional Warga Negara (Jakarta: Sinar Grafika, 2013).

Pratama, Muhammad. Kepastian Hukum dalam Production Sharing Contract (Yogyakarta: FH UII, 2009).

Sanusi, Arsyad, Tebaran Pemikiran Hukum dan Konstitusi (Jakarta: Milestone, 2011).

Rosari, Maria, MK: Hak Konstitusional Warga Negara Terkait HAM, Antara News, online .

Soekanto, Soerjono. Pengantar Penelitian Hukum (Jakarta: UI Press, 2007).

Subiyanto, Achmad Edi, "Perlindungan Hak Konstitusional Melalui Pengaduan Konstitusional" (2011) Jurnal Konstitusi 8:5.

Sulaiman, Sulaiman, "Rekonseptualisasi Hukum Indonesia" (2017) 12:2 Pandecta Research Law Journal 98–110.

Sumardjono, Maria S.W. "Kepastian Hukum dalam Pendaftaran Tanah dan Manfaatnya Bagi Bisnis Perbankan dan Properti. "Makalah disampaikan dalam seminar kebijaksanaan baru di bidang pertanaha n. dampak dan peluang bagi bisnis properti dan perbankan" (1997).

Syahrizal, Ahmad, "Urgensi Proteksi Hak Konstitusi oleh MKRI" (2008) 5:1 Jurnal Konstitusi.

Ulum, Muhammad Bahrul, "Mekanisme Pemakzulan Presiden dan/atau Wakil Presiden Menurut UUD 1945 (Antara Realitas Politik dan Penegakan Konstitusi)" (2010) 7:4 Jurnal Konstitusi 131–158.

Ulum, Muhammad Bahrul & Dizar Al Farizi, "Implementasi dan Implikasi Putusan MK Terhadap Hak Konstitusional Warga Negara Indonesia" (2009) 6:3 Jurnal Konstitusi.

Ulum, Muhammad Bahrul & Nilna Aliyan Hamida, "Revisiting Liberal Democracy and Asian Values in Contemporary Indonesia" (2018) 4:1 Constitutional Review 111–130.

Yanti, Herma, "Gagasan Constitutional Complaint sebagai Kewenangan Baru Mahkamah Konstitusi dalam Perlindungan Hak Konstitusional" (2018) 2:2 Wajah Hukum.

Zoelva, Hamdan, "Constitutional Complait dan Constitutional Question dan Perlindungan Hak-hak Konstitusional Warga Negara" (2012) 19:1 Jurnal Media Hukum.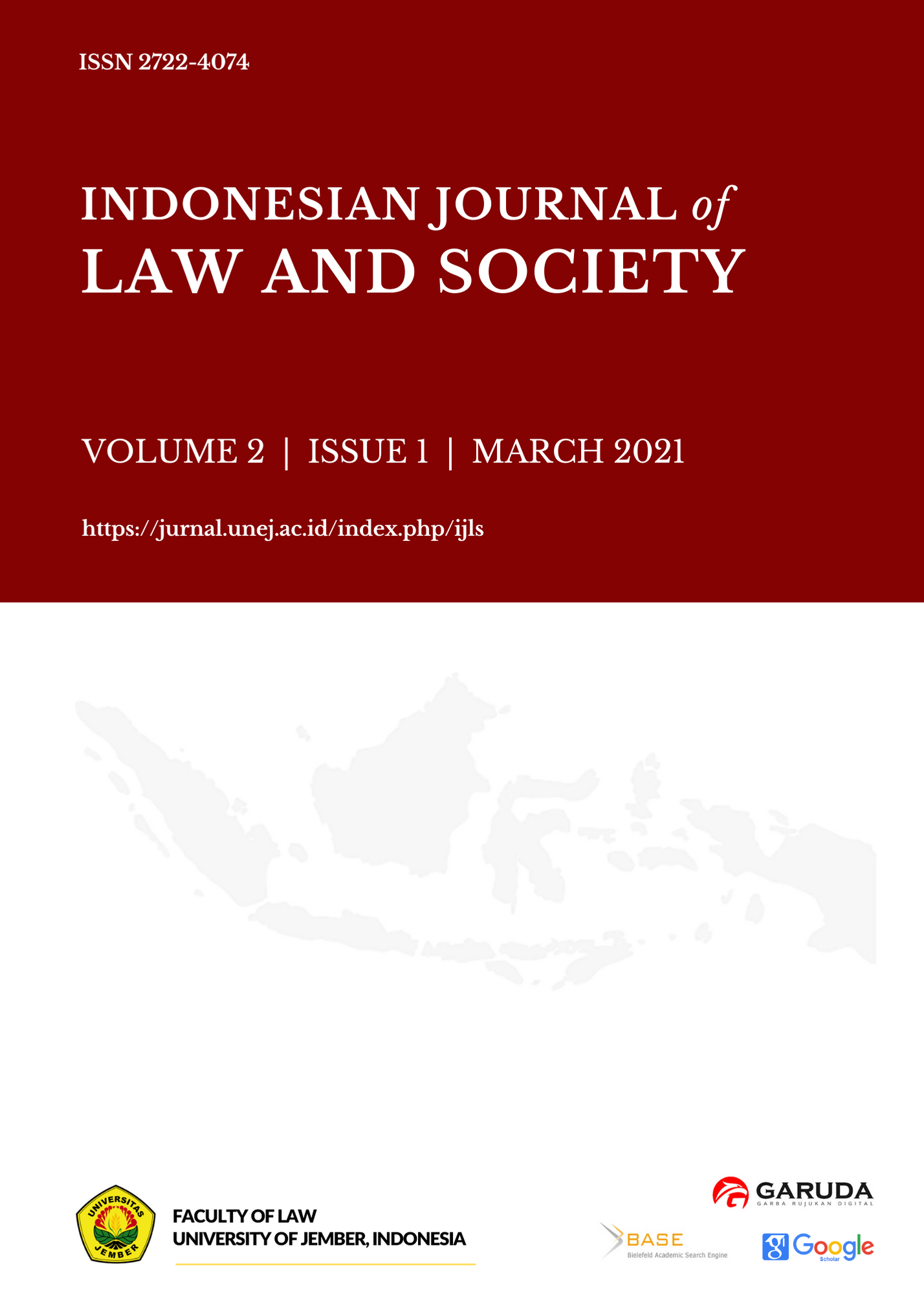 This work is licensed under a Creative Commons Attribution-ShareAlike 4.0 International License.
The Indonesian Journal of Law and Society has CC-BY-SA or an equivalent license as the optimal license for the publication, distribution, use, and reuse of scholarly work. Authors who publish with this journal agree to the following terms:
1. Authors retain copyright and grant the journal right of first publication with the work simultaneously licensed under a Creative Commons Attribution-ShareAlike 4.0 International License that allows others to share the work with an acknowledgment of the work's authorship and initial publication in this journal.
2. Authors are able to enter into separate, additional contractual arrangements for the non-exclusive distribution of the journal's published version of the work (e.g., post it to an institutional repository or publish it in a book), with an acknowledgment of its initial publication in this journal.
3. Authors are permitted and encouraged to post their work online (e.g., in institutional repositories or on their website) prior to and during the submission process, as it can lead to productive exchanges, as well as earlier and greater citation of published work (See The Effect of Open Access).

You are free to:
Share — copy and redistribute the material in any medium or format.
Adapt — remix, transform, and build upon the material for any purpose, even commercially.

The licensor cannot revoke these freedoms as long as you follow the license terms.



All papers published in the Indonesian Journal of Law and Society are licensed under a Creative Commons Attribution-ShareAlike 4.0 International License.