ANALISIS PENERAPAN TOTAL QUALITY ENVIRONMENTAL MANAGEMENT PADA PROSES PENGELOLAAN LIMBAH CAIR PRODUKSI
Ayu Sukmawati

Jurusan Manajemen, Fakultas Ekonomi dan Bisnis, Universitas Jember

Eka Bambang Gusminto

Jurusan Manajemen, Fakultas Ekonomi dan Bisnis, Universitas Jember

Didik Pudjo Musmedi

Jurusan Manajemen, Fakultas Ekonomi dan Bisnis, Universitas Jember

Chaerul Saleh

Jurusan Manajemen, Fakultas Ekonomi dan Bisnis, Universitas Jember

Ketut Indraningrat

Jurusan Manajemen, Fakultas Ekonomi dan Bisnis, Universitas Jember
Abstract
Waste management in the batik making industry is very important. Apart from complying with the regulations made by the government, waste management is also one way to improve the environmental ecosystem around the industry. Based on the results of interviews conducted at Dewi Rengganis Batik Industry House, there are problems regarding industrial waste management. It is known that Dewi Rengganis Batik Industry House does not carry out waste management properly, due to the absence of WWTP and not knowing how to properly manage waste. The research objective was to determine the quality standards of waste owned by Dewi Rengganis Batik Industry using the Total Quality Environmental Management (TQEM) method. This type of research is descriptive. The results of this study indicate that the waste quality standards in Dewi Rengganis Batik Industry House have not reached the optimal standard in waste quality standards. This is caused by 6 parameters. The six parameters are pH, BOD5, COD, TSS, Sulfide, and Oil and Fat. The factors causing the failure of waste management at Dewi Rengganis Batik Industry House include material, human, tools, and method factors. The recommendation for improvement at Dewi Rengganis Batik Industry House is to carry out waste management using methods, biology, physics and chemistry. It is hoped that the batik industry will not use chemical dyes so as not to produce waste that is harmful to the environment.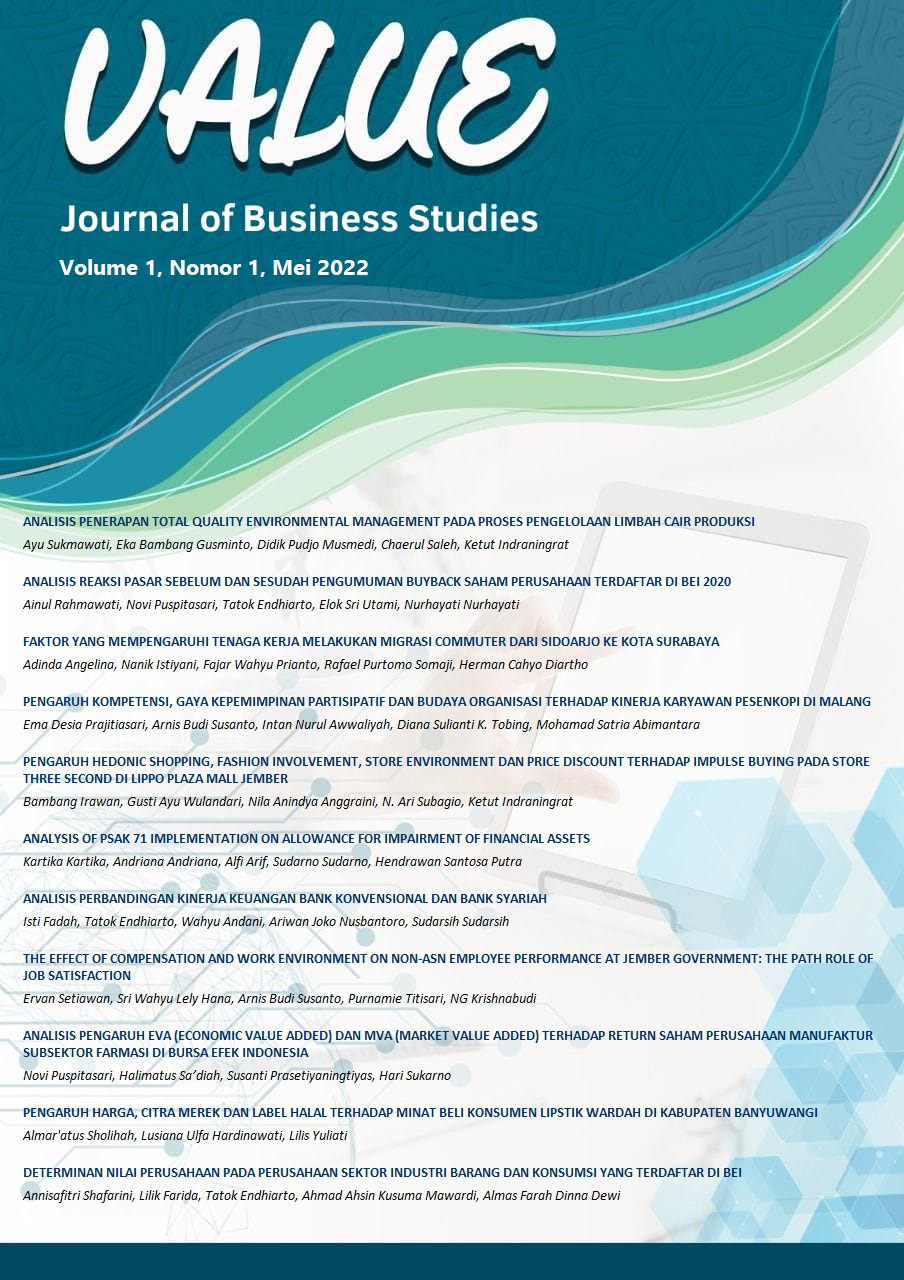 How to Cite
SUKMAWATI, Ayu et al. ANALISIS PENERAPAN TOTAL QUALITY ENVIRONMENTAL MANAGEMENT PADA PROSES PENGELOLAAN LIMBAH CAIR PRODUKSI.
VALUE: Journal of Business Studies
, [S.l.], v. 1, n. 1, p. 1-11, may 2022. Available at: <
https://jurnal.unej.ac.id/index.php/value/article/view/31585
>. Date accessed: 07 oct. 2022.