RESULT OF SEVERAL CLONE OF SWEET POTATO (Ipomoea batatas L.) IN MIDDLE EAST ON THE INFLUENCE OF PHOSFOR FERTILIZER DOSAGE AND CLONE TYPES
Mardhiah Hayati

Syiah Kuala University of Darussalam Banda Aceh

Rita Hayati

Syiah Kuala University of Darussalam Banda Aceh
Abstract
Sweet potatoes include commodities as the main source of carbohydrates that occupy the
fifth position after rice, cassava, wheat and corn. These plants can be cultivated at various
altitude places in the lowlands, middle and highlands. Judging from the nutritional value of
sweet potatoes have the privilege as an important source of carbohydrates so that this
commodity becomes an alternative for food diversification program. The purpose of this
study is to determine the effect of phosphorus fertilizer dosage and clone type and
interaction between the two treatments on sweet potato yield in the middle plains. This
research was conducted at Suka Makmur Village Farmer Kecamatan Lembah Selawah District
of Aceh Besar Saree, at an altitude of 560 m above sea level from February to June 2016. This
study used a Randomized Block 3 factorial factorial design with 3 replications consisting of 2
Factor, ie treatment of phosphorus fertilizer dosage and clone type. The phosphorus
phosphorus treatment (SP 36) consisted of 3 levels, 100, 200 and 300 kg / ha and clone type
factor ie CIP BDG, Local Saree Krem, and Antin 1. The variables observed in this study were
wet bulb weight, Dry tuber weight, number of tubers, general evaluation of tubers and tuber
production per hectare. The results showed that treatment of SP 36 fertilizer dosage was not
significant on wet bulb weight, tuber weight, tuber amount, general evaluation of tubers and
tuber production per hectare. The dose of SP 36 fertilizer tends to be better at a dose of 200
kg / ha. The clone type had a significant effect on the number of tubers and significantly
affected the wet bulb weight, the weight of tubers and tuber yield per hectare and did not
significantly affect the general evaluation of tubers. The best clone type is Local Creme Saree.
There is no significant interaction between the treatment of SP 36 fertilizer dosage and the
clone type on sweet potato crops.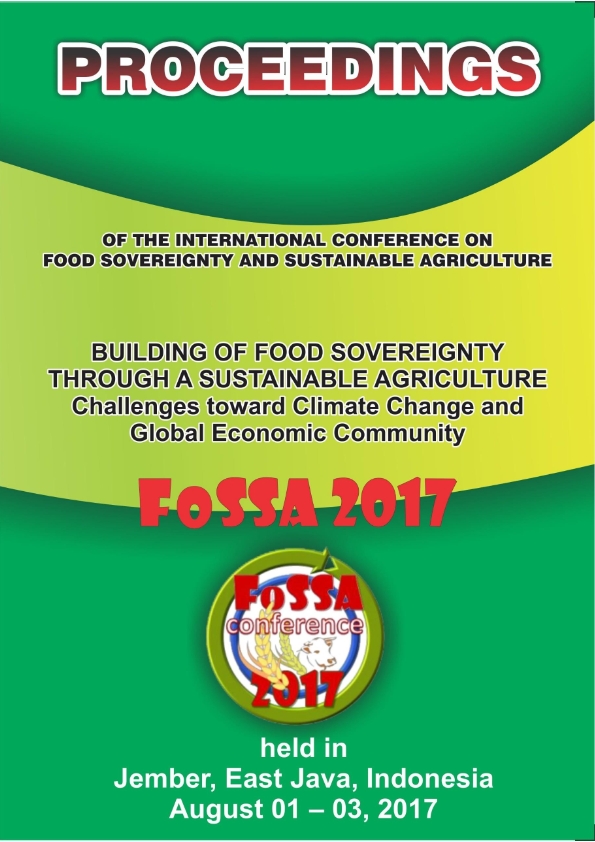 How to Cite
HAYATI, Mardhiah; HAYATI, Rita. RESULT OF SEVERAL CLONE OF SWEET POTATO (Ipomoea batatas L.) IN MIDDLE EAST ON THE INFLUENCE OF PHOSFOR FERTILIZER DOSAGE AND CLONE TYPES.
UNEJ e-Proceeding
, [S.l.], p. 193-200, july 2018. Available at: <
https://jurnal.unej.ac.id/index.php/prosiding/article/view/7969
>. Date accessed: 29 mar. 2023.