DEVELOPMENTALISME REPRESIF DAN KONFLIK NARASI PADA MAKASSAR NEW PORT DAN CENTER POINT OF INDONESIA
Mohammad Sabiq

Universitas Sultan Hasanudin

Akhmad Jayadi

Universitas Airlangga

Imam Nawawi

Universitas Islam Negeri Sunan Kalijaga
Abstract
Pemerintah dan rakyat sering memiliki tafsir yang berbeda tentang cita-cita dan praktik pembangunan yang ideal. Masyarakat pesisir Makassar yang rata-rata berpenghasilan dari menangkap ikan di laut menjadi contoh developmentalisme yang belum tuntas. Pemerintah memiliki dalih untuk menciptakan tata ruang kota yang lebih baik dan lebih bersih, tetapi pada saat yang sama masyarakat juga punya dalil bahwa developmentalisme ala pemerintah hanya untuk memiskinkan mereka. Sumber penghasilan dan mata pencaharian hidup masyarakat meghilang. Pembangunan di kawasan pesisir Makassar menjelma konflik narasi antar kelas; yaitu antara kelas pemerintah yang berkuasa dan kelas rakyat yang merasa tertindas. Riset dengan pendekatan konflik kelas ini bertujuan untuk menganalisa mengapa beberapa proyek pembangunan pemerintah dikatakan merepresentasikan konflik kelas, yakni antara penguasa dan rakyat. Riset ini menemukan bahwa pembangunan pelabuhan Makassar New Port (MNP)  dan pusat bisnis Center Point of Indonesia (CPI)  adalah bentuk pembangunan yang kontroversial. Narasi pemerintah dalam memaknai pentingnya pembangunan di wilayah pesisir Makassar disambut dengan narasi masyarakat yang tidak bersepakat, bahkan menentangnya. Relasi pemerintah dan masyarakat, pada akhirnya, adalah relasi konflik antara kelas penguasa dan kelas rakyat.
Keywords: Konflik, Pembangunan, Pesisir, Masyarakat, Makassar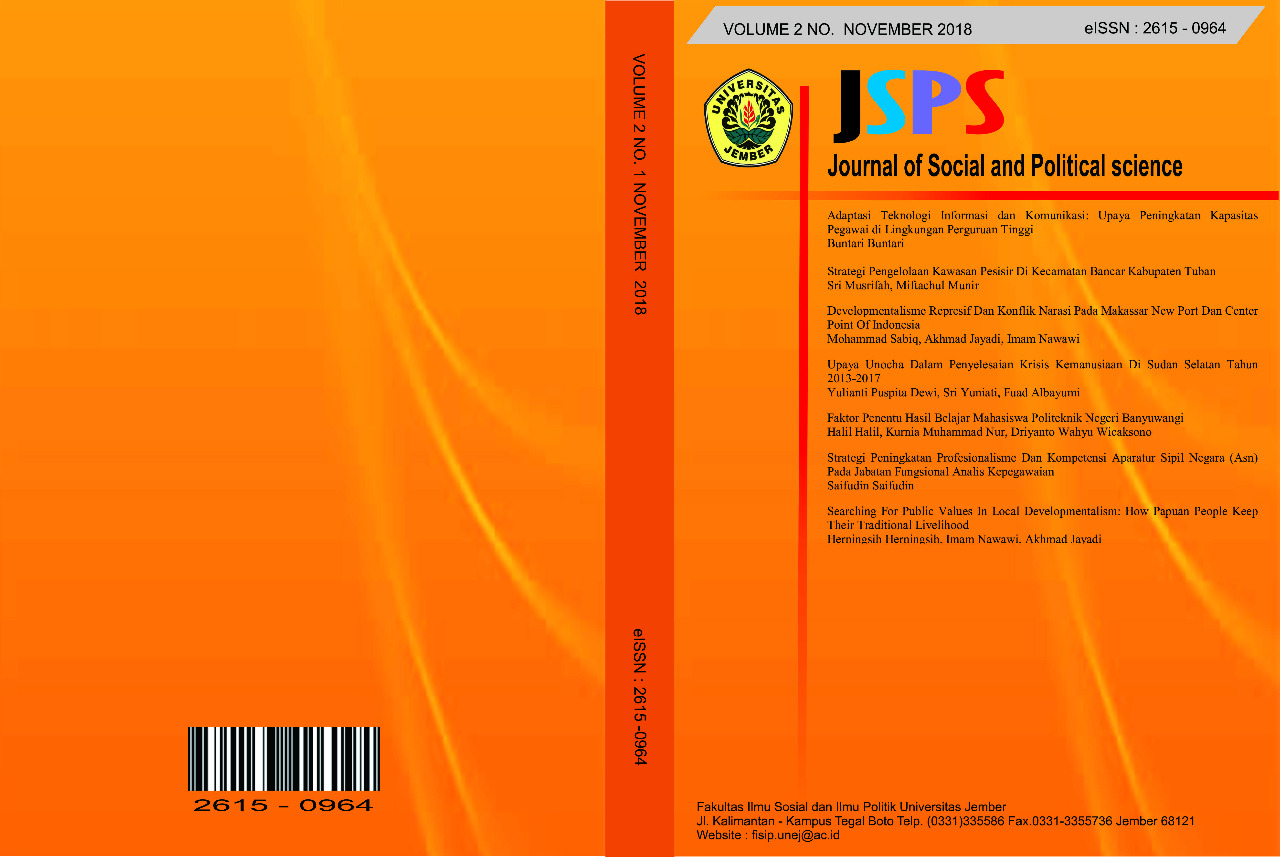 How to Cite
SABIQ, Mohammad; JAYADI, Akhmad; NAWAWI, Imam. DEVELOPMENTALISME REPRESIF DAN KONFLIK NARASI PADA MAKASSAR NEW PORT DAN CENTER POINT OF INDONESIA.
Journal of Social and Political Science
, [S.l.], v. 2, n. 1, p. 24 - 30, sep. 2019. ISSN 2615-0964. Available at: <
https://jurnal.unej.ac.id/index.php/jsps/article/view/13640
>. Date accessed: 04 oct. 2023.