Sistem Pemidanaan dalam Perkara Pidana Pencabulan terhadap Anak: Studi Putusan Nomor: 535/Pid.sus/2015/PN.Bls
Santi Dewi Antika

Faculty of Law, Universitas Jember

Fanny Tanuwijaya

Faculty of Law, Universitas Jember

Samuel Saut Martua Samosir

Faculty of Law, Universitas Jember
Abstract
As the nation's future generation, children have the right to a protected environment, as a lack thereof endangers their growth. One form of child protection is specifically regulated in Law Number 35 of 2014 on the Amendment to Law Number 23 of 2002 on Child Protection (Child Protection Act). Decency crimes against children as in case Number 535 / Pid.sus / 2015 / PN.Bls, the judge drops Article 82 Paragraph (1) of the Child Protection Act. This article contains two problems, inter alia, the judge's decision in case Number 535 / Pid.sus / 2015 / PN.Bls whether it is in accordance with Article 82 paragraph (1) or Article 81 Paragraph (2) of the Child Protection Law and whether the witnesses are examined in case Number 535 /Pid.sus/2015/PN.Bls complies with Article 171 of the Criminal Procedure Code (KUHAP). This study uses the method of legal research with conceptual approach. The results and conclusions obtained in the writing of this article states that the judge must be more thorough in proving the elements of the article, and examine the witness more carefully to see the provisions of Article 171 of the Criminal Procedure Code.
Keywords: Judge's Decision, Molestation, Child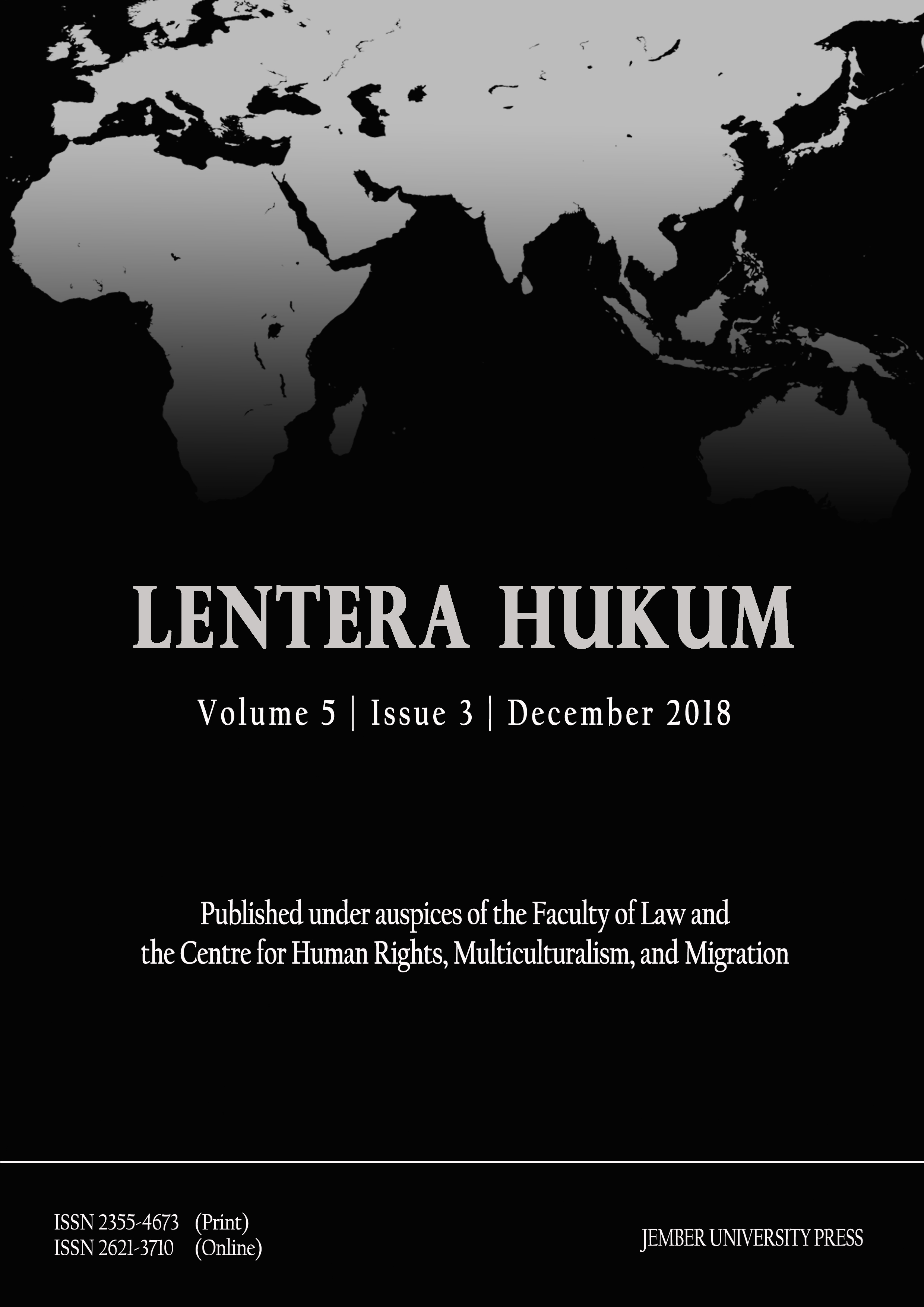 All articles published in this Journal are personal views of the authors and do not represent the views of this journal and the author's affiliated institutions. Article copyrights are with the Author(s), the publishing copyright is with the Publisher. This work licensed under a Creative Commons Attribution-ShareAlike 4.0 International (CC BY-SA 4.0), Under the following terms:
* Attribution — You must give appropriate credit, provide a link to the license, and indicate if changes were made. You may do so in any reasonable manner, but not in any way that suggests the licensor endorses you or your use.
* ShareAlike — If you remix, transform, or build upon the material, you must distribute your contributions under the same license as the original.