Kewenangan Pemerintah Daerah dalam Pemenuhan Bantuan Hukum bagi Masyarakat Miskin di Kabupaten Jember
Siti Maimunawaroh

Faculty of Law, Universitas Jember

Antikowati Antikowati

Faculty of Law, Universitas Jember
Abstract
Article 19 of the Law on Legal Aid provides the authority to local governments to deliver legal assistance to the poor by allocating budgets in the Regional Revenue and Expenditure Budgets, all of which are subsequently regulated by Regional Regulations. However, some areas have not yet implemented the mandate of Article 19 of this Legal Aid Law, because there is still doubt that the fulfillment of legal aid for the poor is part of the absolute government affairs relating to the justice sector. This includes establishing a Judicial Institution, appointing Judges and Prosecutors, establishing human rights and immigration policies, granting pardons, amnesty, abolition, legislation, Substitutionary Rules of Law, Government Regulations, and other national regulations. Unlike Jember Regency, which has legalized the Regional Regulation of Jember Number 6 Year 2016 regarding Legal Aid for the Poor, this Regulation of Jember Regency cannot be implemented since there is no Regent Regulation that regulates the implementation of the Regional Regulation. This article discusses how to regulate the authority of local government in fulfilling legal aid for the poor, and how to fulfill legal aid for the poor in Jember.  This article concludes with a suggestion for the Local Government of Jember to immediately approve the Regent's Regulation as the implementing regulation of Jember District Regulation No. 6 of 2016 on Legal Aid for the Poor, and to provide opportunities for community participation in supervising the fulfillment of legal aid in Jember.
Keywords: Local Government Authority, Legal Aid, Legal Protection, Poor People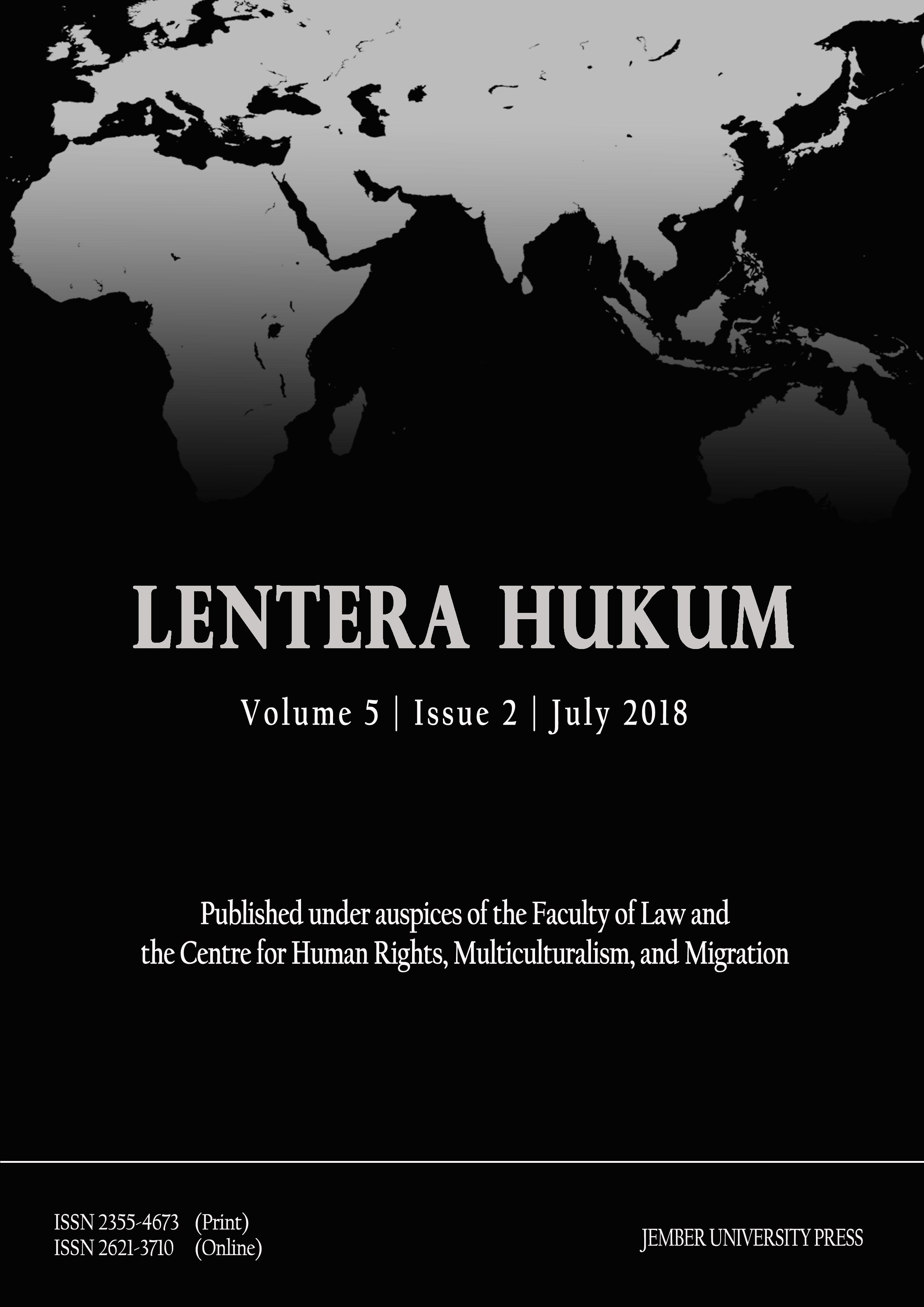 All articles published in this Journal are personal views of the authors and do not represent the views of this journal and the author's affiliated institutions. Article copyrights are with the Author(s), the publishing copyright is with the Publisher. This work licensed under a Creative Commons Attribution-ShareAlike 4.0 International (CC BY-SA 4.0), Under the following terms:
* Attribution — You must give appropriate credit, provide a link to the license, and indicate if changes were made. You may do so in any reasonable manner, but not in any way that suggests the licensor endorses you or your use.
* ShareAlike — If you remix, transform, or build upon the material, you must distribute your contributions under the same license as the original.