Kewenangan Pemberian Izin Penggunaan Ruang Bawah Tanah dalam Proyek Mass Rapid Transit Jakarta
Triasita Nur Azizah

Faculty of Law, University of Jember, Indonesia

Iwan Rachmad Soetijono

Faculty of Law, University of Jember, Indonesia

Rosita Indrayati

Faculty of Law, University of Jember, Indonesia
Abstract
As the capital of Indonesia, DKI Jakarta is classified as having the highest population density, resulting in emergent problems in transportation- specifically traffic congestion. The use of basements may be a potential alternative in solving congestion problems in DKI Jakarta. In terms of licensing the use of underground space, used by PT Mass Rapid Transit Jakarta (MRT) as the responsibility of MRT infrastructure implementation and procurement, the authorized licensing is governed through regulation. From a legal perspective, a central issue may be the lack of clear legislation regarding the use of the basement. Therefore, an analysis of the governor's licensing mechanism is required, as well as the governor's issue of conformity with regulations, in addition to the legislation pertaining to the crypt. With normative juridical research, this article argues that those authorized to grant permits for the use of basements in an area are public officials, rather than the laws and regulations. The results of the study indicate that the mechanism of licensing the use of basements has been in accordance with the laws, as are the regulations through the regional authority to implement the regional autonomy.
Keywords: Underground, Power of Local Government, Permissions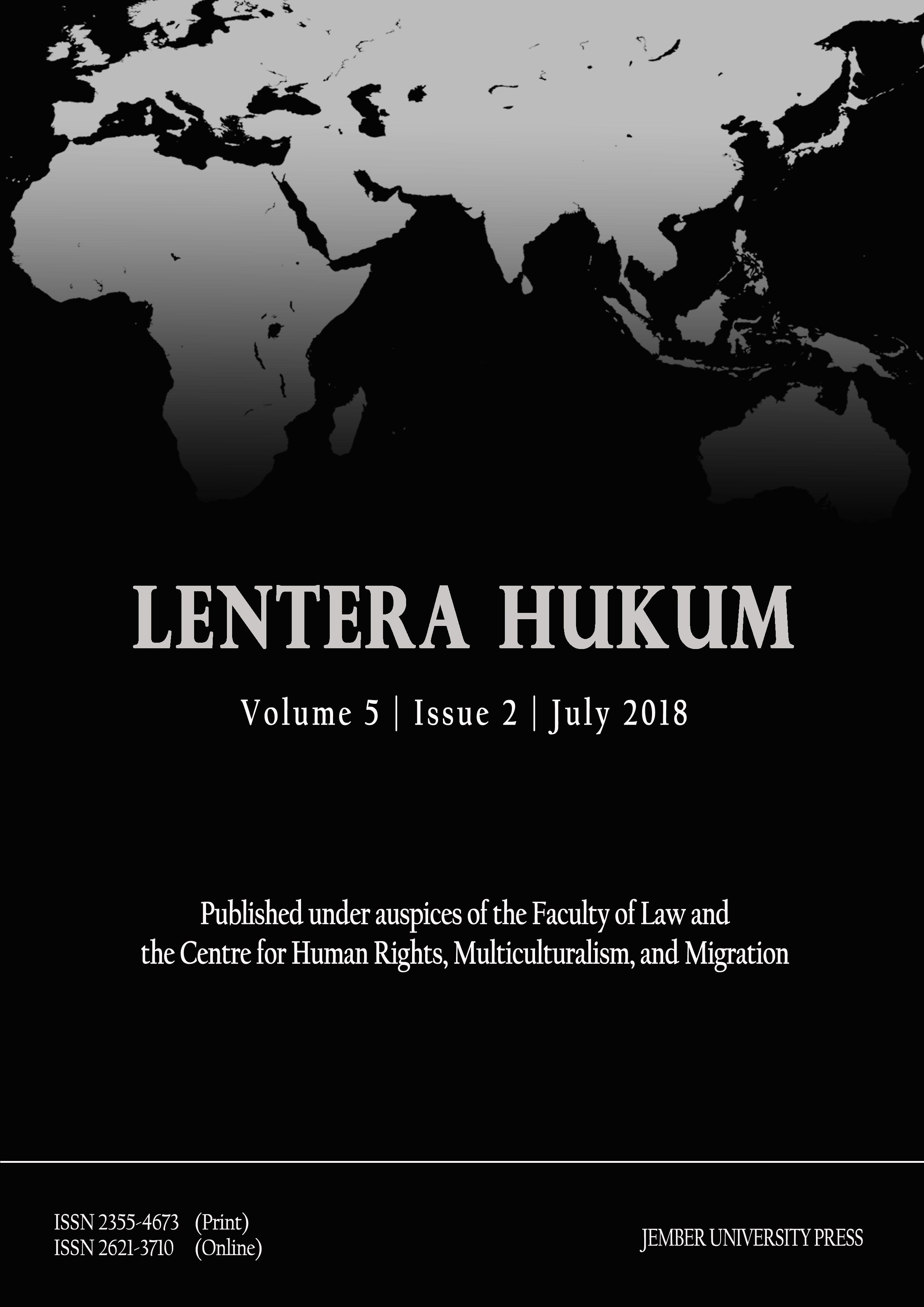 As the condition of publication, all contributors grant LENTERA HUKUM of the University of Jember an irrevocable, transferable, sub-licensable, worldwide, exclusive, royalty-free right and licence to reproduce, publish and distribute their submission(s) in all media, whether currently existing or hereafter developed including but not limited to print and electronic services. The exclusive license is granted for the duration of the subsistence of the copyrights, including any extensions and/or renewals.