Agama, Pancasila dan Konflik Sosial di Indonesia
Agus Fauzi

CRCS, Universitas Gadjah Mada
Abstract
Abstract. During Reformasi Era, Indonesia has still had serious social issues with reference to social clashes and religious violence. The contestation between majority and minority and the monopoly of interpretation of Pancasila as a state ideology have dominated public sphere which affects on the increase of social clash with various backgrounds. The increase of social clash including religious violence results in the uncertainty whether or not Pancasila as a state ideology is capable of tackling contemporary Indonesian realities. Moreover, Pancasila also needs to tackle religious transnationalism ideology which has spread across the nation and receive positive sympathy from some Indonesians. Based on these realities, this writing aims to examine dimension of divinity and humanism in Pancasila and then propose an ideal concept of the divinity in the framework of Indonesian unity.
Keywords: Pancasila, Religious Conflict, Indonesia and Ideology
Downloads
Download data is not yet available.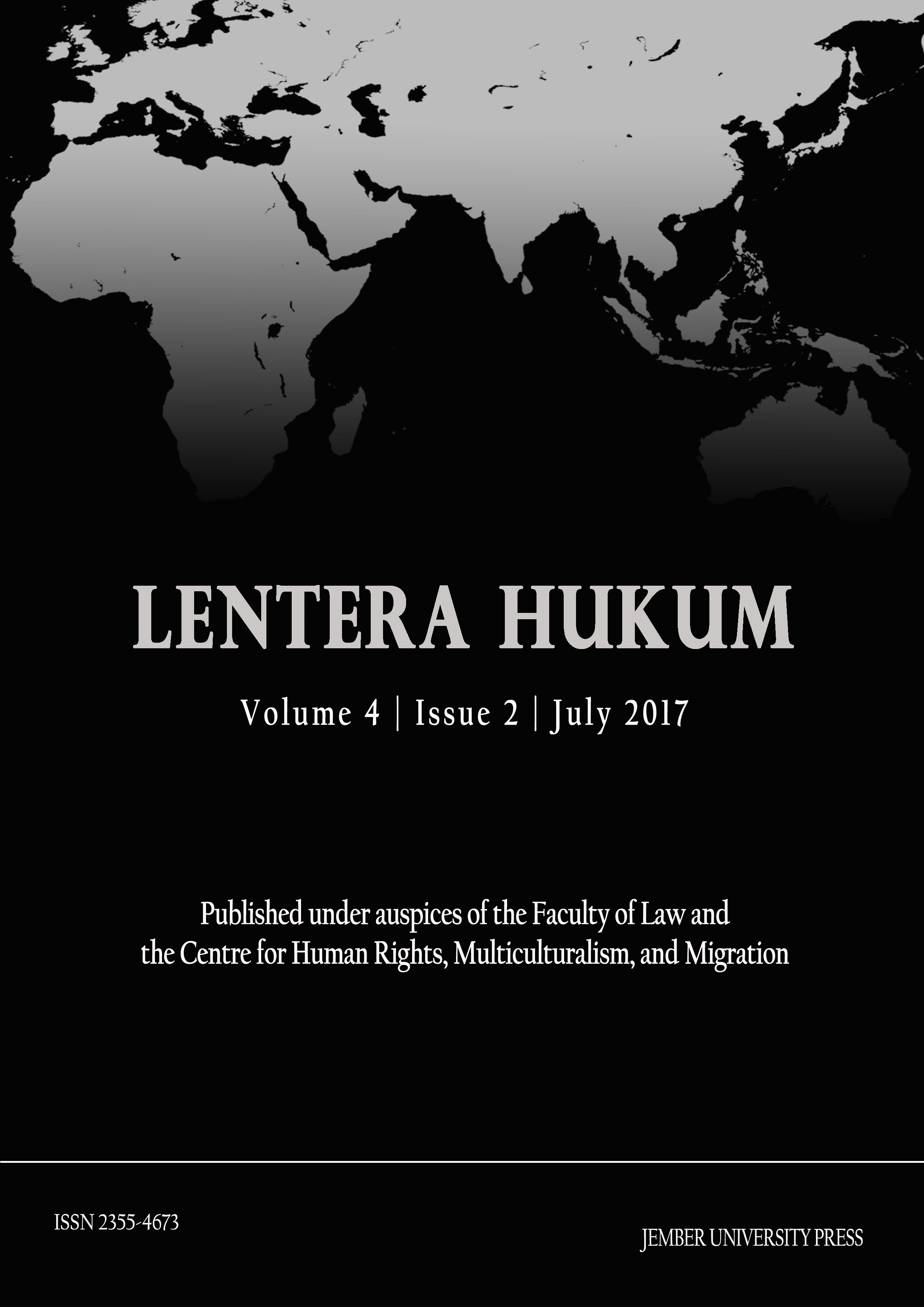 Penulis yang mengusulkan naskahnya untuk dapat diproses penerbitannya pada Lentera Hukum dianggap telah menyetujui beberapa hal sebagai berikut:
1. Penulis tidak dapat menarik naskah yang telah usulkan untuk diproses hingga mendapat jawaban dari Ketua Dewan Penyunting atas status naskah artikel ilmiahnya (diterima atau ditolak untuk diterbitkan).
2. Penerbit tidak bertanggung jawab terhadap kasus plagiasi atas artikel yang terbit pada Lentera Hukum.
3. Penerbit tidak bertanggung jawab atas data dan isi dari artikel yang diterbitkan pada Lentera Hukum, dan sepenuhnya merupakan tanggung jawab penulis.
4. Penulis yang artikelnya diterbitkan pada Lentera Hukum menyetujui lisensi berikut:

Lentera Hukum by University of Jember is licensed under a Creative Commons Attribution-NonCommercial 4.0 International License.